A tall ship is not a strictly defined type of sailing vessel. Most of us use the term to mean a large traditionally rigged sailing vessel, whether or not it is technically a "ship". A tall ship can also be a schooner, ketch, sloop, brigantine, barquentine, or a full-rigged ship depending on the number of masts and the cut of the sails.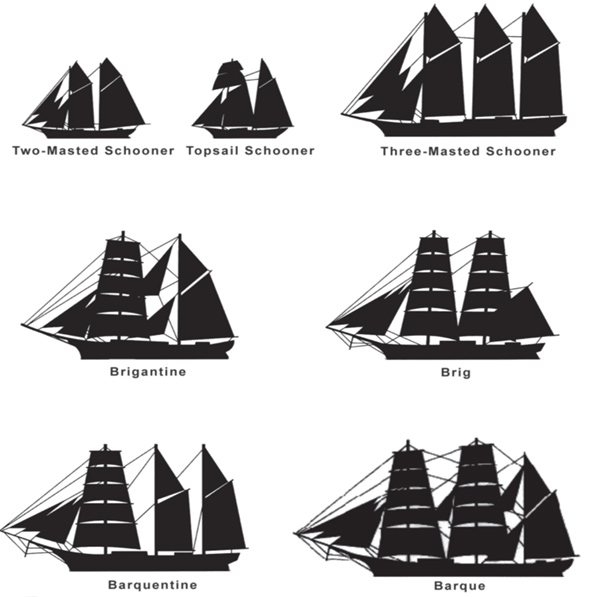 TALL SHIPS® Hamilton is welcoming several different types of tall ships June 28 – 30 at Pier 8. Below are the types you will have a chance to experience:
The Square Rig
The square rig was normally an offshore rig used by vessels making long ocean passages and taking advantage of the prevailing wind and current patterns of the globe. These ships varied in size from the small handy brigantines and brigs of a couple of hundred tons to the great full rigged ships and barques of over two thousand tons. The square rig was also seen in the coastal trade, where brigs plied their trade up and down the eastern seaboard.
Brigantine
Brigantine, a two masted vessel square rigged on the foremast, with fore-and-aft sails on the mainmast. The brigantine is shown with two staysails set between the masts.

Brig
Brig, a two masted vessel square rigged on both masts. The brig is a very old and efficient sailing rig, and the class was still in use up to the very end of commercial sailing ships.

Barquentine
Barquentine, a vessel with the foremast rigged square, and the other masts rigged fore and aft.

Full Rigged Ship
Full Rigged Ship, square rigged on all masts. Staysails could be set between the masts. Outboard of the square sails might be set studdingsails, and above the royals (uppermost sails).
Text and silhouettes by Graham McBride, courtesy of Maritime Museum of the Atlantic
 Click here for more information on various ship shapes, ship rigging identifications and specification definitions provided by TALL SHIPS® America.