Spring is finally here! Ok, there are giant snowflakes tumbling down from the sky as I write this, but that's not stopping the flurry of springtime Hamilton events that are on the way. It's time to start planning!
Grit Lit – Hamilton's Readers and Writers Festival is now in its 12th year. The festival celebrates Canadian authors, bringing together big names in the literary world along with up-and-coming talent. All of the events take place at The Art Gallery of Hamilton – this intimate setting allows for a unique experience for fans to get up close and personal with their favourite authors. The festival includes readings, panel discussions, interviews with authors, and writing workshops.
One of the many highlight to note is GritLit's "All About Hamilton" events on Sunday, April 10th featuring Hamilton authors who chose the city as the setting for their works. Watch for me hosting two of the events that afternoon! The festival will close with lively storytelling event Steel City Stories. See the full schedule on GritLit's website.

---
The AGH needs to be on your Hamilton to-do list year-round. Every time I go, I have such a wonderful experience. It's important to remember we have a world class gallery right in our downtown core. In addition to memorable permanent works and exciting exhibits, look for some great events coming up this spring.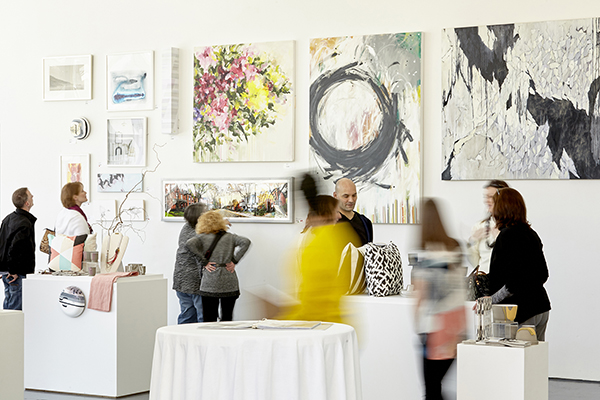 Looking to spruce up your home? The AGH's Art Sale is the perfect opportunity to add some flair to your walls. Pieces created by over 50 Canadian artists, designers, and craftspeople will be available, many from the Greater Hamilton Area. You will find paintings, illustrations, printmaking, photography, and ceramics in a variety of styles. Pricing aims to be affordable, and will begin at $150 and up.
The AGH is also passionate about film. The April lineup for their film series features an eclectic mix – Canadian documentaries, a comedic true-life story, and French New Wave cinema. It's an amazing opportunity to be exposed to works from prominent world film festivals that you may have otherwise overlooked. Tickets are only $8 for AGH members and $10 for general admission.
---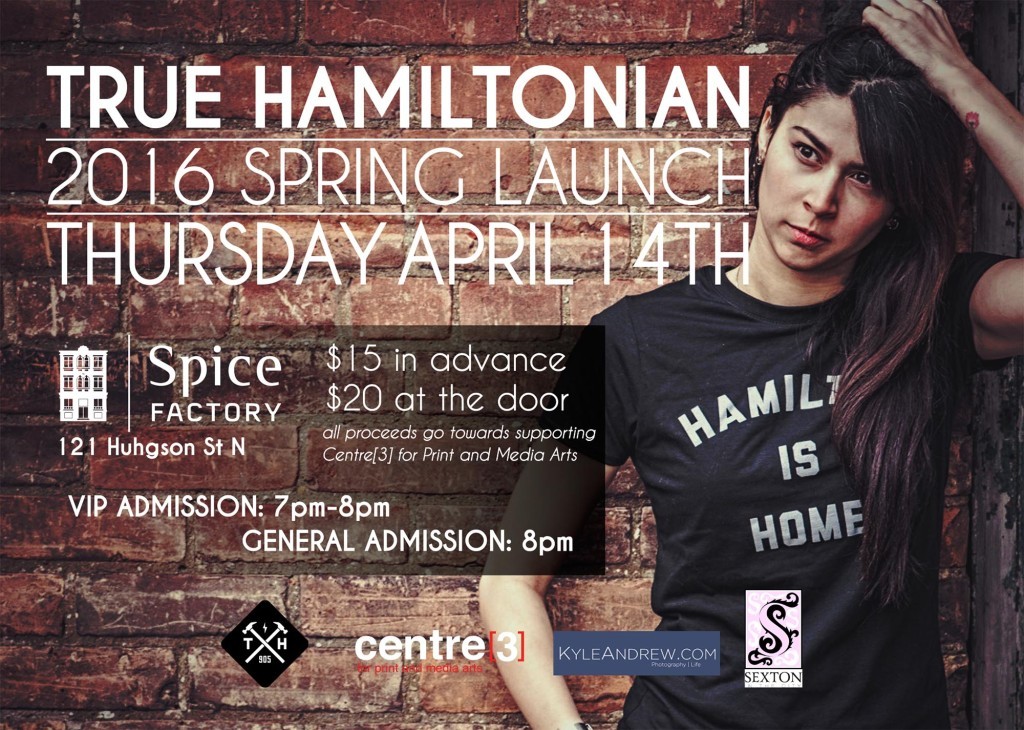 Now more than ever, there are numerous ways to display Hamilton pride on your sleeve. You can sport t-shirts with sayings like "You Can Do Anything in Hamilton" (available in the Tourism Hamilton Visitor Information Centre), "Art is the New Steel" and now with Max Francis' apparel line True Hamiltonian, the simple statement "Hamilton Is Home."
Max is a passionate individual who fell in love with the city and made Hamilton his home a number of years ago. If you've met him, you know his energy and enthusiasm for the city is contagious. He advocates for the growth of Hamilton and aims to spread the positive message of inclusion, whether you were born in the Hammer or your journey led you here. True Hamiltonian hosts an official launch party on April 14th at The Spice Factory. Proceeds from ticket sales will go toward supporting Centre[3] for Print and Media Arts, which offers educational programming for youth.
---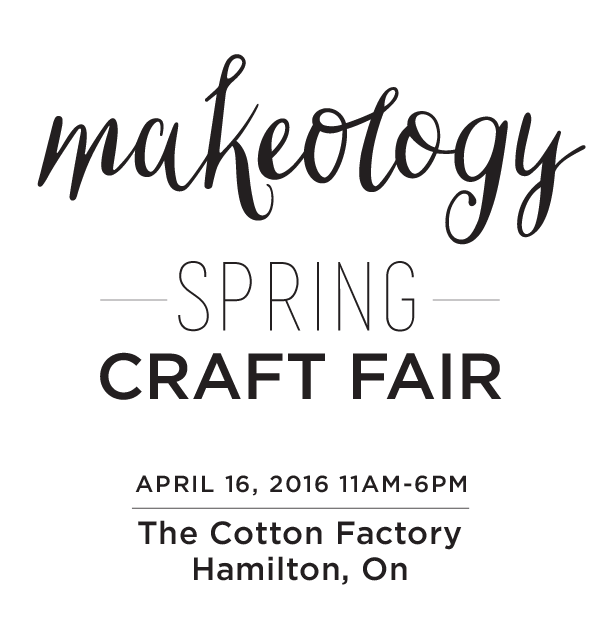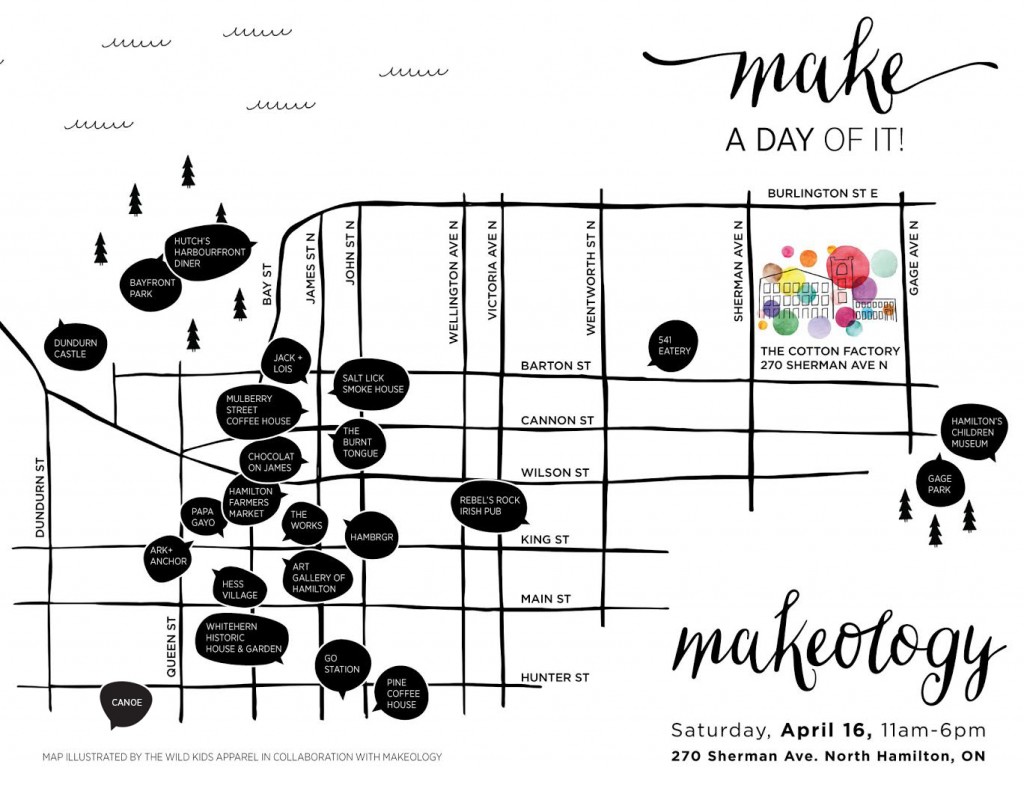 Makeology first began as an online Facebook group to bring together like-minded creatives interested in crafting. Founder Melissa Lowry decided to take the next step and bring Makeology to life with an event. A list of all participating Makeologists can be found on their website, including a group of products that are specifically made in Hamilton. You'll find all kinds of items on April 16th at The Cotton Factory: clothing, jewellry, toys, textiles, home decor, body care, and tasty treats. Get there early – the first 50 in the door will receive a swag bag! Admission is only $2 and $1 will be donated to 541 Eatery & Exchange's button program which helps out those who may not be able to afford a meal.
---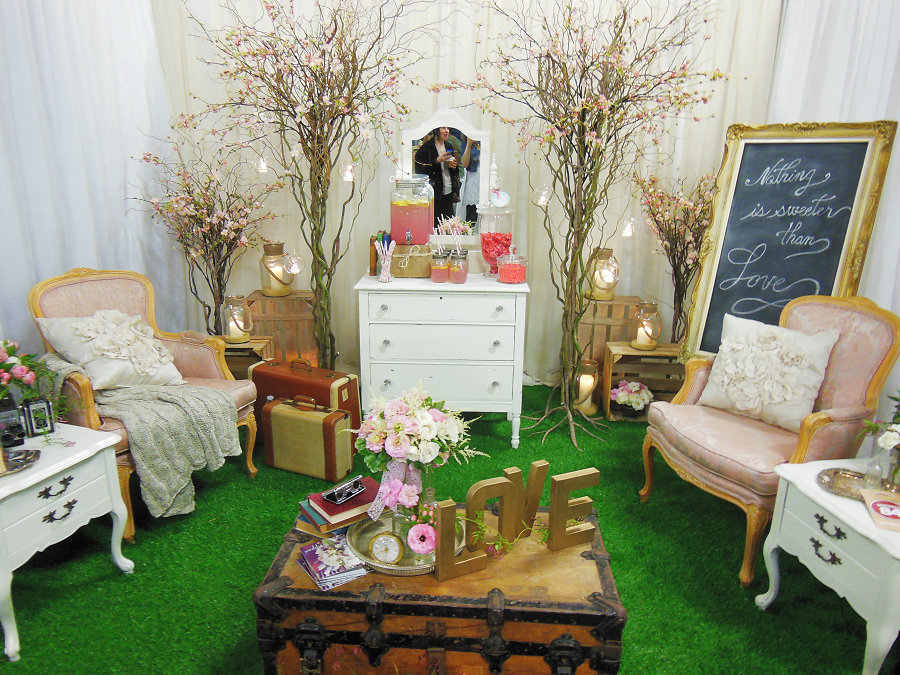 It will be one crafty weekend in Hamilton on April 16th, with the annual Vintage Marketplace at The Hamilton Convention Centre also taking place. The two-day event is a unique shopping experience for vintage lovers featuring fashion, collectables, antique furniture, home decor, accessories, wedding inspiration, vintage cars, and yummy local eats. Fashion shows will take place on each day at 2pm produced by local shops and tastemakers Girl on the Wing and The Eye of Faith. Young Lions Music Club will be setting the tone, spinning vinyl throughout the weekend.
For the keeners – Vintage Marketplace has a VIP shopping hour from 10am-11am on the Saturday before doors open to the public. On your marks, get set, shop!
---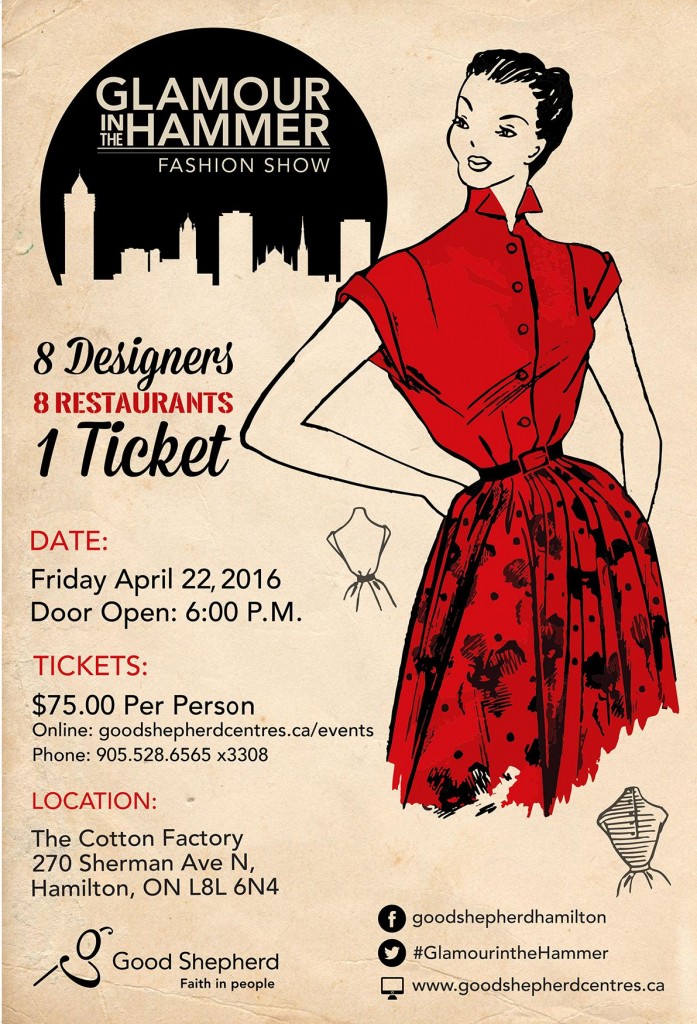 Put on your best dress – Glamour in the Hammer is back. The event, coordinated by Blackbird Studios, celebrates the best Hamilton-made fashion design and cuisine. Eight designers and eight restaurants will come together at The Cotton Factory for an extravagant night of food and fashion. Just imagine sampling scrumptious snacks from Two Black Sheep, Rapscallion, and Mulberry Coffeehouse, while taking in local innovative designs by Volver, Angela DeMontigny, Karen McFarlane and more. Most importantly, proceeds from the night will be donated to Good Shepherd. Glam up for a great cause!
---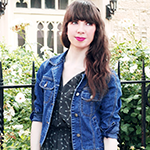 Kristin Archer is a lifelong Hamiltonian and the blogger behind the popular blog I Heart Hamilton where she inspires every local to "be a tourist in your own city." She's passionate about discovering her hometown, new experiences and sharing all that Hamilton has to offer. Catch Kristin Fridays at 2 p.m. when she hosts "I Heart Hamilton" on 93.3 CFMU and follow her on Twitter and Instagram. Kristin's #MyHamilton blog offers an insider's look at Hamilton's buzz-worthy arts and culture scene including James Street North staple Art Crawl, great music festivals and venues, outdoor events, theatre, dance and specialty shopping.