This holiday season, show everyone on your nice list just how much they mean to you with one of these made-in-Hamilton gift ideas.
From unique travel experiences to one-of-a kind gifts you can wrap under the tree, find just what you're looking for here in Hamilton.
Give the Gift of a Unique Hamilton Experience
Why not add a few unique Hamilton experiences to your shopping list? Choose from one of these clutter-free gift… all perfect for the Hamilton-lover on your list or an out of towner looking to explore Hamilton's many visit-worthy attractions.
Made in Hamilton Souvenirs
Give the gift of a Hamilton souvenir or a locally sourced gift from one of these Hamilton-lovin' shops and studios:
Give the Gift of Delicious
With Hamilton making headlines for its red-hot food and drink scene, this is the perfect season to share the gift of something delicious.
Made-in-Hamilton Cookbooks
Share some of Hamilton's tastiest recipes with locally produced cookbooks. Earth to Table Every Day includes favourite takes on slow food from the insanely popular Earth to Table Bread Bar restaurants. The newly published Hamilton Cooks collects top recipes from local restaurants like The Burnt Tongue, Berkeley North, and Cake & Loaf. It's available at all Tandia Financial Credit Union and participating restaurants with all proceeds benefiting local charity Food4Kids.
Food & Drink Tours
With so much to taste in the city, a guided tour is the perfect way to experience our food and drink scene while enjoying the city. Options here include Original Hamilton Beer Tours, providing guided tastings at leading breweries and cideries, and neighbourhood culinary tours available through Hamilton Food Tours or
Food Tour Adventures.
Restaurant Gift Cards
For the perfect stocking stuffer, look no further than our many gift-worthy restaurants - perfect for picking up a gift card. Visit our food & drink blogs for some culinary inspiration.
Free Parking!
Shopping local here in Hamilton is even easier this holiday season thanks to Free Parking at various shopping areas across the city. Look for free parking signs at on-street meters and municipal parking lots from Nov. 24 to Dec. 31.
---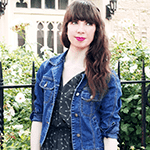 Kristin Archer is a lifelong Hamiltonian and the blogger behind the popular blog I Heart Hamilton where she inspires every local to "be a tourist in your own city." She's passionate about discovering her hometown, new experiences and sharing all that Hamilton has to offer. Catch Kristin Fridays at 2 p.m. when she hosts "I Heart Hamilton" on 93.3 CFMU and follow her on Twitter and Instagram. Kristin's #MyHamilton blog offers an insider's look at Hamilton's buzz-worthy arts and culture scene including James Street North staple Art Crawl, great music festivals and venues, outdoor events, theatre, dance and specialty shopping.