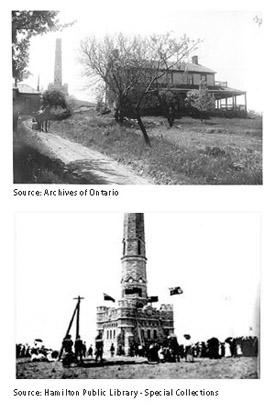 The unveiling of the Stoney Creek Monument, on June 6, 1913, reveals how communities venerated their pasts one hundred years ago. Considering the Centennial monument project can guide the commemoration planning for the Bicentennial of the War of 1812.
Sara Calder, founding President of the Women's Wentworth Historical Society, worked for two decades to build a monument to the War of 1812. The Stoney Creek Battlefield Monument was officially unveiled with great fanfare and public celebration. Dignitaries, school children (who were given the day off school), Girl Guides, Boy Scouts and the general public converged on Battlefield Park. From Buckingham Palace in London England, Queen Mary, sent an electric signal to release the drapery covering the monument. It was a splendid show of technology, followed by electric lights illuminating the monument and park for the evening celebrations.
The monument not only reminds us of the significance of the Battle of Stoney Creek, but it now commemorates almost 200 years of peace between the United States of America and Canada.
With thanks to Lisa Barty for content.