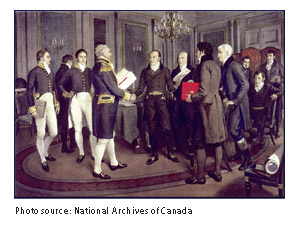 War is declared by the United States on Great Britain and her dependencies (Upper and Lower Canada) on June 18th, 1812. War was declared in order to address grievances that the United States government had with Great Britain – not with the people living in Canada.
Great Britain was seen by Americans as hampering economic and territorial expansion on the high seas and the western frontier. Many Americans saw the war as a continuation of the American War of Independence (1774-1783) which removed Great Britain from what would become the United States of America. There was also a sense that the entirety of North America should fall under the control of the United States.
The men of Upper and Lower Canada were encouraged to fight alongside his Majesty's troops, to join the defense of their land and share in the "Glorious News" of British victories. As battles raged and towns and military depots were put to the torch, the inhabitants of North America fought against one another in a civil war that cemented the differences between the two nations that still exist to this day.
Hamilton was a hub of activity during the war as the site for significant events such as the Battle of Stoney Creek in 1813 and war treason trials held in Ancaster as the war was coming to an end. Three years of war affected the day-to-day life in Hamilton as Burlington Heights, in and around where Dundurn Castle now stands, was occupied by the military and the waters surrounding the city were frequented by British and American ships carrying soldiers and supplies.
The War of 1812 ended when the treaty of Ghent was signed December 24th, 1814 although it would take over a month for the news to reach fighting forces in North America.