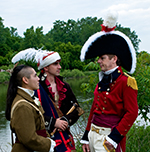 On April 25, 2015 the City of Hamilton and Six Nations community members joined together to commemorate the end of the War of 1812. Representatives from twenty Native Nations were invited to Dundurn National Historic Site on the 200th anniversary of the 1815 Peace Council which was organized to acknowledge the Native Nations who were British allies during the war. A parade of Nations kicked off the event at 10 am on the front lawn of Dundurn Castle.
This historic event included:
the presentation of replica wampum belts
special displays
dramatic readings and artistic presentations
a ceremonial planting of a white pine tree
the burying of a war club –signifying the legacy of peace between the gathered nations.
Between 12 and 4 pm Dundurn Castle and The Hamilton Military Museum offered a free open house. The public was welcomed to view War of 1812 architectural features built into Dundurn Castle and sample white corn bread and strawberry juice in the historic kitchen. Everyone learned about the people living on and around Burlington Heights during the War of 1812 as they explored the exhibit Blood Ties to a Gentle Landscape at The Hamilton Military Museum.
Find out more about the history of this event
Time: 10 am
Cost: Free
Contact: 905-546-2872, dundurn@hamilton.ca