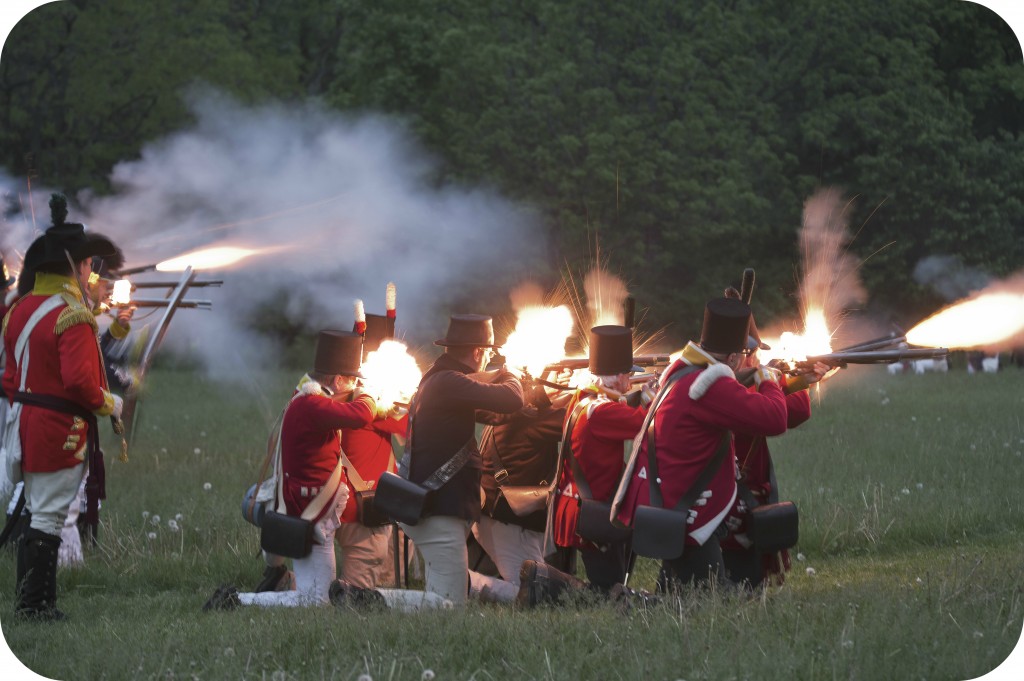 Battlefield House Museum & Park, National Historic Site presented the annual Re-enactment of the Battle of Stoney Creek on June 1 and 2, 2013. The event was once again declared one of the top 100 events in Ontario by Festivals and Events Ontario.
Events included:
100th Anniversary of the Battlefield Monument
Friday, May 31, 2013 – 1 pm
One of Stoney Creek's most recognizable landmarks, the 100 foot tall Battlefield Monument was opened in June, 1913, with thousands of people in attendance. Travel back in time 100 years to mark this anniversary, with costumes, music and more.  Cost: $0.25 per person. 1913 prices!
Smith's Knoll Memorial Parade
Friday, May 31, 2013 – 7 pm
The year 2013 marked the 200th anniversary of the Battle of Stoney Creek, an important battle during the War of 1812 and the only conflict to take place in the Hamilton region. To commemorate this important moment in our city's history and honour those who fought in the Battle, the City of Hamilton in partnership with the Royal Canadian Legion Battlefield Branch 622, American Legion Post 18 and Her Majesty's Army & Navy Veterans Society invited the public to attend a Memorial Parade and Service. The service included a re-dedication of Battlefield Cemetery at Smith's Knoll.
Re-enactment Weekend
Saturday & Sunday, June 1-2, 2013 
Battle Re-enactments
Saturday & Sunday, June 1-2, 2013

Attendees were invited to visit the encampment and mingle with early 19th century settlers and soldiers as they went about their daily life. Shopping was available among one-of-a-kind merchants. There were historical demonstrations of cooking, dancing, blacksmithing and more. Food, games, musical entertainment. People wandered through the original 200 year old Gage homestead. Everyone got a chance to step back in time and had the opportunity to listen to the Indian war hero Tecumseh as he recounted his life.
For more information, visit www.battlefieldhouse.ca.
For a complete list of Hamilton's War of 1812 Bicentennial events, click here.