Visitors came for the ships, stayed for the sound!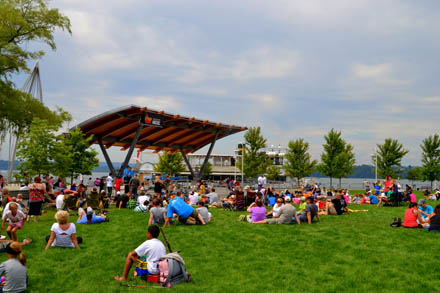 TALL SHIPS® Hamilton presented an eclectic line up of high quality FREE music on the Waterfront Stage each evening and dockside music through the day Saturday and Sunday.
Sea shanties gave way to modern rock, indie, world music, blues and soul acts that showcased Hamilton's incredible music scene.
Friday, June 28, 2013
4:00pm     Ian Bell & Geoff Summers (Duo)
5:00pm     Earth Wind & Choir
7:00pm     Hell's Belles Swing Dancers
7:10pm     Alex Pangman
8:30pm     The Dinner Belles
10:00pm   Young Rival
Saturday, June 29, 2013
Waterfront Stage:
7:00pm   Marker Starling
7:45pm    Jessy Lanza
8:45pm     Zaki Ibrahim
9:45pm     Young Empires
Dockside Performances:
10:15am   What The Folk
11:00am   What The Folk
12:30pm   The Urban Fiddler
1:45pm     The Bilge Rats
2:30pm     The Urban Fiddler
3:30pm     The Bilge Rats
4:15pm      Jumple
6:00pm     The Urban Fiddler
Sunday, June 30, 2013
Waterfront Stage:
7:00pm     Hamilton Youth Steel Orchestra
8:15pm      Harrison Kennedy
9:30pm     The Soul Motivators
Dockside Performances:
11:30am   Pauline Grondin
12:15pm   Scantily Plaid
1:30pm     Pauline Grondin
2:00pm    Gord Simmons
3:30pm    Scantily Plaid
4:15pm    The Human Orchestra
Music Programmer: Ken Inouye
Sound and Lighting by NJT Audio Productions