This winter we took our first family seasonal visit to Hendrie Valley. It's a forested marshy area that is part of the Royal Botanical Gardens World Biosphere Reserve tucked in just west of the McQuesten (High-Level) Bridge heading towards Burlington.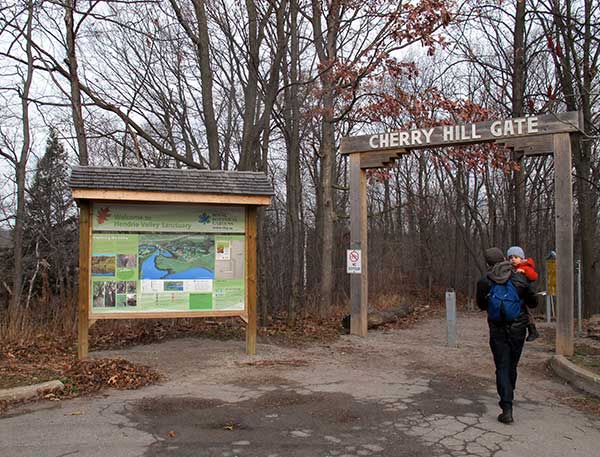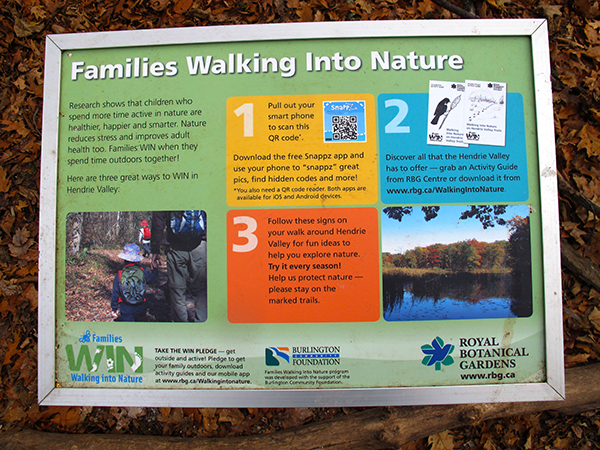 It truly is a magical little spot for some easy nature exploration. Any time that we've ever been it has been teeming with forest and marsh dwellers native to the wooded area.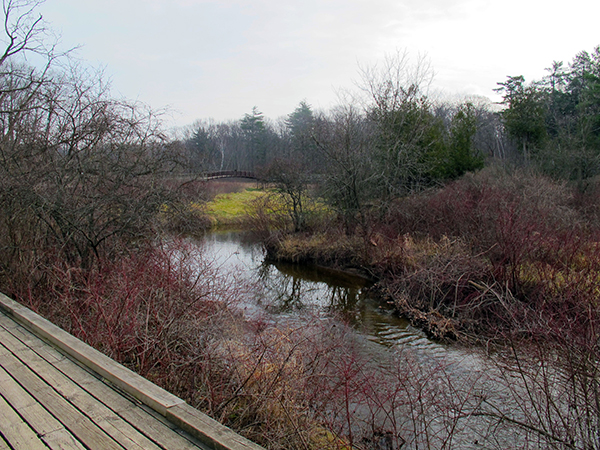 On this particular visit we saw flocks of geese flying south for the winter, downy woodpeckers, cardinals, chickadees, and even a hawk circling in on its prey!
The ducks were out in full force too, paddling in the frigid waters and even precariously attempting to waddle out onto the barely frozen shores of the marshy Grindstone Creek.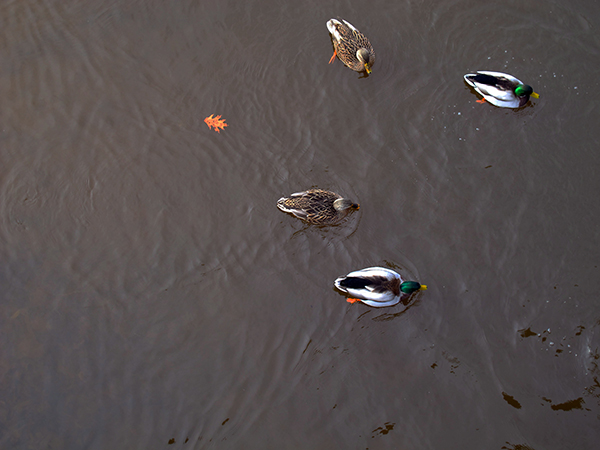 During the winter when we're all cooped up inside, a visit to Hendrie always makes for a laid-back morning or afternoon excursion that gets us all out of the house.
Despite the cold weather, the highlight is always heading out onto the boardwalk with some birdseed and having chickadees feed right out of our hands!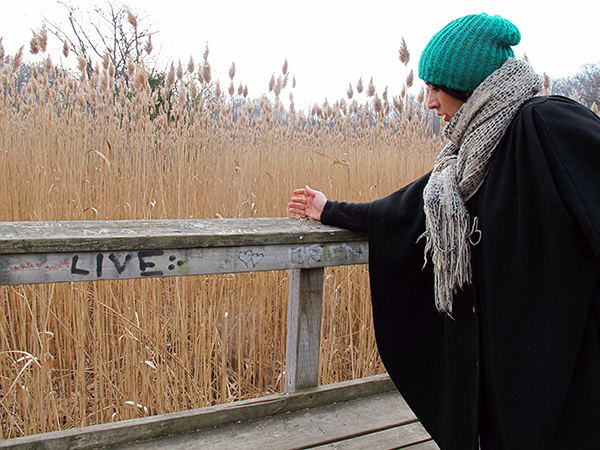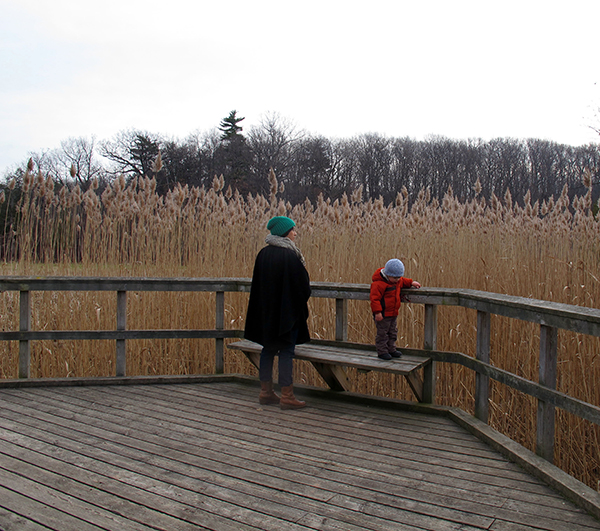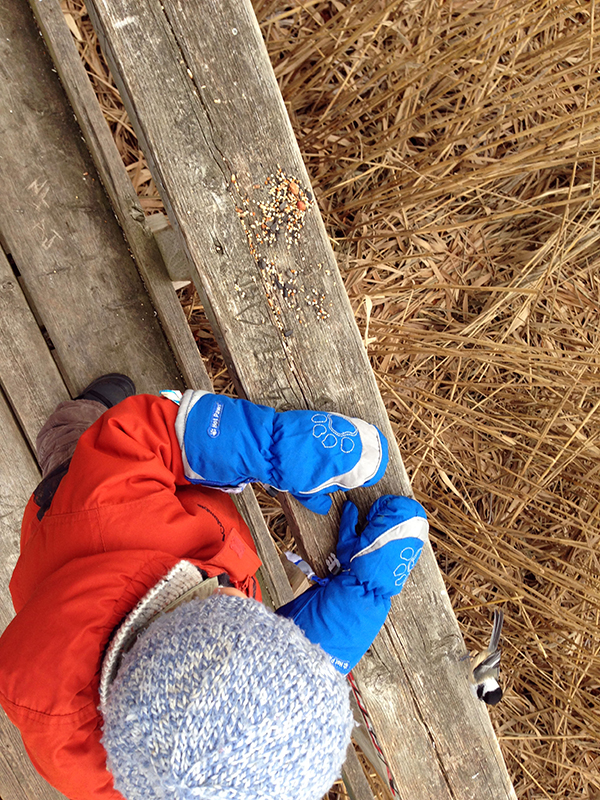 The chickadees were in lively spirits on this day and were coming out in droves. Sometimes there'd be two or three feeding from our hands at one time. It was a first for me to have them actually land on my hand to pick up the seed, and it was such a cool experience. They're such tiny and delicate little creatures.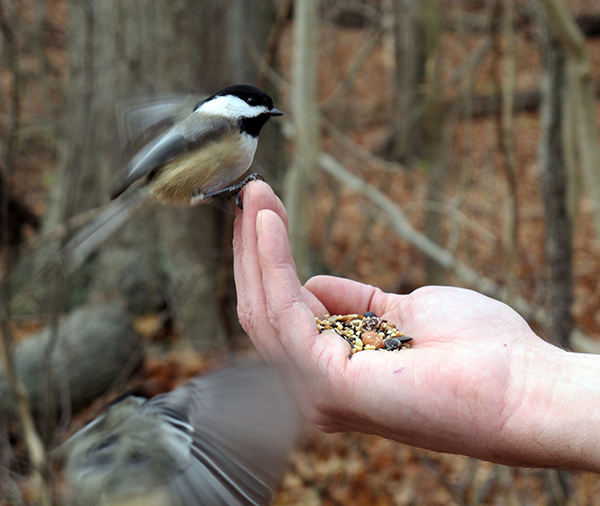 There are three different access points to enter the 100-hectare stretch of the Hendrie Valley Sanctuary: the barrier free entrance at the Cherry Hill Gate on Plains Road, via the RBG Centre or through the Valley Inn and Laking Garden. There is a dollar an hour fee for parking, or with an RBG membership parking is free.
There's 27 kilometres of trails that you can walk to explore the valley. So a visit to Hendrie could include a daylong hike or a shorter visit depending on what you fancy.
According to RBG, Hendrie Valley was transferred to the Gardens in 1941 for ecological protection and contains the finest collection of floodplain wetlands in western Lake Ontario.
As our son grows I have a feeling this spot will become a place of routine year round visits.
I can imagine our pockets always filled with birdseed or a bag of it packed nearby in hopes of stealing a few moments to head to Hendrie.
For more information about Hendrie Valley and the RBG, as well as a detailed map, see their trail guide here.
---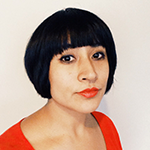 Seema Narula moved to Hamilton five years ago and found herself enamoured with her  constant rediscovery the city. She started a lifestyle blog called This Must Be The Place, where she documents a series of reflective stories about art, music, urbanity, and her growing family, all against the backdrop of Hamilton. Follow her on Twitter @ThisMustBeSeema for updates on her happenings in and around the city.Seema's blog explores Hamilton's kid-friendly side from popular attractions to lesser known gems through the eyes of this local mom and her own family's adventures.