There are about a billion things that I love about Hamilton, which was a major factor in why I started my blog This Must be the Place to document it all. One thing that I truly love and appreciate about our city is that it is home to the Art Gallery of Hamilton.
When we first moved to Hamilton, as younger folks, we were looking to be connected to the Hamilton art scene and to meet new like-minded young professionals. By chance we stumbled upon the AGH's CLiC events. They are social evenings of arty atmosphere at the AGH with great bites to eat, music, art and the company of other young Hamilton entrepreneurs and artists to meet and mingle with. The CLiC events over the years since we first arrived as new Hamiltonians have grown along with Hamilton's expanding arts scene.
And I suppose as much as the art scene has changed and evolved since our arrival to Hamilton so have we. With the addition of two little ones to our party of two, we now make regular visits to the AGH in the form of family outings.
I find myself there sometimes on rainy days to pass some time and to explore some art with our toddler son. But we also go regularly to check out new exhibits or to attend their Family Fun Days.
This summer we attended the Family AGH Summer Picnic. It consisted of a free family BBQ, accompanied by kid friendly music, art, activities, and performances all with free admission to the gallery and its latest exhibit.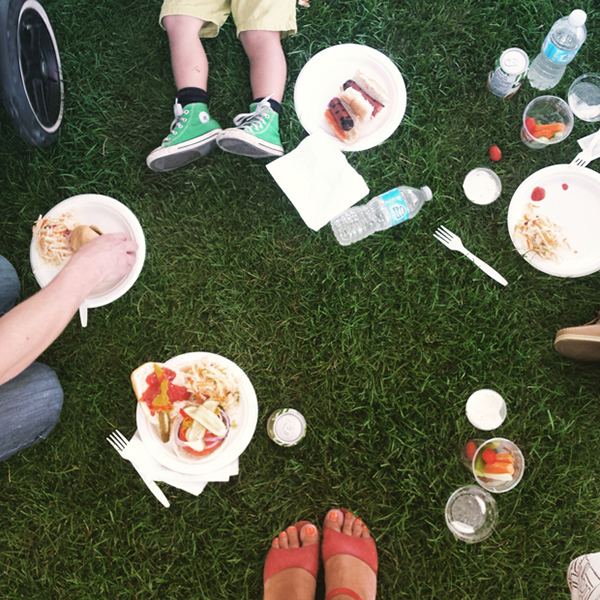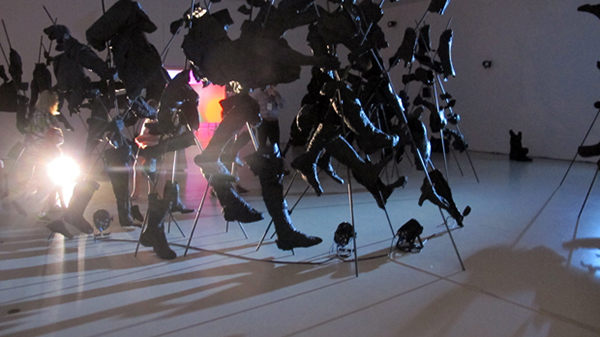 Photos: Hadley+Maxwell, When That was This (detail), cinefoil, steel, magnets, 6-channel sound, LED light-programming, from the exhibit are you experienced?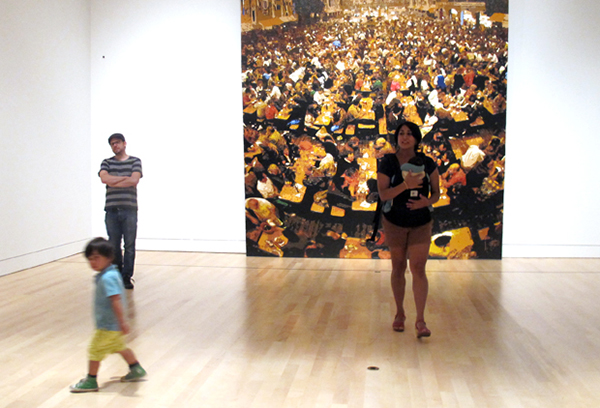 Photo: Family portrait in front of the massive Dorian FitzGerald's Hacker-Pschorr Beerhall, Oktoberfest, Munich 2005 painting, from the are you experienced exhibit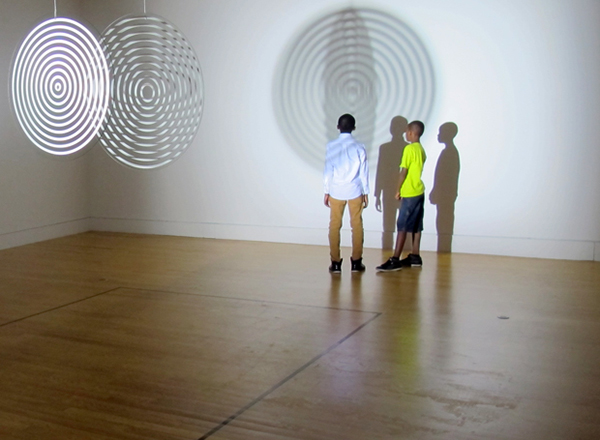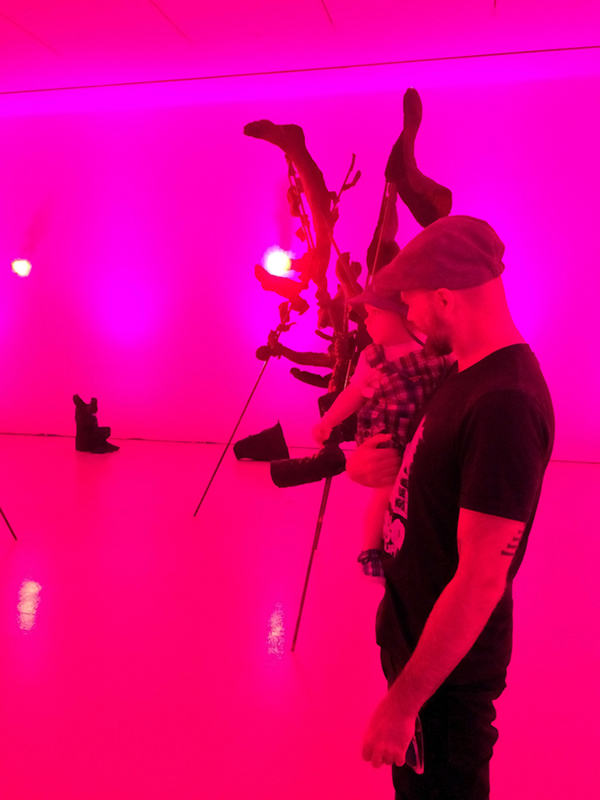 Photo: Friends checking out Hadley+Maxwell installation at the AGH Summer Picnic. Photo courtesy of Jacqui Oakley
If you're looking to visit the AGH sometime with your family throughout the year, try one of their monthly Family Fun Days. They're on the last Sunday of every month; admission is $5/family of five. Or plan for a kid-friendly birthday party accompanied by cool art activities for the young and little artists.
For their annual Family Fun day in November admission is FREE and includes mini-guided gallery tours and performances! These days are great -they offer kid friendly art activities that are hands-on and interactive (just make sure that your kids are appropriately dressed wearing clothes appropriate for an arty mess).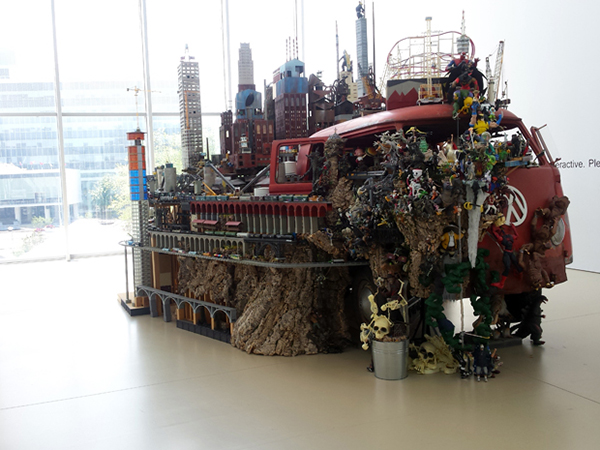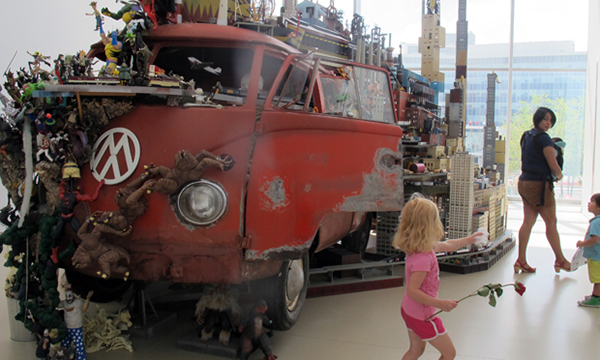 Photo: The ever-evolving Kim Adams' Bruegel-Bosch Bus installation. I love seeing how it has grown and changed over the years.
Definitely a great thing about the AGH is that it makes art accessible to all. If a Family Fun Day doesn't suit your fancy, once a month you can visit the gallery for free for their Friday Free Nights (the first Friday evening of every month 4-8pm). There are also free guided tours (with cost of admission) on Saturdays and Sundays for those looking to learn a little more about art. Not to mention a variety of other barrier free tours, Touch Tours, and even high tea at their gallery café –The Horse and Train Bistro!
Don't forget to check out one of my favs the I Heart Film Series and World Film Festival. There are screenings at the AGH, Jackson Square and even outdoor film screenings when the weather is fine.
In 2014 the Art Gallery of Hamilton celebrated its 100th anniversary. I can only wish for many more hundreds of years of existence and to be able to bare witness to its continued growth and evolution. We are so fortunate to have such a treasure like this in our city -trust me you don't want to take it for granted.
---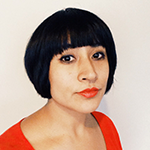 Seema Narula moved to Hamilton five years ago and started a lifestyle blog called This Must Be The Place, where she documents a series of reflective stories about art, music, urbanity, and her growing family, all against the backdrop of Hamilton. Follow her on Twitter @ThisMustBeSeema for updates on her happenings in and around the city. Seema's blog explores Hamilton's kid-friendly side from popular attractions to lesser known gems through the eyes of this local mom and her own family's adventures.