"Don't scan around with the binoculars, look in the direction you want and then lift them to your face," suggests birder Peter Thoem, as I search about for a bird. I had asked Peter to take me around and show me some bird-watching hotspots in Hamilton. This was but one nugget of advice that I picked up as we explored a few of his regular stops.
Our tour starts bright and early at the gates to the Royal Botanical Garden's Arboretum, where we both happen to volunteer in the greenhouses – that's where I discovered Peter is an avid birder. His website, My Bird of the Day, features fabulous photography and lots of interesting info about the birds that fly through this area.
We hit the trail that leads down from the Nature Interpretive Centre towards the water. This is a great trail for a family as the path is fairly easy to navigate. The first couple of minutes into our hike, we hear a Northern flicker, a Northern cardinal, a chickadee and a red-winged blackbird. Peter easily distinguishes them all. "I do a lot of my birding by ear. I'm always listening," he says.
As we walk, Peter explains what makes a good birding area: one that has a variety of habitat, especially edge habitat [where one type of habitat blends with another]. "Where the two meet, that's where you'll see things," he explains. Us Hamiltonians are fortunate to live in a mecca of avian activity. One theme that runs through our entire morning is the benefit of living on the edge of Lake Ontario, especially Hamilton Harbour and Cootes Paradise, which offer protection – birds will travel along the coast, but they won't traverse the Great Lakes. "They make it miraculous," says Peter. "They really enhance the amount of variety and habitat."
Besides Point Pelee and Long Point, Thoem says Hamilton is the best bird-watching area in Canada. According to eBird, a site that Peter mentions along the way, 367 species of birds have been spotted in Hamilton. The site also reveals a few hotspots.
Arriving at the water's edge, we spot osprey, cormorants, two species of scaups (a type of duck) and terns (this latter bird Peter describes as jet fighters among the gulls). Speaking of gulls, that's another thing I learned during my instructive morning. There is no such thing as a seagull. This is a misnomer, says Peter. But there are many different types of gulls – about six in our area.
Our next stop is Bayfront. We watch a few rowers and then spot American coots, scaup and redheads. I just look at all these waterfowl and think "duck," but they are all so vastly different. Peter tells me that the train tracks that run along part of the trail also attract American kestrels. We don't spot any, but a Northern mockingbird tries to trick us with very believable killdeer, cardinal and blue jay imitations.
Eastport Drive, which skirts along the north edge of the industrial harbour to the lift bridge, also provides a safe haven with food. Peter tells me it is especially good for waterfowl: ducks, geese, cormorants and shore birds.
At the Windermere Basin, Peter explains how the harbour has been cleaned up over the last few years. Islands have been created for safe nesting. Near the water's edge, we run into local birder and photographer Barry Cherriere. We spot Caspian terns, ruddy ducks, and gulls: a great black-backed and a ring-billed, as well as herring gulls. Behind us, swallows swoop, popping in and out of the birdhouses scattered throughout the long grasses, oblivious to their apocalyptic-looking surroundings.
At the Tollgate Pond, on Centennial Parkway around Gray's Road, the cacophony of the ring-billed gulls and double-crested cormorants is deafening. There must be thousands of birds in this one chaotic expanse. Many are nesting and closely guarding eggs.
We head up the escarpment to Winona and take a drive along Fifth Road East, looking for Wilson's snipe in the flooded fields. We don't see any, but that's probably the biggest piece of advice I learn from Peter. Bird-watching takes immense patience, but it is so very rewarding when you finally spot a feathered friend.
Bird-Watching Resources
There is a whole book dedicated to the birds in our region called Birds of Hamilton and Surrounding Area by Robert Curry. Peter recommended it when I organized our bird-watching date. It's a large, detailed tome, with a chapter on birding hotspots, and available to check out from the Hamilton Public Library.
Another great resource Peter directed me to is the Hamilton Naturalists' Club website, which also has a list of birding locations.
*Special thank you to / photos courtesy Peter Thoem.
---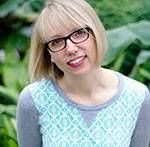 Tara Nolan is a Dundas-based freelance writer with a passion for exploring the outdoors. Tara loves to write about mountain biking, gardening and other active pursuits for a variety of print and online publications. Follow her on Twitter @thattaranolan and Instagram @tara_e.
Her blog The Outdoor Explorer reveals Hamilton's stunning outdoor spaces, from nature trails and waterfalls to conservation areas, farms and gardens. Whether you want to walk, hike, bike or paddle, discover where to seek out your next outdoor adventure – all minutes from the city's core.