Nothing says summer like patio season. Here are just some of the Hamilton patios to visit for a cold drink and al fresco dining while the air is warm – all perfect outdoor spots to take a bite out of Hamilton's red hot food and drink scene.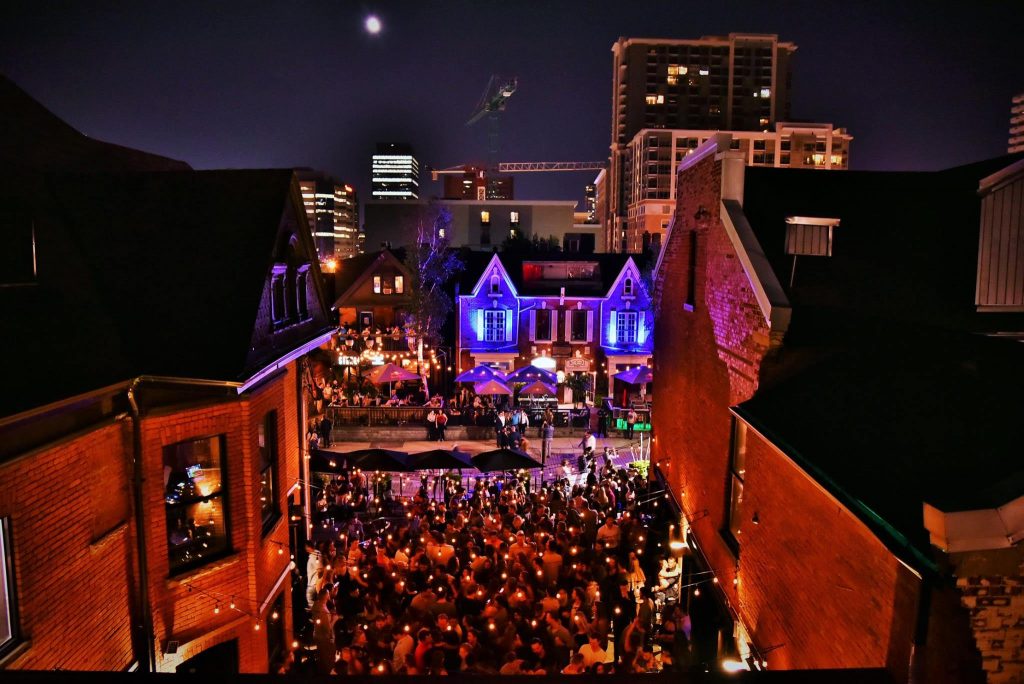 Hamilton's largest single patio, set between two adjoining Victorian-style homes, can fit over 300 people, making it the place to be when the sun goes down. There's a delicious special every day of the week, from $12 tacos and tequila on Tuesdays to $20 large sangria pitchers on Wednesdays to half-price burgers on Thursdays (locally sourced from Jepson's Meats in the Hamilton Farmers' Markets).
Nearby: People watching is at its best in Hess Village. Check out other patios like the Asian-inspired Koi Restaurant or the laid-back Lou Dawgs for more food and drink options.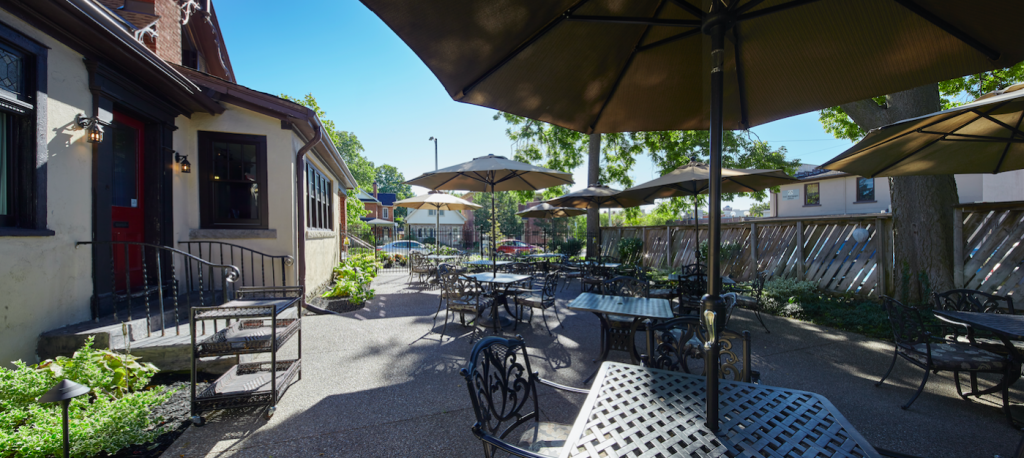 Let the peaceful patio of Quatrefoil be the backdrop to your elegant dining experience in the heart of historic downtown Dundas. This nationally acclaimed restaurant boasts a patio set in the garden of a beautifully resorted heritage home. Time your visit right and you can see the tulips or hydrangeas as you indulge in fine dining made with local ingredients. Try one of their prix fixe or tasting menus throughout the week.
Nearby: Dundas has plenty of other patios to suit your mood – Bangkok Spoon, Thirsty Cactus, Detour Coffee Roasters, and the Collins Brewhouse all offer something unique.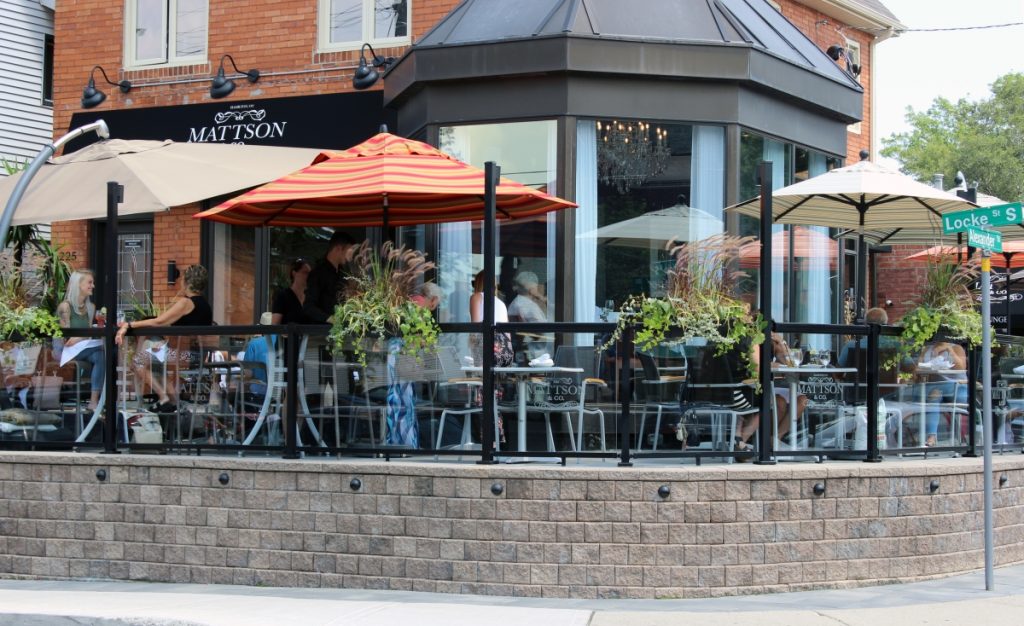 Mattson and Co's patio overlooking Locke Street provides umbrellas for sunny days and heaters for cooler nights. With a casual fine dining feel, guests can enjoy an exclusively VQA wine list and an extensive selection of martinis and cocktails, plus a modern, seasonal menu.
Nearby: Other notable Locke Street patios include NaRoma Pizzeria, The Beverly On Locke's back patio, and Brux House (sister restaurant to Quatrefoil, with killer cocktails and global beers). There is also a pop-up patio at The Burnt Tongue.

Step onto the patio of The French and you'll feel as though you're dining in a chic, European eatery, with boutique-style table and chairs, a French-inspired awning, and decorative greenery. Enjoy the newly refreshed spring/summer food and cocktail menu on this patio, facing beautifully restored King William Street.
Nearby: Patios at Berkeley North, the pop-up patio at Hambrgr, and the new patio at the Diplomat (sister restaurant to The French and Aberdeen Tavern, another pretty patio destination), are all spots for al fresco dining. If your top pick has a waiting list, luckily these restaurants are all side-by-side.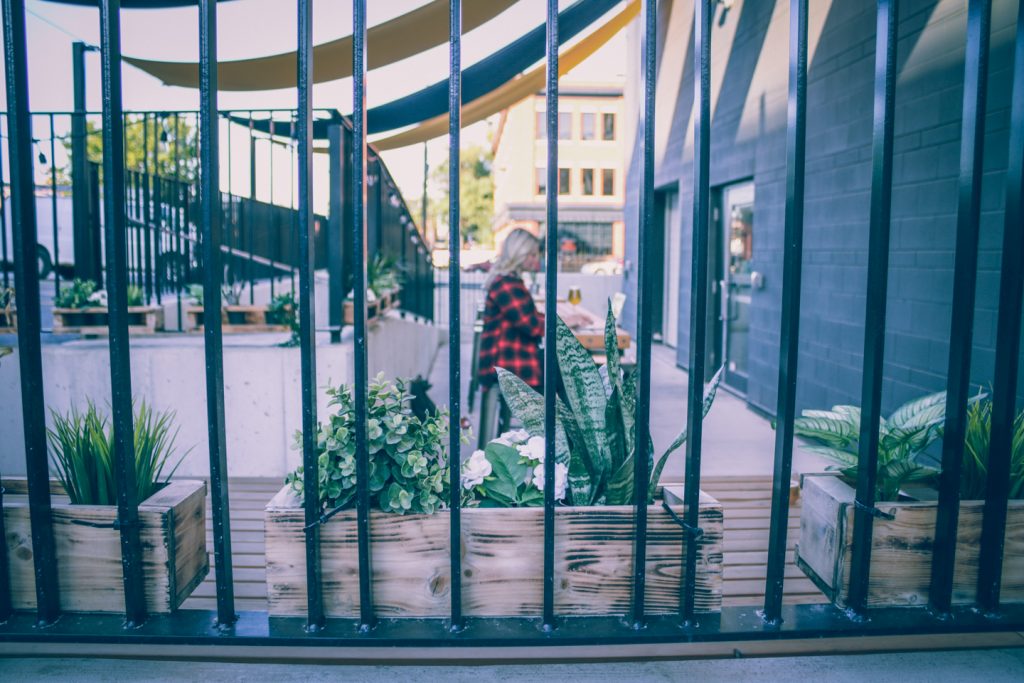 Walk through this brewery – which just celebrated its one-year anniversary – to get to the cozy back patio with picnic-style tables and high-tops (at night, you can cozy up with a blanket provided). Bring some friends and pair your beers with their "All the Sausage" menu option for a sharing platter of made-in-house sausages and sides.
Nearby: Look for pop-up patios at Chocolat on James and Saint James Espresso Bar & Eatery, or lounge on the permanent patio of Mulberry Street Coffeehouse for some stellar people watching on James Street North.
The creators of the original Buffalo chicken wings recently opened their first Canadian location here. Though all their recipes are delicious, you may not want to order their famous "abandon ship" sauce in the scorching heat (or ever). Wash them down with a beer on tap from the full outdoor bar on this rooftop patio – seating over 100. Visit for a post-work drink or live music on most weekends and secure your spot at one of the tables overlooking downtown.
Nearby: Anchor Bar is located on King Street, attached to Jackson Square mall. It's a few steps to Hess Village in one direction, and the shops and restaurants of James Street North in the other.
With its comfy couches, tranquil waterfall, and outdoor bar, Radius' multi-level patio has an upscale lounge feel. Whether you're visiting for a weekday BBQ lunch, weekend brunch, or late night snack, this is one patio you'll never want to leave.
Nearby: Radius is located at the corner of James Street and August Street. As you walk the pub-lined street of Augusta, you'll find many front-facing patios with a more casual vibe.

The Ship's back patio is where you can chill out and enjoy some of the city's best burgers and brew. The picnic tables give the patio a cozy, backyard feel and if you want a change of scenery, just hop on over to one of the other Augusta street pubs.
Nearby: The Winking Judge comes in close second (some may argue, first) as the best Augusta Street back patio. The pub's vine-covered exterior feels as though you've found a hidden gem.
This British pub is the spot to be in Ancaster. They have a packed entertainment schedule filled with open mics, trivia, and live music – plus the patio is easy on the eyes. The beautiful courtyard looks like an enchanted European hideaway, just the spot for easy conversation.
Nearby: Leave room for dessert! Nearby is Ancaster's ice cream shop, The Purple Pony.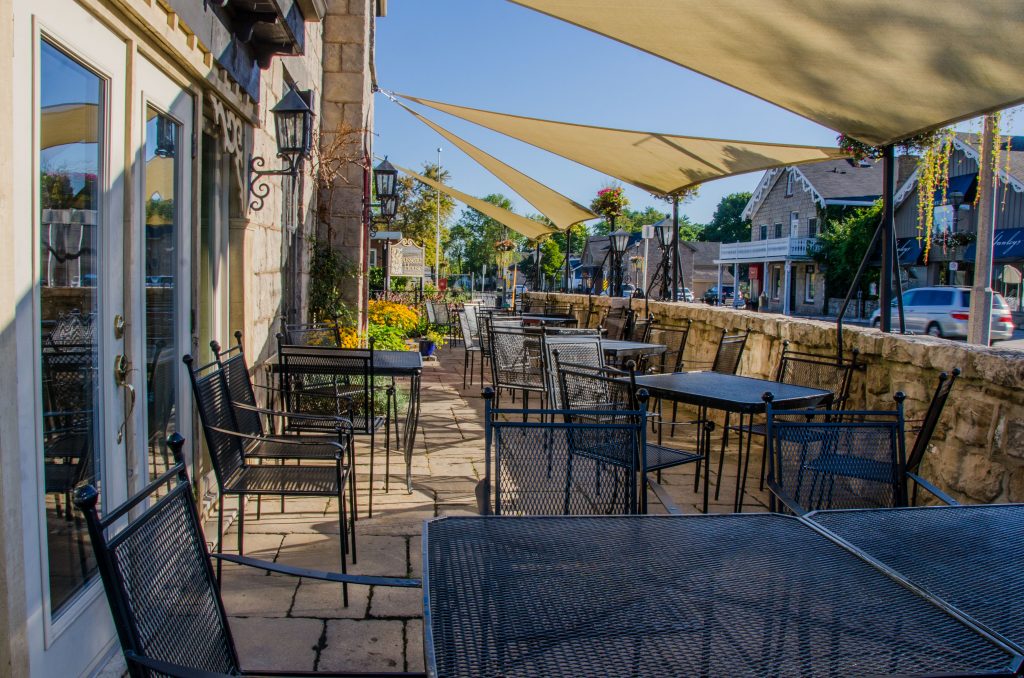 Another fantastic patio destination is Rousseau House Restaurant & Lounge, a heritage home turned restaurant in 1997. Order some tapas and a glass of Prosecco or local craft beer to the patio and enjoy live music on Friday evenings. Beautiful 1837 limestone, spacious seating and comfortable, locally made chairs are the backdrop here. Menus are always seasonal with daily features.
There's no better place to sip a beer than a German-style biergarten. Pair your brew with a traditional Austrian or German dish, like a Bratwurst sandwich or schnitzel and potatoes at this Hamilton landmark, serving since 1967.
Nearby: After you fill your belly, head to Theatre Aquarius for a live performance or explore International Village's one of a kind shopping district along King Street East.
---
Amanda blogs about her hometown of Hamilton for publications like People of Hamilton and Daily Hive Toronto. Follow her on Twitter @peopleofhamont and @amandastancati.