As a child I would visit Dundurn Castle more times than I can count: with family, out-of-town visitors, or friends. I still absolutely adore returning to this historic mansion to daydream and revel in the romantic Victorian era wealth, lifestyle and luxuries of Dundurn's inhabitants –the MacNab family.
My favourite time to visit Dundurn is during the lead-up to the holidays and Christmas. The 40-room Neo-Classical Italian-style villa is decked out in authentic 19th century Victorian Christmas decorations: cedar boughs, dried flowers and ribbons. It's a gorgeous sight to see and always gets me inspired and in the mood for Christmas.
The Grande Parlour is where a traditional Victorian Christmas tree stands. During this era, Christmas presents  were not as extravagant or over-the-top as today. Presents were given only to young children, who would pick a number that corresponded to a present that was tied to the tree. The presents were small and modest novelty items: porcelain dolls, soldiers and other trinkets.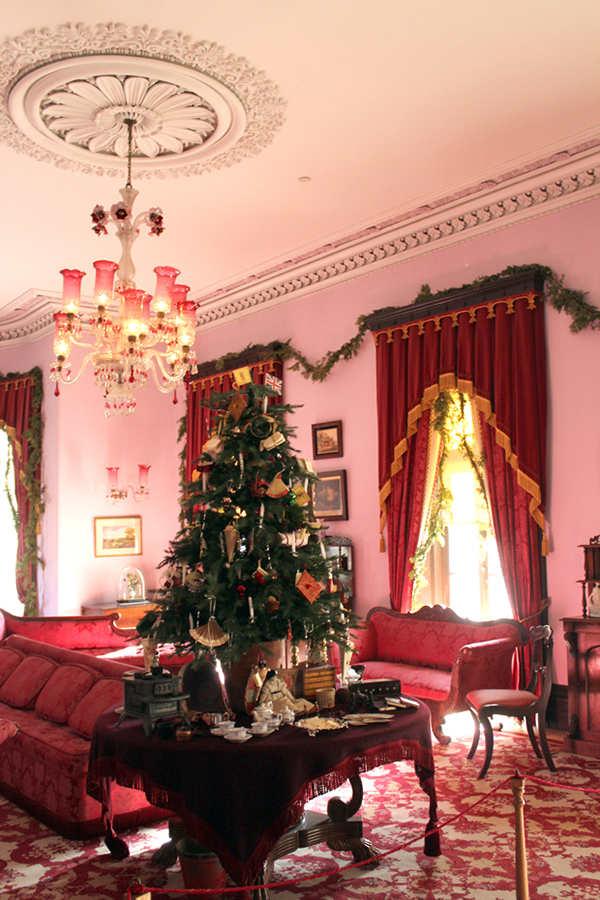 A few years ago Dundurn Castle restored  Aunt Sofia's room. For the restoration, fragments of wallpaper were literally pieced together and then reproduced by a specialized paper company from New York state. You can buy rolls of "Dundurn Castle Gothic" (on the walls pictured below; originally block printed) or "Dundurn Castle Ashlar" for which Dundurn castle receives royalties for both their sales.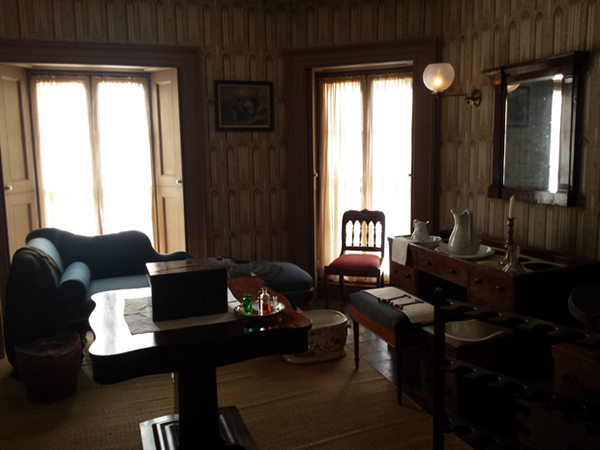 One of my favourite parts of every tour is the basement, namely the servants dinning quarters and the kitchen –so Downton-esque! Love the behind-the-scenes perspective of the wheels and cogs of who and how the mansion was run day-to-day.
For the duration of the holiday season Dundurn Castle does its regular tours plus they host a special Ring in the New Year: A Holiday Evening Tour at Dundurn event December 27th to 29th from 7-9pm. These evening events include music, followed by an extended tour of the home lit by candlelight, plus the promise of some traditional tasty holiday treats.
Unlike Dundurn Castle, in all the years that I've lived in Hamilton I had yet to visit  Whitehern Historic House. I was kind of saving it, like the way you might save all your favourite chocolates in a box to eat on a rainy day. But man, all these years was I ever missing out!
The house, although much more modest in comparison to the showy glam of Dundurn Castle, definitely makes up for its lack of grandeur with its richness of detail and fascinating history of its inhabitants.
Three generations of the McQuesten family lived in the house from 1852-1968. The history of the family reads like a novel and spans over a century covering Georgian, Victorian and Edwardian eras with most if not all of the family's possessions intact and beautifully exhibited in the home.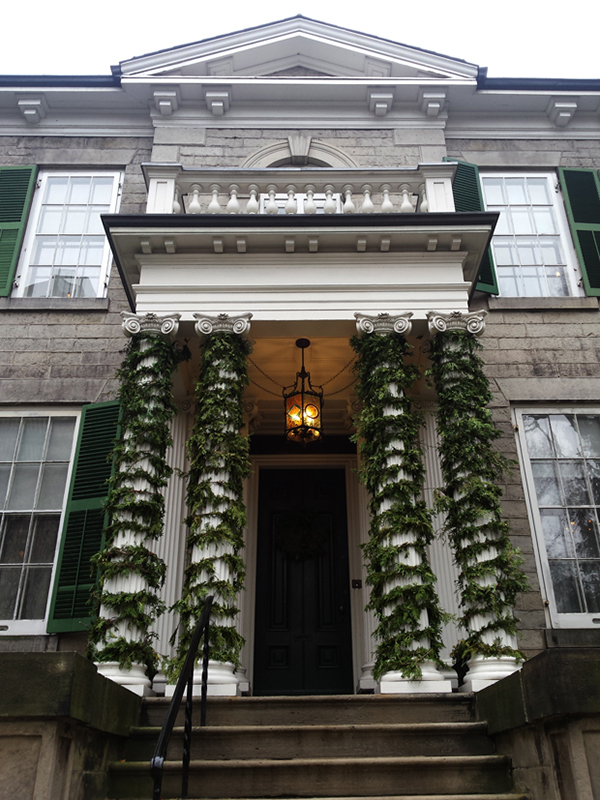 For the holiday season the house is decked out in Victorian era Christmas decorations of cedar roping, satin ribbons, mistletoe, ornate fans and colourful glass ornaments.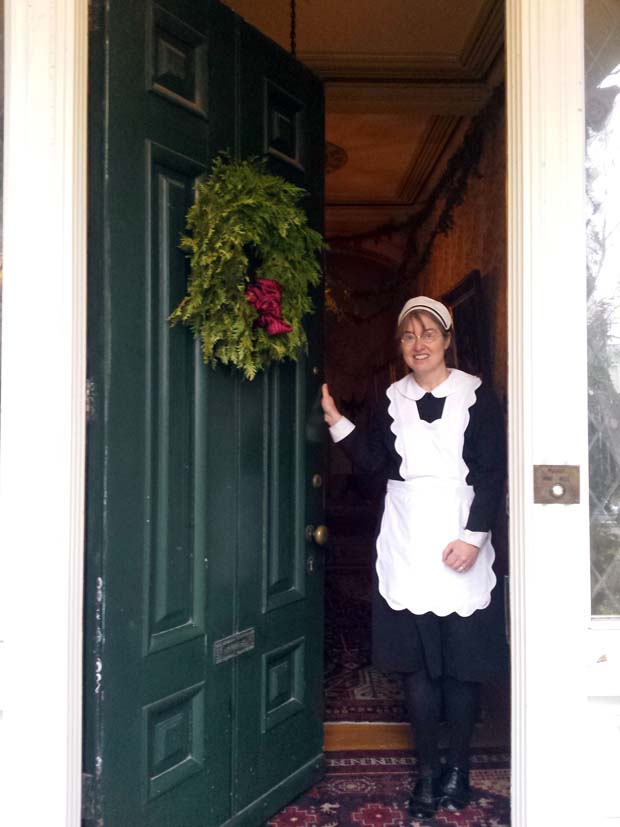 On the particularly grey and rainy day that I visited Whitehern, I was greeted at the door and lead into the dimly lit house by my tour guide (dressed in a maid's uniform). She was the perfect tour guide and historian with a wealth of knowledge and detail about the whole family and the contents and history of the house. It felt like I was being let in on all the McQuesten family secrets.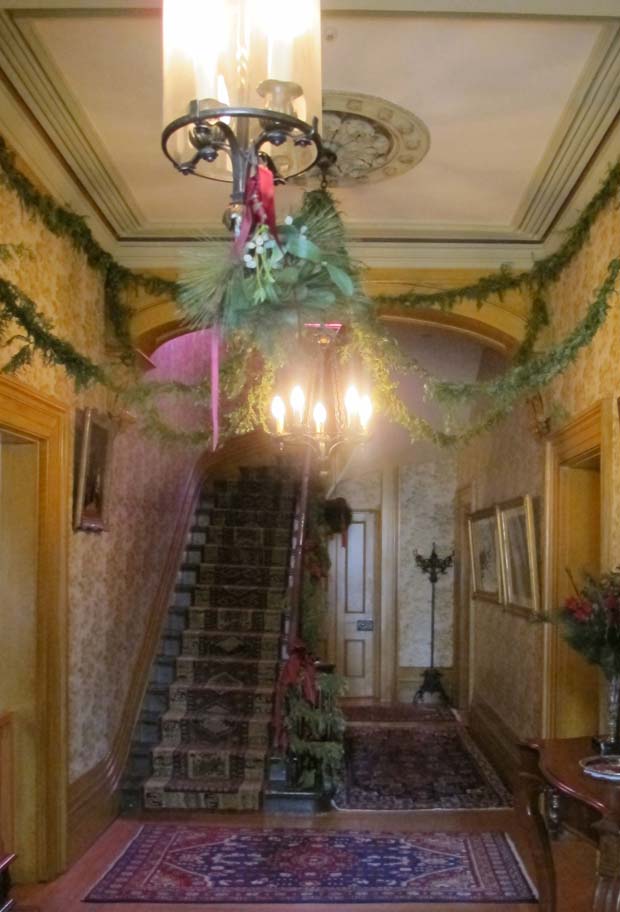 The tour of the house is suitable for folks of all ages and a must for anyone interested in Hamilton history. I was eating up all the details and was found myself lost in my imagination, daydreaming about Hamilton and this particular downtown neighbourhood and how it would've looked in the mid 1800s (just a few blocks from where I currently live).  I was fascinated to learn about Thomas McQuesten and all his truly marvelous contributions to the city and surrounding areas, such as: Royal Botanical Gardens, McMaster University, the QEW highway, the Rainbow Bridge, the McQuesten High-Level Bridge, and the conservation and development of numerous parks and garden spaces throughout the city.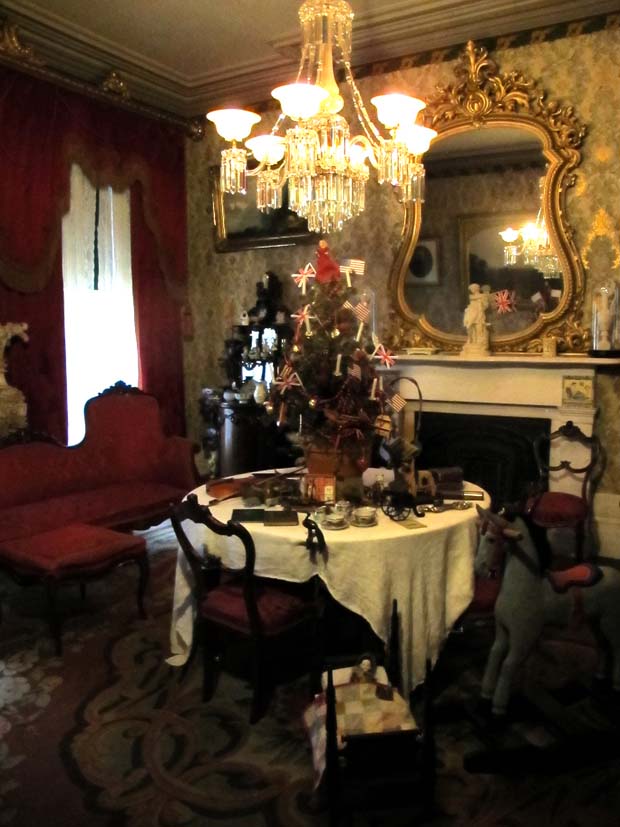 For the month of December  you can experience a McQuesten Christmas, when the museum displays the family's original Christmas toys, books, and gifts under a towering and whimsically decorated Christmas tree.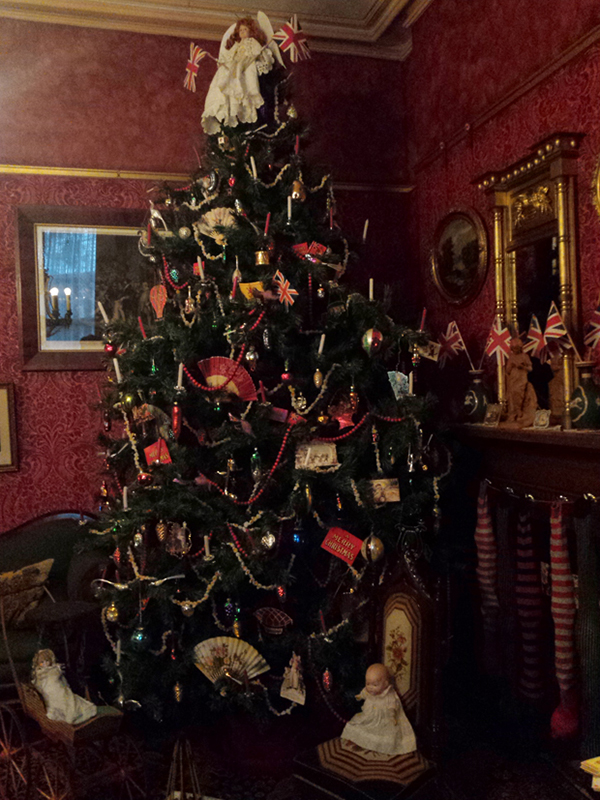 I will definitely be back to visit Whitehern again. With a city the size of Hamilton, it's truly amazing that we have such fabulous museums and richly documented Hamilton histories.
Check out the events at Dundurn, Whitehern and Battlefield House and Museum Park during the month of December for their many Holidays Events.
---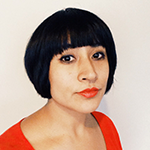 Seema Narula moved to Hamilton five years ago and found herself enamoured with her  constant rediscovery the city. She started a lifestyle blog called This Must Be The Place, where she documents a series of reflective stories about art, music, urbanity, and her growing family, all against the backdrop of Hamilton. Follow her on Twitter @ThisMustBeSeema for updates on her happenings in and around the city. Seema's blog explores Hamilton's kid-friendly side from popular attractions to lesser known gems through the eyes of this local mom and her own family's adventures.