Welcome to the Hamilton home of the 2015 JUNO Awards.
Hamilton was thrilled to be hosting the country's premier music experience with a week's worth of great music events culminating with the nationally broadcast awards show at FirstOntario Centre on March 15, 2015.
Home to a vibrant arts scene and a proud musical history, Hamilton has ties to countless music legends including Ronnie Hawkins, Stan Rogers, John Ellison, Boris Brott, Teenage Head, Harrison Kennedy and countless others. We've also given rise to JUNO Award-winning artists like Arkells, Blackie and the Rodeo Kings, Rita Chiarelli, Caribou, Daniel Lanois, Monster Truck and Steve Strongman.
Authentic, proud and welcoming, Hamilton celebrated the best in Canadian music with music lovers from across the country.
The JUNO Awards are produced annually by CARAS (The Canadian Academy of Recording Arts and Sciences). For more information about 44th Annual JUNO Awards, visit junoawards.ca.
JUNO Events
There were so many great events leading up to the big night – see our complete listing!
JUNO Weekend
Great live music took over downtown Hamilton March 13 & 14.
Music Crawl: FREE performances took place Friday March 13 from 5 – 9 pm
JUNOfest: Ticketed performances went on Friday March 13 and Saturday March 14
---
The JUNOs in Hamilton
Read our JUNO Blogs by our fabulous Guest Bloggers!
Check out the Podcast series created for the JUNOs in Hamilton
---
Turn It ON Pop Up Tour!
The Turn It On Pop Up Tour brought some incredible Canadian music talent to cities across Southern Ontario in advance of the JUNO Awards coming to Hamilton in March.  These free, intimate surprise concerts were designed to celebrate Canadian music and the JUNO Awards. Check out the events here!
---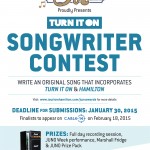 JUNOs Turn It On Songwriter Contest
The Hamilton's JUNO Host Committee invited local songwriters to lend their voice to celebrating the best in Canadian music in Hamilton.
We were looking for the perfect song to welcome the 2015 JUNO Awards. Find out more here!
---
Thank You to Our Sponsors
We couldn't bring you all these great events without the support of our sponsors! Check out the list of our supporters
---
Get Ready to Turn It ON!
For more information about Hamilton's thriving music scene, visit our City Of Music site.