"I've been wanting to try one of those, how does it work?" asked a man interestedly, as I locked up my SoBi bike the other day. I inadvertently launched into salesperson mode, extolling the virtues of Hamilton's newest bike share program – not because I work for Hamilton Bike Share, but because I genuinely enjoyed my first experience exploring the city on the rented bike.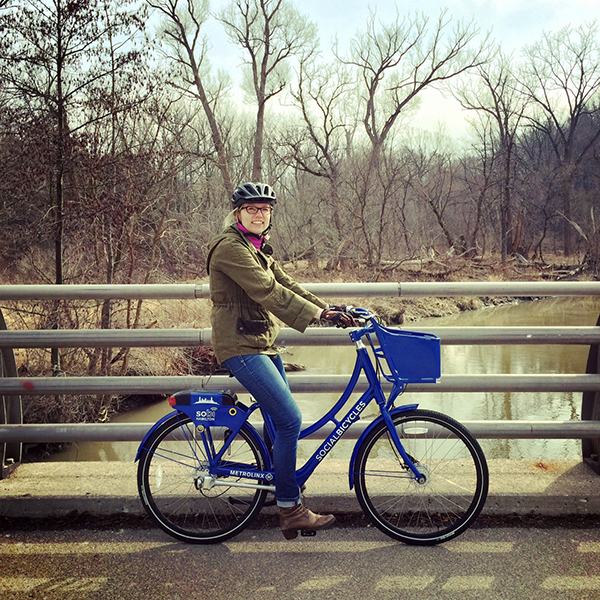 The sturdy, Dutch-inspired blue bikes officially debuted in Hamilton in March (after a successful soft launch last winter). The bikes – and all the associated technology – are provided by a company called Social Bicycles (hence the SoBi Hamilton moniker) and a newly formed not-for-profit organization called Hamilton Bike Share manages the program.
Many were introduced to the shiny blue bikes during the 2015 JUNO Awards, hosted in Hamilton, when hometown favourites and multiple JUNO winners, Arkells, arrived at the red carpet on SoBi bikes.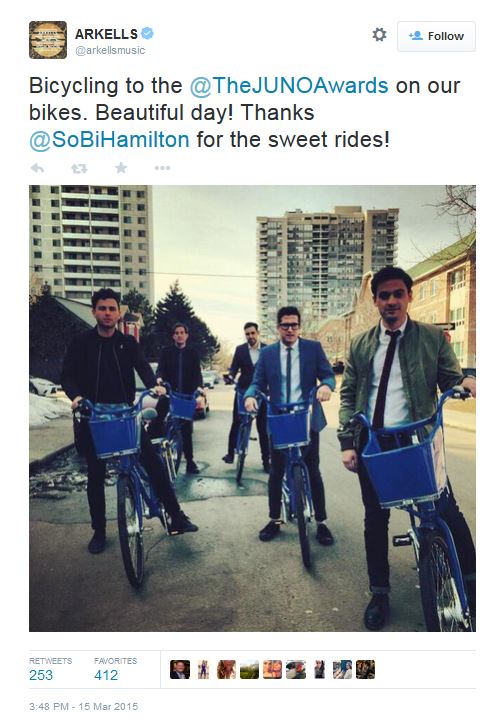 How Does SoBi Work?
Before I left my house, I signed up for an account online. I was charged a one-time $3 administrative fee for joining. Monthly memberships are available for $15 a month. Or, for $4 an hour, you can pay as you go (it's pro-rated by the minute). I chose the latter option. I was given an account number and a pin, which I entered on a keypad that is located on the back of each bike. Those codes unlocked the bike and I was ready to roll. I also downloaded the app, which told me which hubs had bikes near my house and in the neighbourhoods I wanted to visit.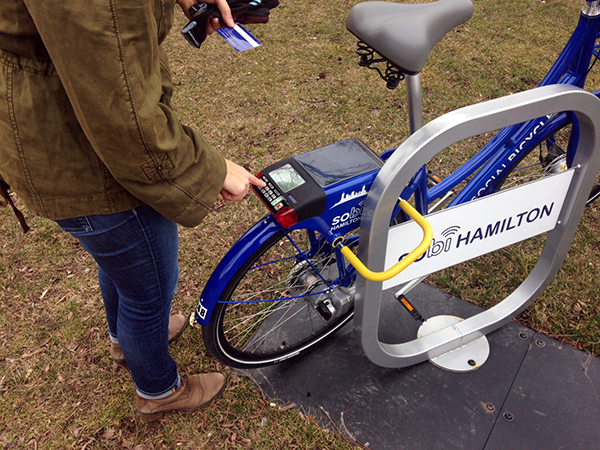 All SoBi bikes are equipped with GPS, which tracks where they go in the city. And the hubs themselves (there are 112) use geo fencing, which means that Hamilton Bike Share can bring bikes to restock an empty or almost-empty station.
"We did try to densely place the stations so that there is always a bike nearby or available," explained SoBi's Community Manager, Chelsea Cox when I sat down with her at her Seedworks office. "Part of our job is to ensure there aren't empty stations."
Apparently the most popular hubs are currently McMaster Student Centre, James and Mulberry, York and MacNab, and Dundurn and Aberdeen.
According to Cox, Hamilton is now home to the largest smart-bike system in North America and likely around the tenth largest fleet on the continent (although cities like New York and Montreal operate much larger programs).
Why Use a SoBi Bike?
There are lots of different reasons why someone might grab a bike. Someone who wants to commute might not trust locking their own bike up at work. (The bikes use a shaft drive, so you're not going to have to deal with greasy chains touching your work clothes). It's also a great way to get to the Go Train or a Go Bus stop. I know I would have loved to use the service to get to McMaster or run errands while I was a student a few years ago. In fact, there's a hub just steps from the house I rented.
"We're seeing a lot of one-way trips downtown," said Chelsea. "Your average person is maybe on a lunch break from work – they don't want to drive, so they ride a few blocks and run errands."
As the weather gets nicer, Chelsea thinks more people will use the bikes recreationally, as well. "We've seen use along the waterfront and rail trails," she said.
Additional service will be added for special events, like the Pan Am Games, Supercrawl, etc. Certainly with the predicted traffic issues that may result from the upcoming Pan Am Games, it might be the smartest way to boot around the city!
What if You're a Tourist?
If you're hanging out in Hamilton for a couple of days, the pay-as-you-go option allows you to explore the city on two wheels.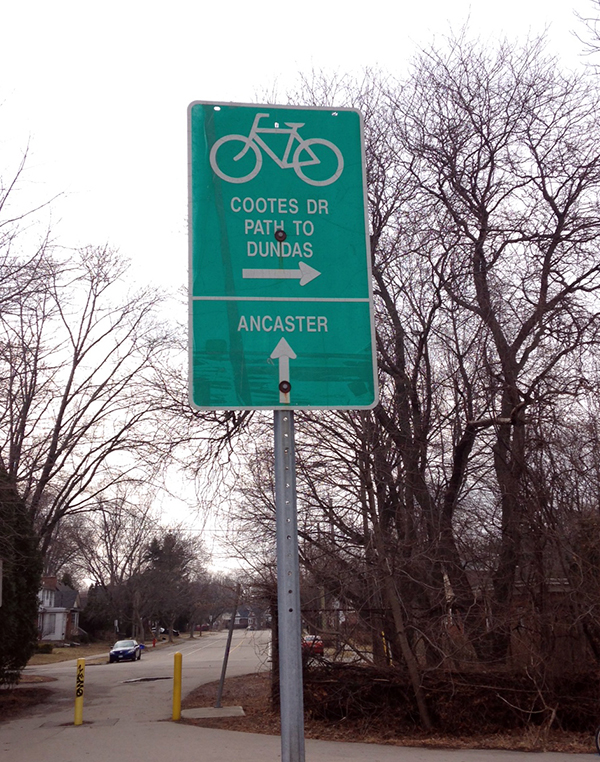 A great route from downtown would be:
Pick up a bike and take James Street South to Charlton Avenue, following it to Locke Street. Park the bike at a SoBi hub, explore the shops and grab a bite to eat.
Head north on Locke Street and turn left onto King Street West (where there is a bike lane). It will lead you right into another great little neighbourhood called Westdale. Lock up the bike, do a little more shopping and/or eating.
Take King Street West back the way you came and turn left onto Longwood Road North. Follow it down the hill and follow the Desjardins Recreational Trail to the Waterfront Trail. This will lead you to Pier 4 Park, as well as some food or beverage options if you need a rest.
When you're done, head up to Bay Street North or James Street North. Both routes will lead you back downtown.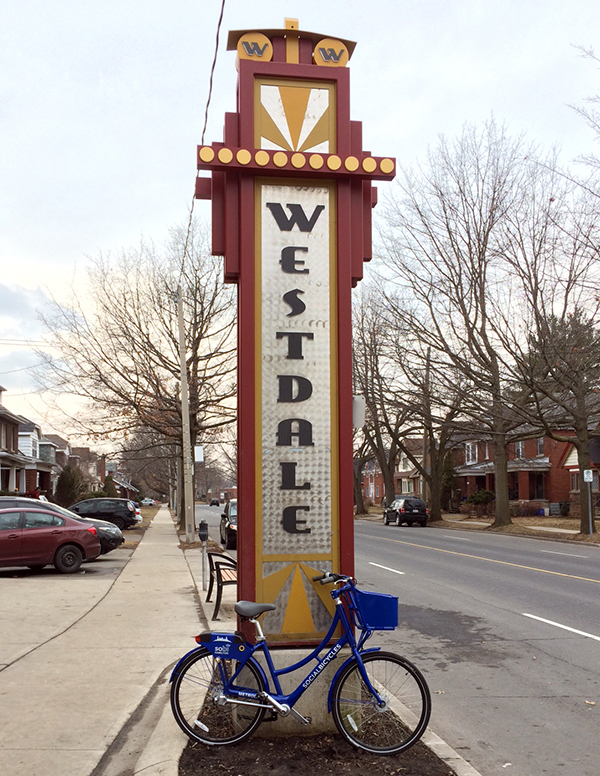 Of course even if you live in Hamilton, it's fun to be a tourist in your own city. I love the route I mentioned above. My first day on the SoBi, I rode the Cootes Drive Trail from Dundas through McMaster and into Westdale. I made a little side trip to the aviary before heading into Westdale for a refreshing bubble tea.
"For myself, I feel more engaged and connected when I'm physically out of a car – you start to notice more," said Chelsea. "It's nice to explore at that pace and find new things in Hamilton."
---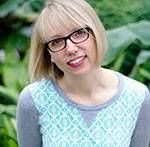 Tara Nolan is a Dundas-based freelance writer with a passion for exploring the outdoors. Tara loves to write about mountain biking, gardening and other active pursuits for a variety of print and online publications. Follow her on Twitter @thattaranolan and Instagram @tara_e.
Her blog The Outdoor Explorer reveals Hamilton's stunning outdoor spaces, from nature trails and waterfalls to conservation areas, farms and gardens. Whether you want to walk, hike, bike or paddle, discover where to seek out your next outdoor adventure – all minutes from the city's core.