Hamilton recently topped this list of North America's 50 fastest growing restaurant scenes. With so many new restaurants opening every month, I can't cover them all here. So here's just a taste of some of my favourite newly opened spots: all worth visiting Hamilton for, and all very delicious.
193 Bench
193 King St. E.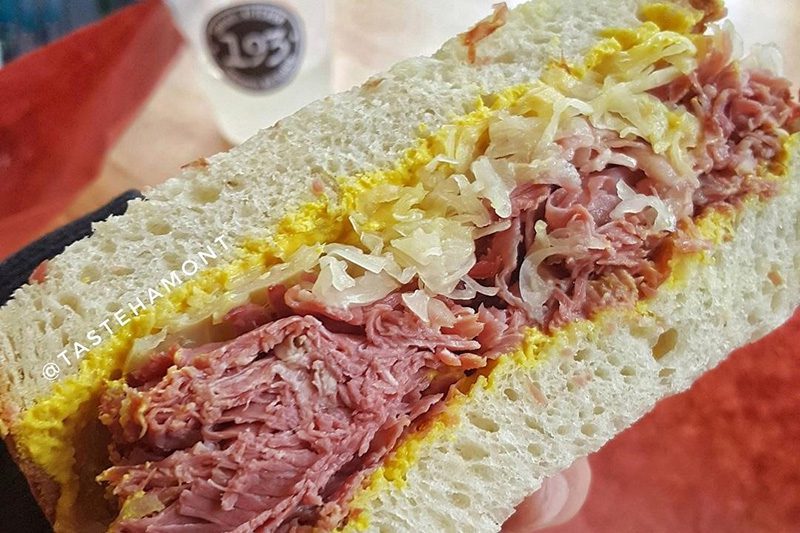 View Website
193 Bench is Hamilton's newest downtown sandwich destination. They're all about from-scratch, which makes their food that much more special. On top of an extensive sandwich menu, you can also buy their bread to go (they'll even slice it for you!). Choose from potato & olive oil sourdough, buttermilk biscuits, ciabatta, sourdough bagels and more! Choose from either a half or full sandwich – perfect if you want a light snack or pair up with soup or salad. If they're in stock, don't miss out on their cruffins – a crazy-delicious croissant and muffin hybrid pastry.
Shorty's Pizza
1099 Cannon St. E.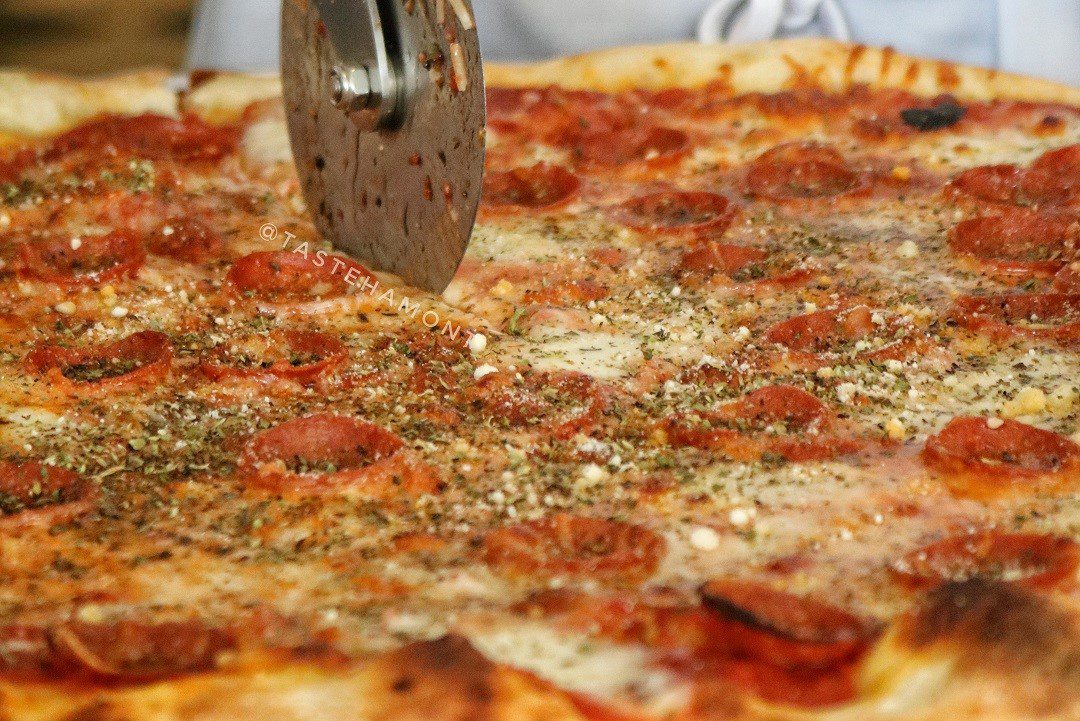 View Website
If you're craving New York style pizza when you're in Hamilton, this should be your first stop. This east-end pizzeria nails the classic pizza parlour decor, with checkered floors, vintage photos and messages from their customers. You can get 14″ or 18″ pie or just grab a slice. The classic pepperoni pizza is full of grease and love-filled pepperoni cups that will take you back to the childhood slices you loved. I like their Hawaiian with hot peppers – a nice hot and sweet combo. (Yes, I'm that person who likes pineapple on their pizza).
Synonym
328 James St. N.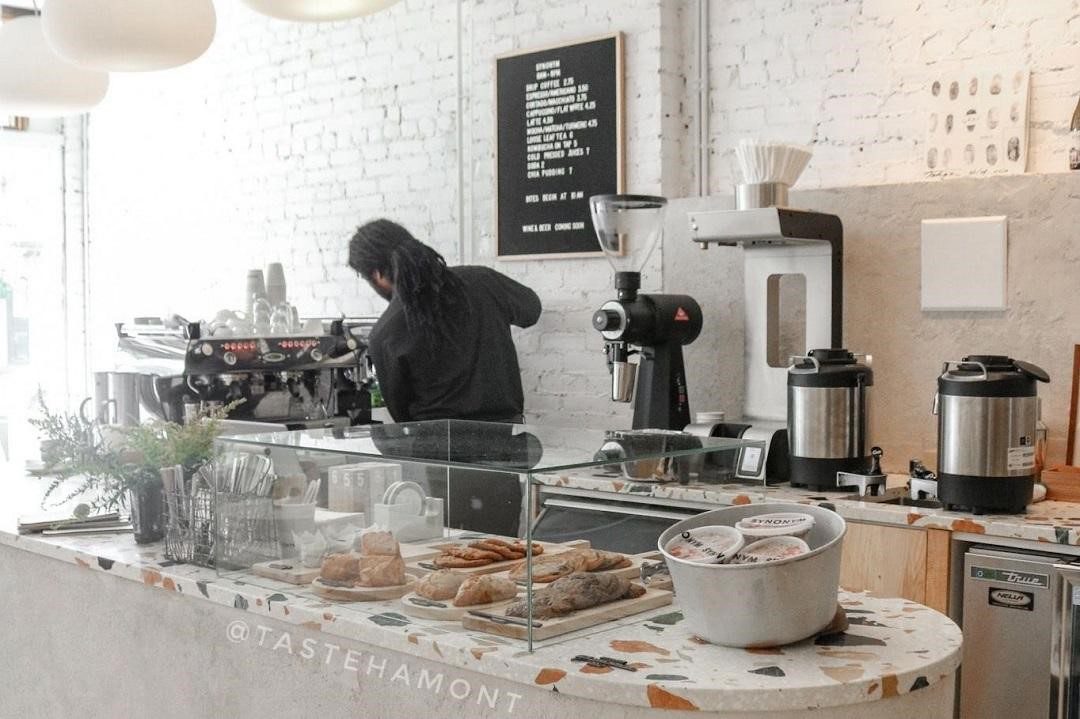 View Website
From their gorgeous countertop to clean décor, the ambience at this new and very special downtown coffee shop will keep you coming back. It's open later than your typical coffee shop and offers a vegetarian and vegan friendly menu that includes tapa style plates and brunch items. Their extensive drink menu includes specialty coffee, juices, wines, craft and craft beers. While you're sipping and eating, be sure to check out their curated collection of hard-to-come by books. Exciting news! They'll have a back patio in time for summer.
Crumbled
339 Barton St. E.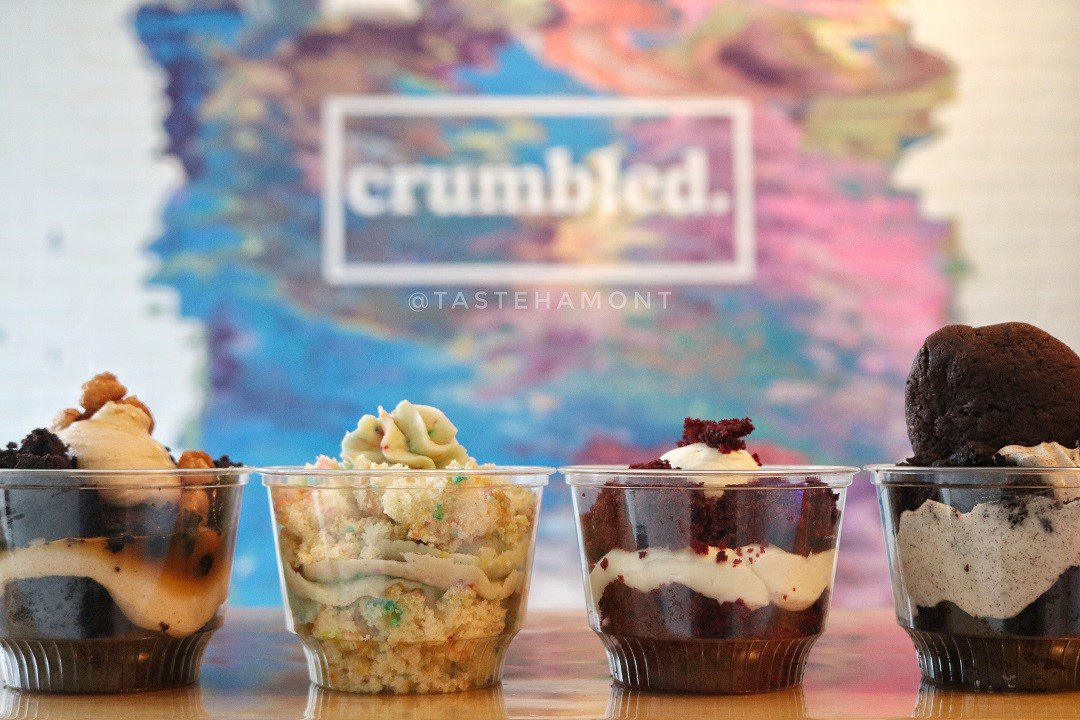 View Website
Crumbled offers a unique build-your-own twist on classic cake. Customers at this new Barton Street dessert shop pick their own sponge, frosting and toppings – all served fresh in a bowl! All the cake and icing are made fresh in-house. Some of their toppings are also made from scratch like the Oreo cookie! If you're indecisive like me, you can choose one of the classic sets on their "basic bae" menu. Did I mention their birthday cake one comes with a mini birthday cake cupcake with a candle on top?
Hui Lau Shan
35 King St. E.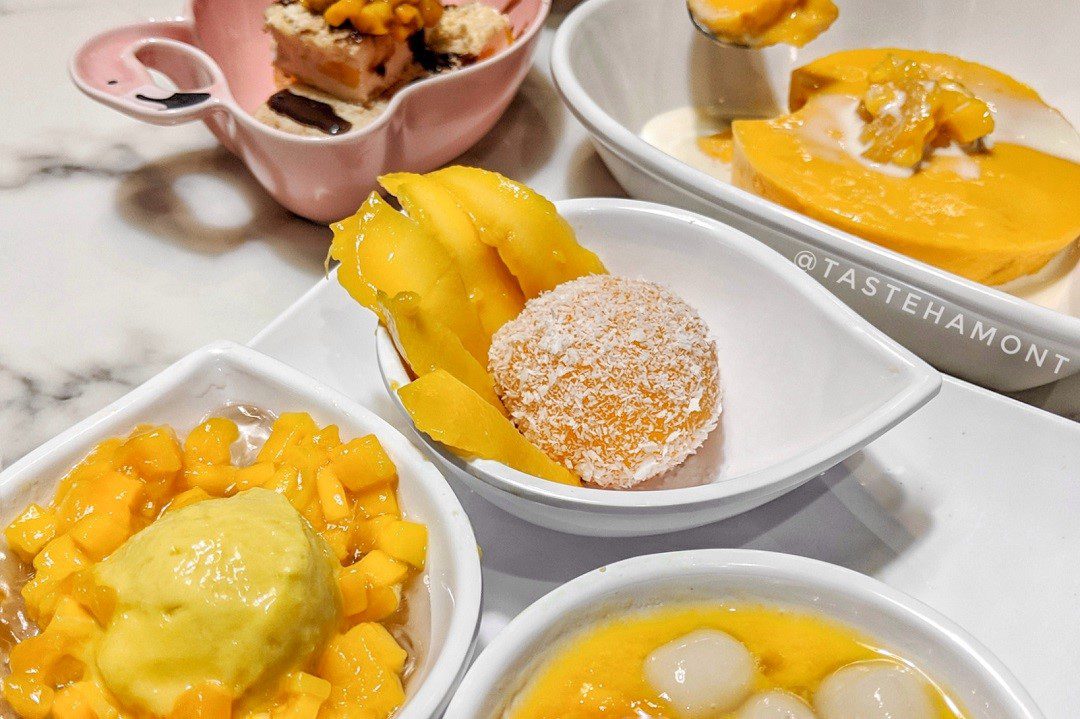 Hui Lau Shan
Attention Mango lovers! This very popular handmade dessert chain opened in Hong Kong back in the 1960s. Now you can get the exotic taste of Hong Kong in downtown Hamilton. Choose from a huge variety of mango desserts including mango pudding, mango frozen cakes, mango mochi, mango drinks and more. If you're not a bit mango fan, that's okay too. They have other fresh fruit juices, drinks and desserts. But you should really try the mango!
The Pigeon
3200 Homestead Dr.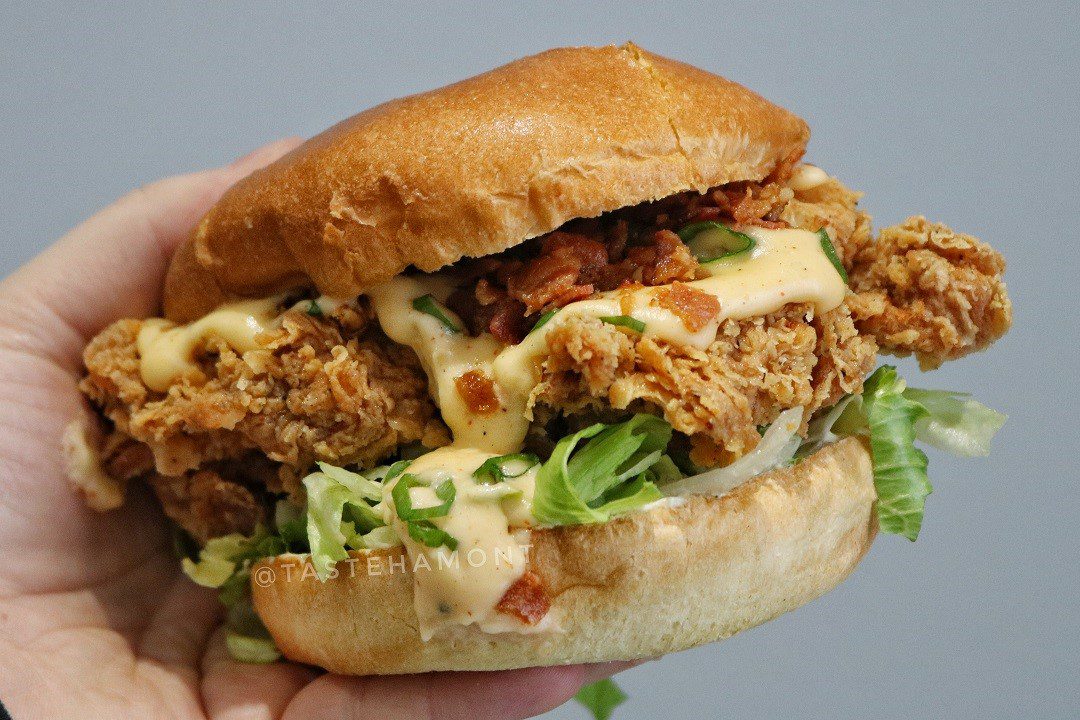 View Website
If you find yourself near Hamilton International Airport or you're simply a fan of delicious fried chicken sandwiches, The Pigeon should be on your must-try list. Owner Matt Beasley – former executive chef at Aberdeen Tavern and former head chef at Toronto's prestigious One Restaurant – has gone back to delicious basics at this small catering and take-out joint in Mount Hope. Their huge fried chicken sandwich is possibly the best in town – crispy, juicy and finger-licking good. If you're lucky enough to find the Queso Fried Chicken Sandwich on the menu, it's is a must try with their truffle fries!
Cafe Baffico
1375 King St. E.
Website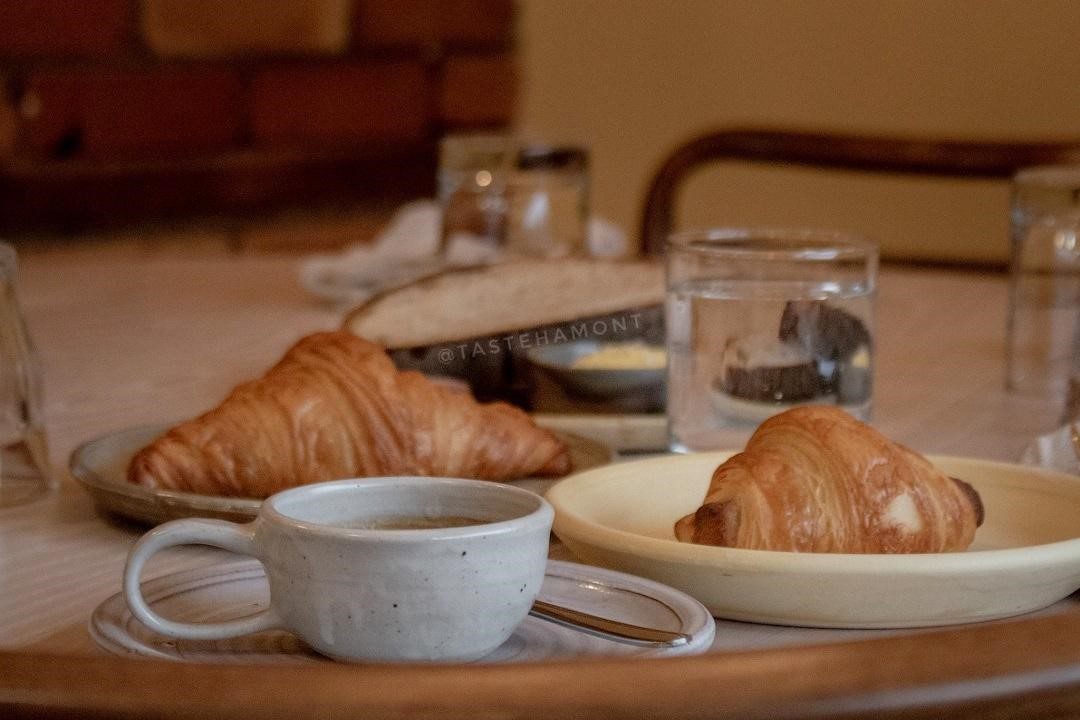 View Website
This new spot near Gage Park in Hamilton's east-end, is an adorable cafe by day and a warm and welcoming Italian restaurant come dinner time. When you walk in, you'll feel transported to a small-town in Italy. The owner is one of my favorite baristas in town so expect a perfect cup of coffee to go with your delicious morning pastry. If you're here for dinner, enjoy Roman cuisine options off their rotating blackboard menu. Regional Italian dishes you typically can't find in town include Caponata, Cacio e Pepe and Amatriciana.
---
Here are some other noteworthy restaurants to add to your must-visit list:
Asian cuisine:
Janbing in Jackson Square food court is the only place in Hamilton to get these savory crepes, very popular in China. You can choose from mung bean or black rice crepe batter. Watching them get made is worth the price alone. Szechuan Noodle Bowl on 117 King St. E. in Dundas is the second location for this very famous noodle spot in Mississauga. They're known for their hand pulled noodle soups and cold noodles as well as a huge menu of authentic Sichuan dishes.
Fully Vegan:
Lick the Whisk at 29 Barton St. E. is a vegan dessert café, popular for their homemade ice cream and waffle cones. They also offer donuts, crepes, cupcakes and more! Lotus & the Bee at 304 Barton St. E. recently opened their doors and serve healthy, nutritious vegan food including brunch.
Recently Opened:
Stay tuned for more on these newer Hamilton restaurants as well. Frats on King William Street (Pizza / Italian); Amigos on George Street (Tacos), Rugantino on Locke
---
Images are taken by the author and cannot be used without permission.

---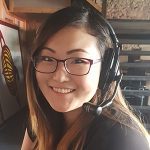 Jennifer Shin is a Hamilton based foodie who runs @tastehamont on Instagram and tastehamont.com.