Another year has come and gone in Hamilton but but there's still time for one last party! With so many attractions, nightclubs, live music venues, and family-friendly events to choose from (both leading up to and on New Year's Eve), there's no excuse not to celebrate the end of the year on a fun note.

Dundurn Castle
As we approach the end of 2017, there is still time to check a Hamilton classic off your bucket list. Be a tourist in your own city, as I like to say! Take advantage of a unique opportunity to tour Dundurn Castle while it's dolled up for the holidays during an unforgettable evening tour.
Sir Allan MacNab was very proud of his Scottish Ancestry and celebrated the New Year surrounded by family and friends. Celebrate at Dundurn with music, an extended tour of MacNab's lavish home, and sample an assortment of traditional holiday foods served in the historic kitchen. December 28-29th, 7-9pm. Pre-registration required; $30/person.
---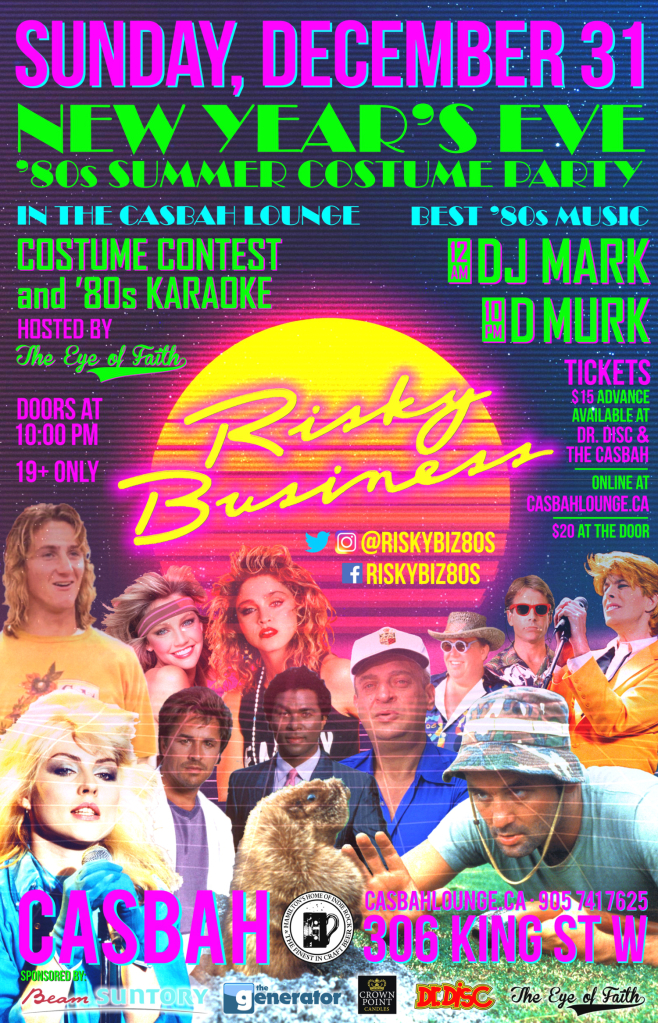 Casbah
Downtown at  Casbah, there are parties in both rooms. In the Main Hall, Risky Business 80s Night throws a special NYE edition of their popular 80's-themed dance party (regularly held on the first Saturday of the month). With DJ Mark of Dr. Disc and D Murk behind the decks, you know you're in for the best curated selection of nostalgia to keep you moving all night.
Pop in downstairs to The Lounge at Casbah as The Eye Of Faith present a special NYE edition of their epic Karaoke Cabaret (regularly held twice a month at The Casbah). Don't forget to dress the part – EOF will judge an 80s-themed costume contest. Time to bust out the neon and hair crimper! Tickets for this double bill on Dec. 31st are $15 advance and $20 at the door.
---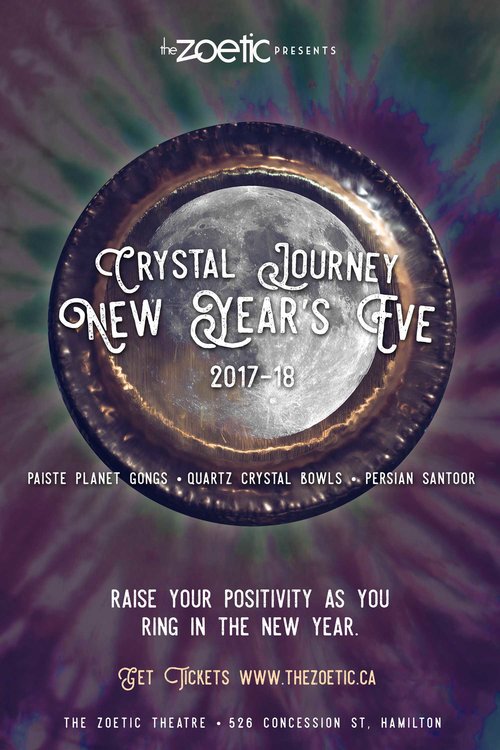 The Zoetic
Uptown at The Zoetic, raise your positivity as you enter the new year with David Hickey's Crystal Journey. Known for a powerful, hypnotic sound that blends international instruments such as Paiste Planet Gongs, Quartz Crystal Bowls and Persian Santour – Crystal Journey is a one-of-a-kind experience in the Meditative/Sound World. Dec. 31st, doors at 8pm. Children under 12 are free and VIP Packages are available.
---

Hamilton Children's Museum
Let the kids in on the New Years Have some daytime fun with the family at Hamilton Children Museum's Blue New Year's Eve. Visit all three galleries and join in on six festive "countdowns" throughout the day. The museum hosts both indoor and outdoor activities to say goodbye to the past year and hello to the New Year! Dec. 31st, 9am-3:30pm. Adults: $2, Seniors/Youth: $2, Children: $4, Infants (under 1yr): free, Family: $9
---
Narula's Banquet Hall
Narula's Entertainment returns with another colourful bash – Thumka Laga New Year's Eve Bollywood Dance Party. Come together to launch into 2018 with positive energy as you dance the night away to the best Bollywood music and indulge in delicious and authentic Indian cuisine. Dec. 31st, doors at 9pm, dinner at 10pm, performances start at 10:30pm. Complimentary shots served at 11:30pm with champagne toast at midnight. Tickets may be purchased online or in person at Narula's.
---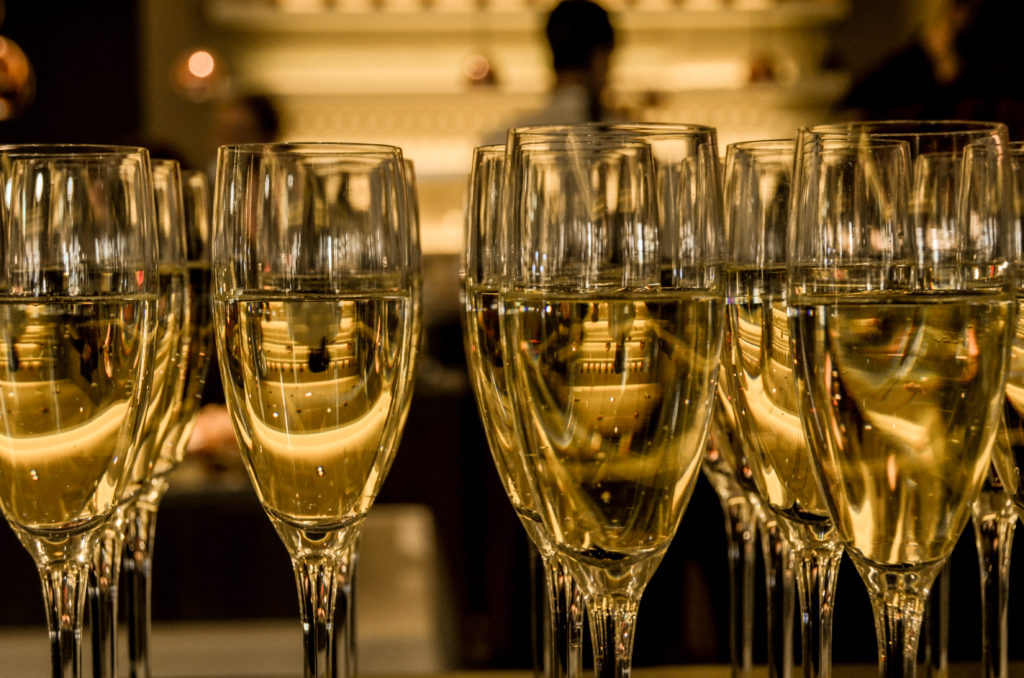 LIUNA Station
For a more upscale affair, ring in the new year with an elegant NYE Gala at the stunning historical venue LIUNA Station. Guests will be greeted with a variety of hot and cold hor d'oeuvres followed by LIUNA's own homemade lasagna, plus main course and dessert. Sweets, pizza, and a champagne toast to follow at midnight. Entertainment from the D.J. Emporium will keep you grooving all night to dance off that epic meal! Dec. 31st, 6pm doors, 7:30pm dinner. $140/person.
---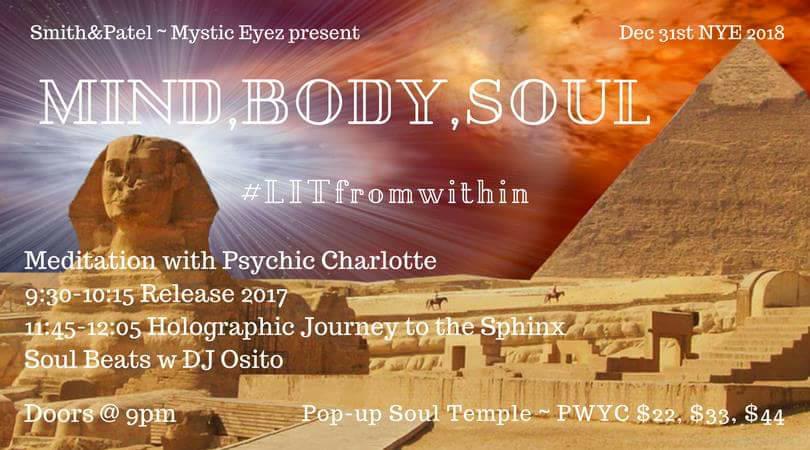 Mind, Body, Soul
Smith & Patel (behind Hamilton's popular Art Battle events) and Mystic Eyez (psychic Charlotte Szivak) present Mind, Body, Soul. Sure to be an enlightened evening (in a secret location they will reveal to you 24 hours before the event!) Charlotte leads two guided meditations followed by a soul dance party from 10:30pm-late with DJ Osito. PWYC ($22, $33, $44)
---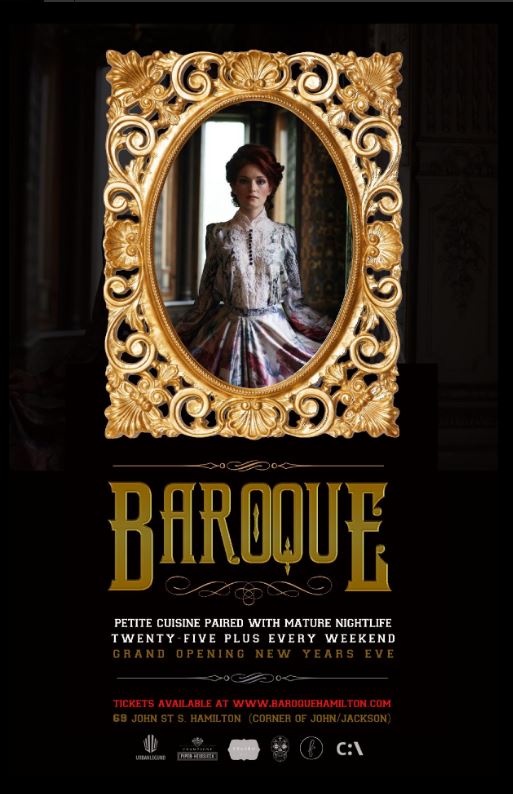 Baroque
Be among the first to step inside a new addition to Hamilton's nightlife, Baroque. The new nightclub concept by Manny Ferreira (Mezcal TNT, Uno Mas) and Jessie Chiava (Urban Legend Group) is renovated from the former 4000-square foot Liquid Kitty bar (69 John St. South). Aiming for a more mature audience, the club will also offer small plate petite cuisine. Ticket includes a personalized mini bottle of champagne, one drink ticket, and $10 voucher for their petite cuisine on your next visit.
---
Club Absinthe
I've spent many a NYE at Club Absinthe! Let your hair down to the sounds of killer cover band Born In The Eighties as they bust out all your favourites from the 80's and 90's. Throw in DJ Party Jesus with even more jams in between the live music and Patrick Coppolino as MC for a great new year's party. There will be food throughout the night and a toast of bubbly at midnight. Advance tickets are available for $15 at Bruha.
---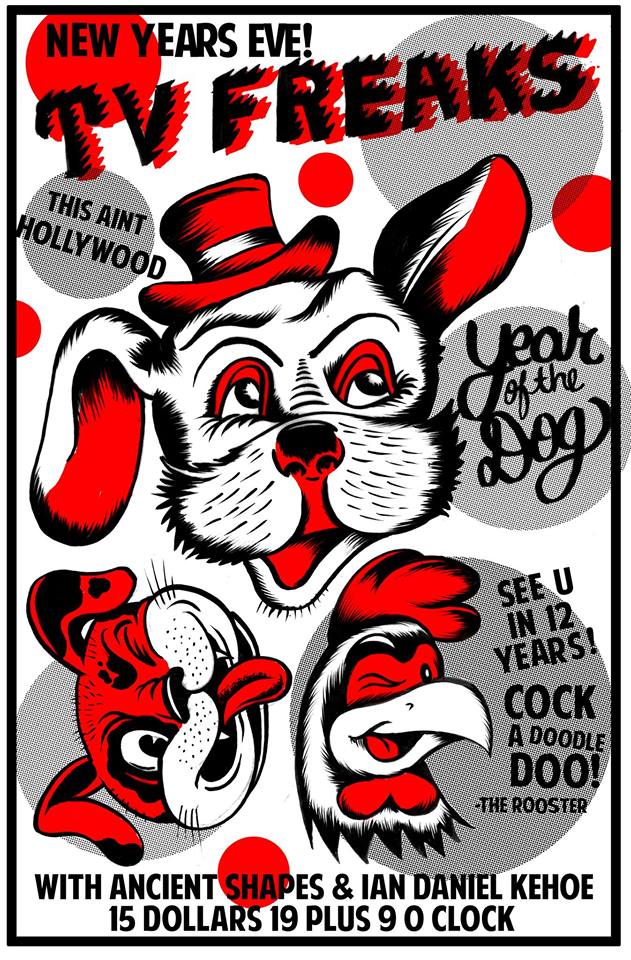 This Ain't Hollywood
Make it a classic Hamilton punk rock NYE by spending it at the legendary This Ain't Hollywood. TV Freaks play their first Hamilton show in over a year, plus Ancient Shapes (Daniel Romano comes full circle back to punk), Ian Kehoe, and guest DJs. Tickets are $13 on Bruha.
---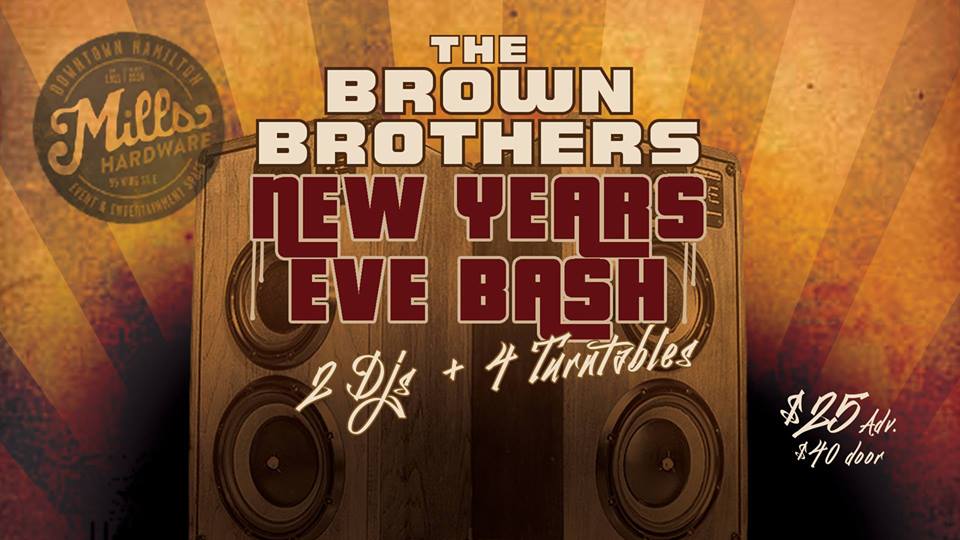 Mills Hardware
Dress to impress at Mills Hardware's last bash of the year. The Brown Brothers will be pumping out feel-good hip hop and R&B jams all night – two DJs, four turntables, one rockin' New Year's Eve. Complete with snack bar and champagne. Advance tickets are $25 and $40 at the door. Tickets available at Ticketfly.
---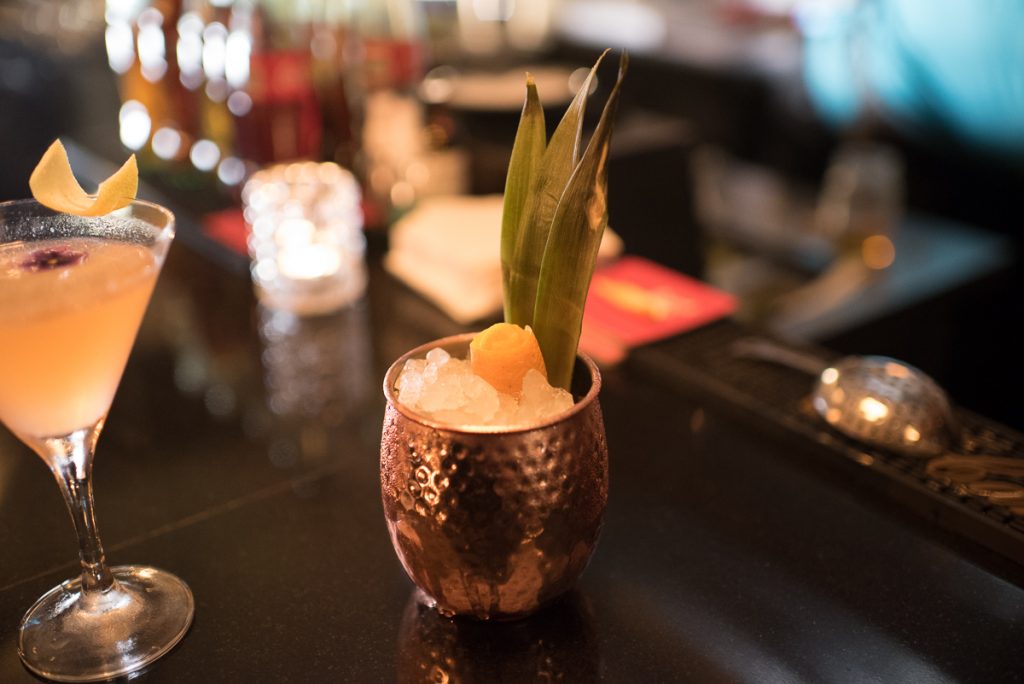 Hamilton's NYE Food Scene
It has been an exciting year for Hamilton's food scene, and some restaurants are also offering New Years' Eve fanfare. Enjoy a special 3-course meal at Radius with music by DJ P Dot. Toast Wine Bar hosts a 5-course menu paired with delicious drink from Kew Vineyard. Over at Born and Raised, celebrate with a prix fixe menu which includes 3 courses, and wine pairings for an additional fee. Check out our full restaurant listings for more great dining options.
---
Drink responsibly and make plans for transportation. HSR will be available for free starting at 6 p.m. and there will be free late-night service on select routes until approximately 2:30 a.m. Several routes will have increased service to arrive every 15-30 minutes. Have a safe and happy New Year's and I'll see you here in 2018!
For more Hamilton NYE events, visit Tourism Hamilton listings.
---
Kristin Archer is a lifelong Hamiltonian and the blogger behind the popular blog I Heart Hamilton where she inspires every local to "be a tourist in your own city." She's passionate about discovering her hometown, new experiences and sharing all that Hamilton has to offer. Catch Kristin Fridays at 2 p.m. when she hosts "I Heart Hamilton" on 93.3 CFMU and follow her on Twitter and Instagram. Kristin's #MyHamilton blog offers an insider's look at Hamilton's buzz-worthy arts and culture scene including James Street North staple Art Crawl, great music festivals and venues, outdoor events, theatre, dance and specialty shopping.