Get outside and explore, Hamilton! The city's art scene is bursting with talent and many local artists have taken their work to the streets. There are so many colourful murals to enjoy. Here are some highlights to look out for.
1. 'Greetings from Hamilton' Mural at Durand Coffee
It's easy to spot sunny coffee shop Durand Coffee on the corner of Charlton and Caroline Streets thanks to the pleasant sky blue and lavender "Greetings From Hamilton" mural by Tyler Van Holst. Tyler says his art has "the intention of being a destination piece, a place to record and share your Hamilton." His goal wasn't to capture the essence of the city, "but rather to shed light on the many facets to reveal a diverse reflection."
2. EduDeo Ministries Mural

Over on Barton Street you'll find an inspiring and whimsical mural depicting the uplifting power of "education that goes beyond the classroom" according to artist Tim Nijenhuis (Ninehouse Productions). Find it on the EduDeo Ministries building at the intersection with Gibson Street.
3. Corktown Mural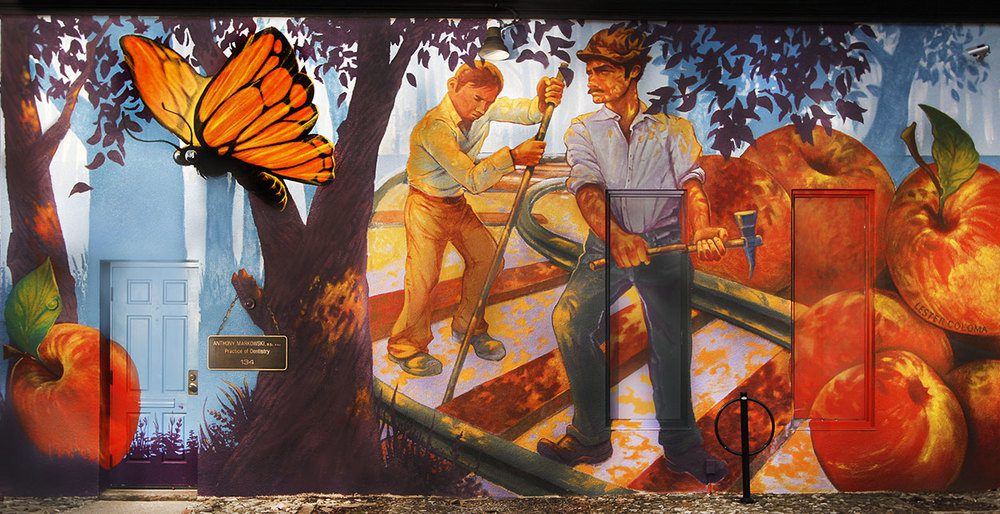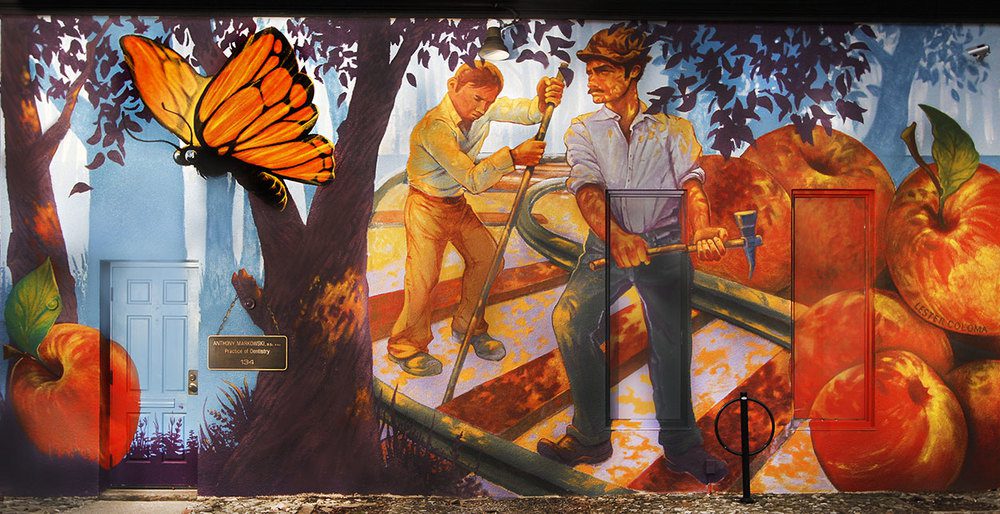 We can't talk about murals in Hamilton without highlighting the whimsical work of Lester Coloma. The prolific artist has created several memorable murals around Hamilton, notably "Corktown Mural" which spans two walls of a stucco building outside a dental office at Walnut and Jackson Streets. The vibrant images evoke Corktown's rich history.
4. 'Raise' Mural
Artistic talent runs in the Coloma family! One of the city's newer murals was created by Lester Coloma's brother Norman. Located at King Street East and West Avenue, Raise represents Hamilton as an "Ambitious City". Norman executed this theme by depicting a group hoisting a hammer, which also pays homage to the labourers that worked in this historic building years ago.
5. Collective Arts Mural

Collective Arts Brewing showcases the talents of emerging artists by putting works of art on its cans and labels. The north end brewery became even more colourful in the summer of 2017 with The Wall Project – an installation of graffiti art surrounding the outdoor beer garden. Artists Jordan Warmington (of John Street Tattoo in Hamilton), Peru Dyer Jalea, Chris Dyer, Bruno Smoky, and Shalak Attack came together in conjunction with the brewery's Series 8 Label Launch to create a massive collaboration that transformed the space entirely.
6. Dr. Disc Mural

A fun aspect of the annual arts and culture festival Supercrawl is that a masterpiece is often left behind for us to enjoy year-round. That's the case outside of Dr. Disc. During Supercrawl 2016, British artist Pete Fowler pulled triple duty, performing, exhibiting some of his art, and also finding the time to create a brilliant mural on the wall of the iconic record store.
7. 'Remembrance Reiterated' – Supercrawl Mural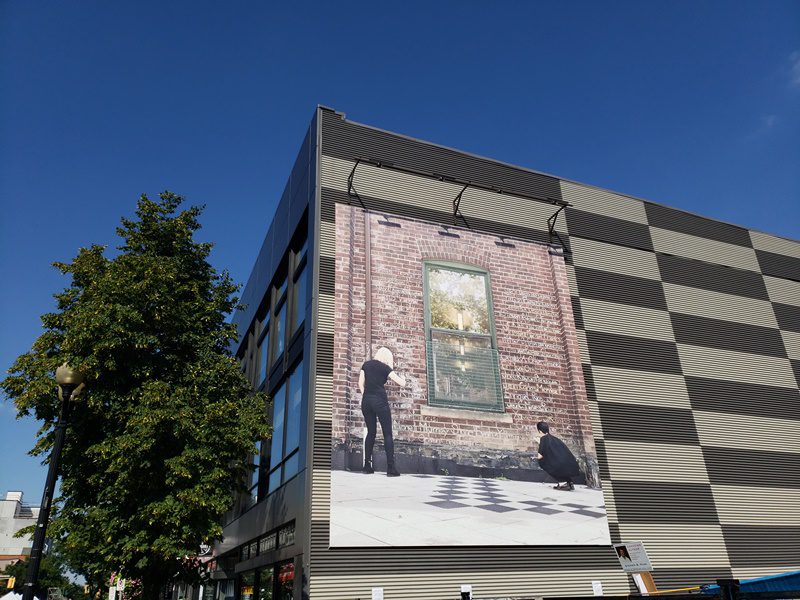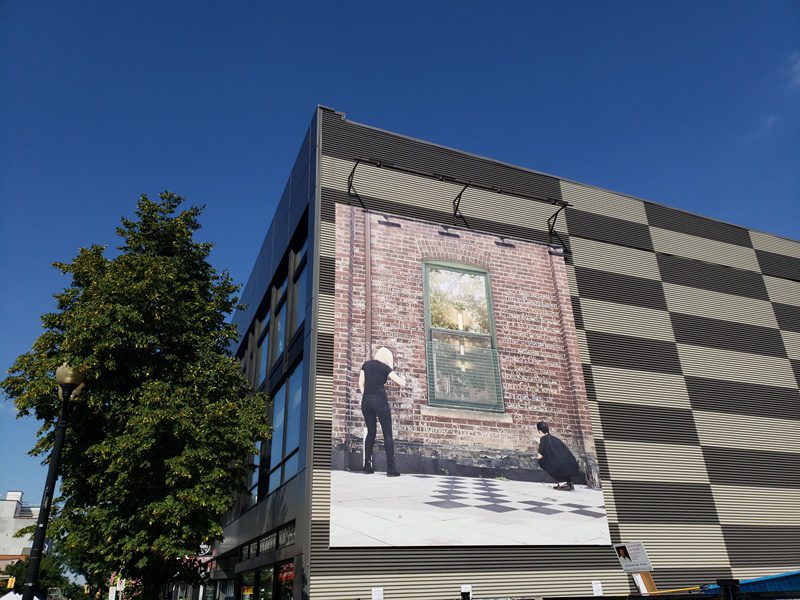 After the whirlwind of Supercrawl weekend, it's enjoyable to have a tangible piece of art that was created specifically for the annual festival. In recent years this has included an installation on James Street North outside of CBC Hamilton. Currently, that piece is "Remembrance Reiterated" by Nedda Baba and Amber Helene Müller St. Thomas (documented by photographer Sam Lowen and reproduced as a large-scale mural), which depicts writing the names of the victims of the Pulse Nightclub shooting in Orlando Florida 2016.
8. Welcome to Hamilton Mural at MacNab Street Pedestrian Tunnel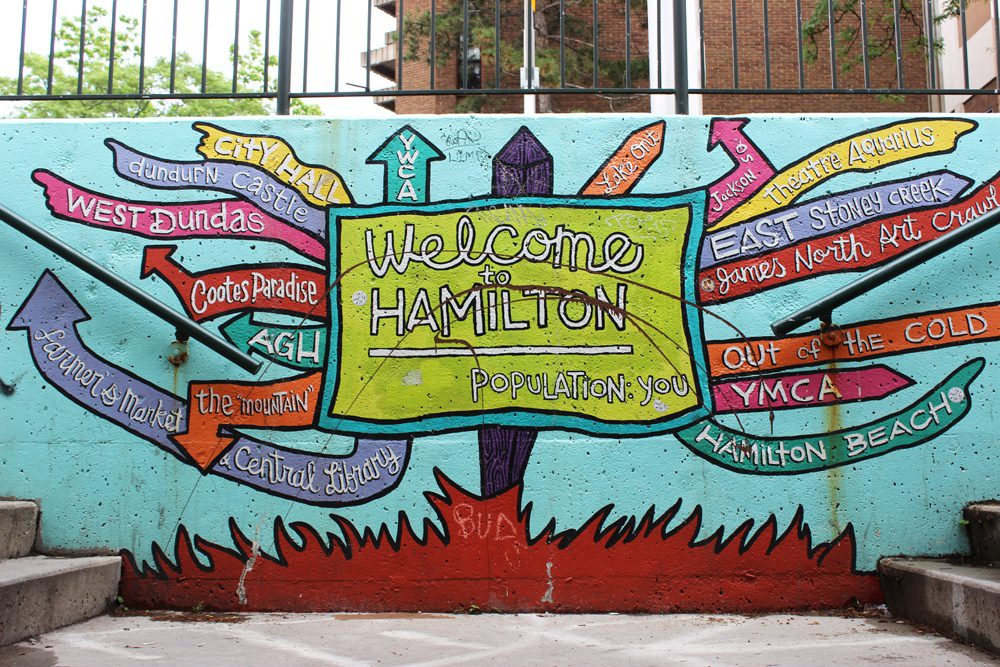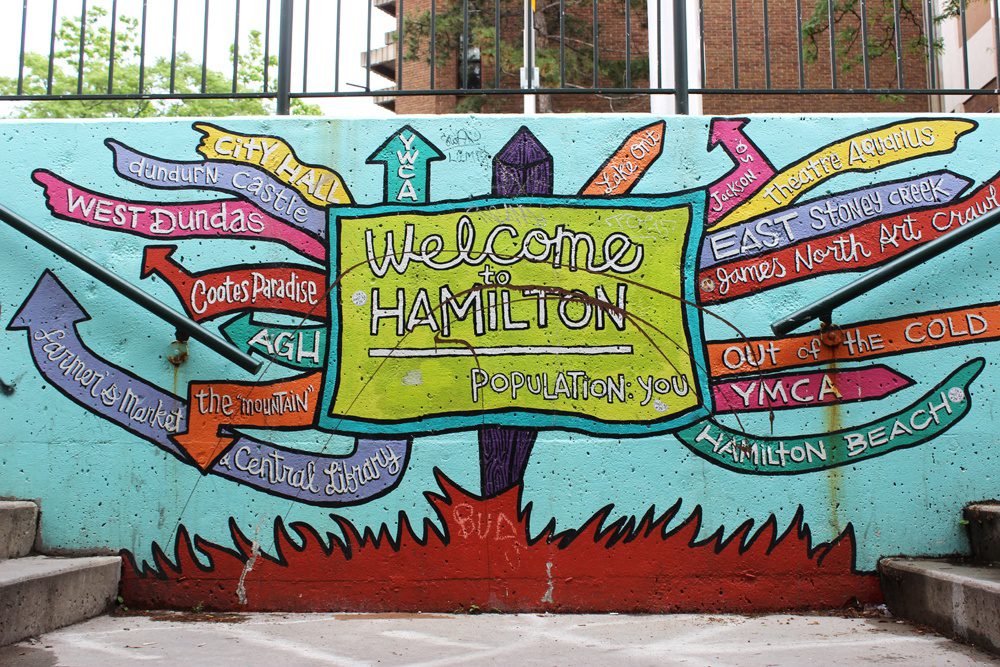 Another familiar icon to the local mural scene is Street Art Hamilton, whose mandate is to "beautify the city of Hamilton one mural at a time." In addition to appearing in many restaurant hot spots, the work of Richard Mace can also be found in the colourful MacNab Street tunnel, featuring fanciful giraffes and R2-D2. Richard has plans for more outdoor murals this summer.
9. Donut Monster Mural
Prolific artist duo Vermillion Sands (Jacqui Oakley and Jamie Lawson) partner on a broad range of projects from fine art, illustration, and design to murals and live art. Their latest masterpiece can be found outside Donut Monster on Locke Street. The candy-coloured renderings of cute characters make it the perfect compliment to this beloved donut shop.
10. Carter Park Mural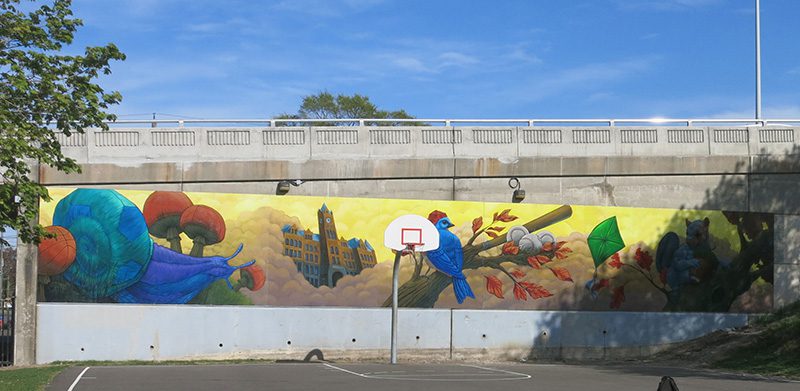 At Carter Park on Stinson Street you'll find an impressive 70-ft mural by local artist Bryce Huffman. Installed in 2016, the work compliments the recreational space while also acknowledging the natural and historical character of the area.
11. Antique Detective Mural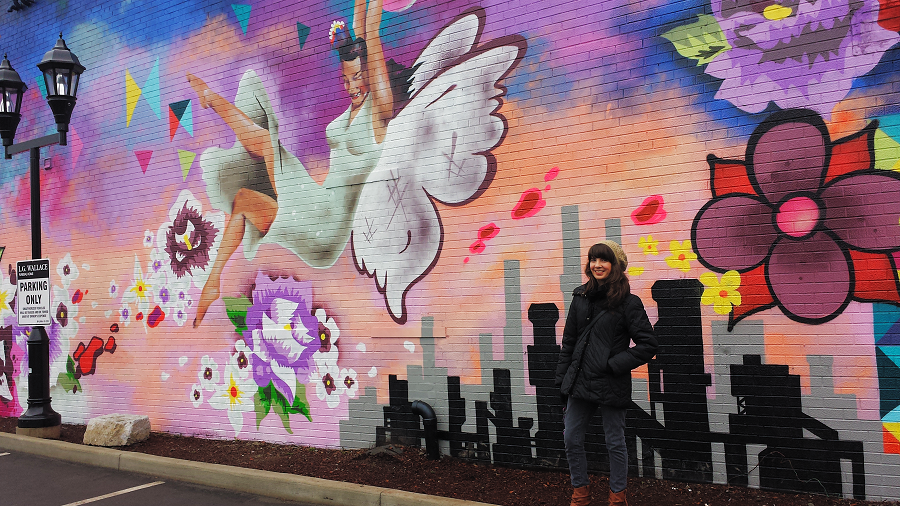 It's difficult to miss the gorgeous array of colours on Ottawa Street North outside of Antique Detective in the heart of Hamilton's antique and design district. The imaginative, rainbow-coloured mural featuring a gigantic fairy flying over top of smokestacks was conceived through a collaborative effort by artists Will Gaydos, Rudjer Bosiljevic, and Spencer Watson.
12. 'Gateway' at James Street South Mural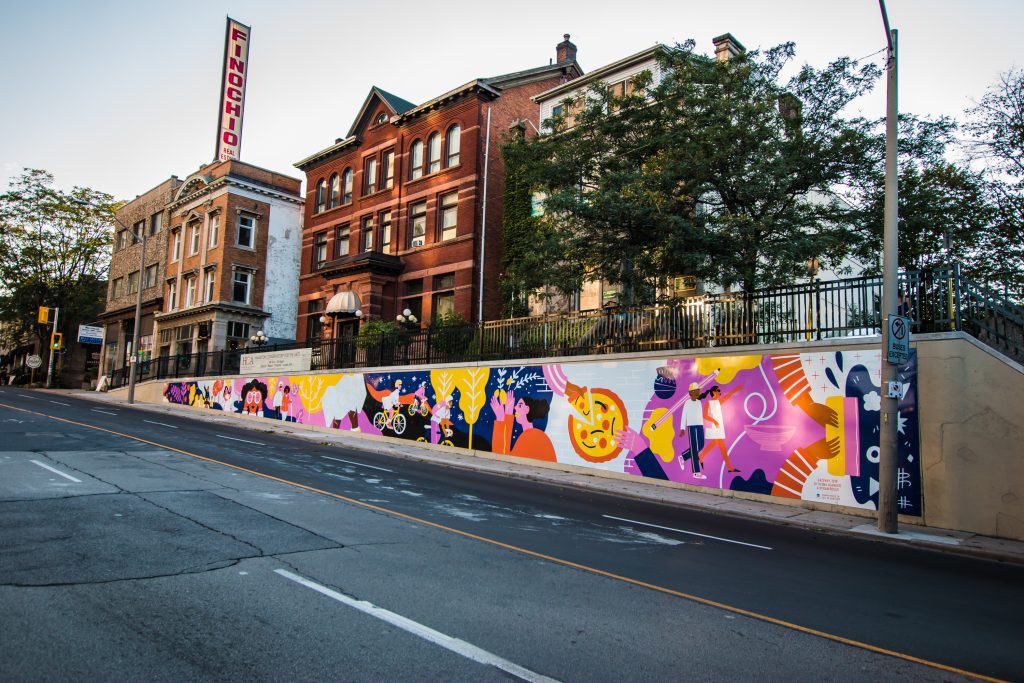 A new, welcoming addition to James Street South, across from the Hamilton GO Centre, is Gateway by Vivian Rosas and Vesna Asanovic. This piece was recently selected as the winning entry in the City of Hamilton's James Street South Mural Public Art Competition. This colourful work showcases vignettes of daily activities, both urban and nature, across a culturally diverse city.
13. Caro Restaurant Mural on Ottawa Street North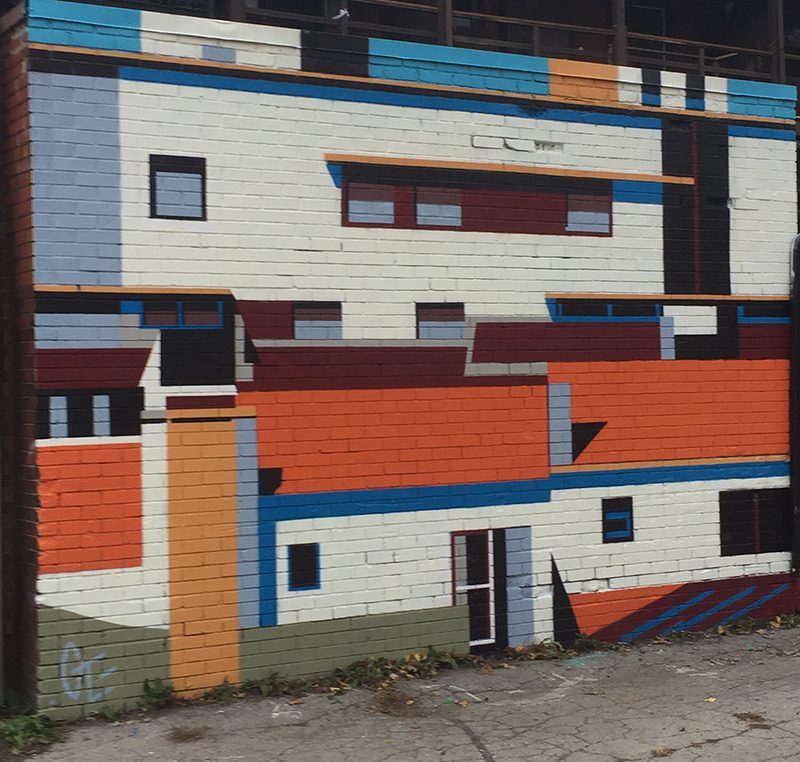 Popular Hamilton painter Gordon Leverton lends his signature style – focused on shadows, buildings, and skyline – to this gorgeous mural inspired by the landscape of Acores, Portugal. Find this slice of Mediterranean inspiration outside of Caro Restaurant, who commissioned the piece, on Ottawa Street North, at Main Street East.
Meet local muralists and learn about the stories behind their art during regularly scheduled mural tours around the city.
Share your photos with us on Instagram and Twitter by tagging #MyHamilton!

Map Credit: Mohawk College – Christopher Arndt

---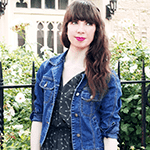 Kristin Archer is a lifelong Hamiltonian and the blogger behind the popular blog I Heart Hamilton where she inspires every local to "be a tourist in your own city." She's passionate about discovering her hometown, new experiences and sharing all that Hamilton has to offer. Catch Kristin Fridays at 2 p.m. when she hosts "I Heart Hamilton" on 93.3 CFMU and follow her on Twitter and Instagram. Kristin's #MyHamilton blog offers an insider's look at Hamilton's buzz-worthy arts and culture scene including James Street North staple Art Crawl, great music festivals and venues, outdoor events, theatre, dance and specialty shopping.