One of the busiest and most exciting weekends in Hamilton is almost upon us – Supercrawl!  This free arts and culture festival spans James Street North over three days (Sept. 8, 9, 10), spilling onto side streets and neighbouring venues.
Now in its ninth year, Supercrawl just keeps getting bigger and better, drawing more than 150,000 people a year.
While the focus has always been music, the accompanying cultural experiences are just as noteworthy. Visitors should expect the unexpected as they wander the street which is closed to allow for maximum exploration.
There are countless sights and sounds to experience. Here are just some of my picks:
---
Music in the Streets
Reflecting Hamilton's diverse music scene, a number of local artists play the festival. Some of my top not-to-miss picks on Supercrawl's outdoor stages include Mother Tareka (hip hop, funk), Persons (electronic, high energy, multimedia performance), Dan Edmonds (folk rock, singer/songwriter), The Medicine Hat (pop/rock).
Speaking of Hamilton's home-grown music scene, Supercrawl also marks the official launch of the Hamilton City Of Music brand – the new website celebrates all things music in Hamilton, providing a local directory, blog, playlists, and event listings. The brand also co-sponsors one of this year's major stages and will have a presence on the street with an information tent.
It has become a musical tradition at Supercrawl to see the renowned Hamilton Philharmonic Orchestra perform exciting collaborations with local acts. First HPO collaborated with Hachey the MouthPEACE in 2013, and thus began their Indie Series, which continued with innovative collaborations year-round. This year at Supercrawl we'll see a remount of HPO's set with local rockers Black Collar Union. The blend of the band's original material and playing classical pieces with the orchestra is a unique musical experience not to be missed.
One of this year's headliners is guaranteed to offer an incredibly moving performance. It will be an honour to see Nunavut singer Tanya Tagaq take the stage. The Canadian experimental vocalist won the prestigious Polaris Music Prize in 2014 and is on the Short List again this year for Retribution, which has been described as an "aggressive, political, challenging, spine-tingling, powerful masterpiece." Tanya's set should be at the top of your list to see.
Other exciting headlining acts this year include Sam Roberts Band, Blackie & the Rodeo Kings, John K. Samson, and The Sheepdogs.
---
Fashion Forward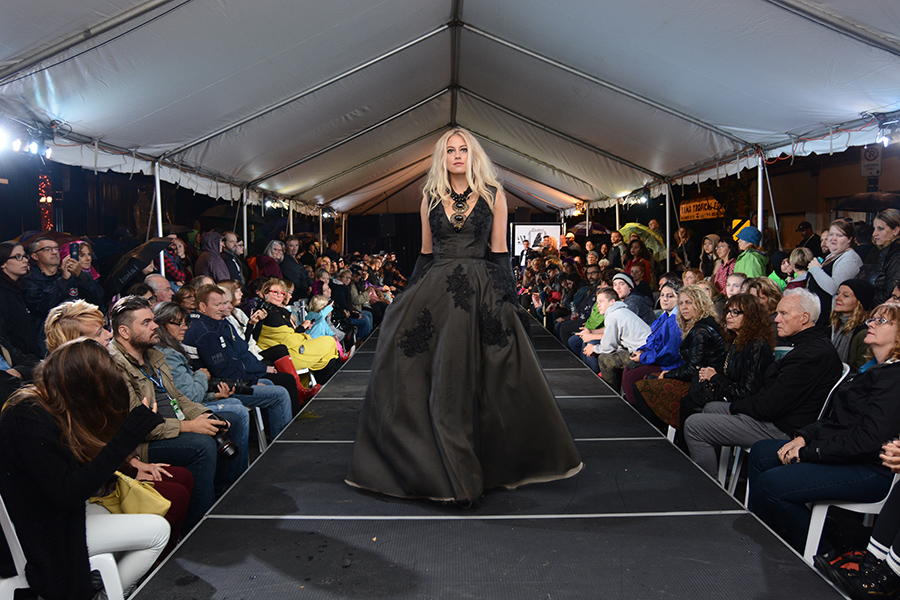 In recent years, the local fashion scene has become a big component of Supercrawl. This year is no exception, with fashion shows running all three days. The Fashion Zone (James North and Murray St) kicks off Sept. 8 with The History of Fashion with Madison Watson followed by a local brand showcase. On Sept. 9 the runway will see eleven shows running from 12:45pm-9pm featuring The Eye Of Faith, Designs By Mallory, Blackbird Studios and more. Things wrap up on Sept. 10 with a Cosplay show and a presentation by Aboriginal activist Cha Nimke Nagwagin Kwe (Jasmin Glaw) who is presenting a traditional garment that is a statement on the lack of exposure to the Missing Aboriginal Women epidemic in Canada.
---
Theatre & Performing Arts
A new component to Supercrawl this year is local theatre. Performers and companies will present their works in rotation throughout the day on Saturday, Sept. 9 in the Art Zone, which runs roughly from Cannon Street to Robert Street. Highlights include a series of standalone monologues by six veterans of Canadian theatre (Rick Banville, Claire Calnan, Anna Chatterton, Matthew MacFadzean, Marilo Nunez, and Chris Stanton) that carry on like a relay, each building on the preceding monologue. Small groups of audience members will be given headsets, blocking out some of the noise of Supercrawl.
There will also be performances from Hamilton Aerial Group (in the Art Zone) and audience favourite Circus Orange (in the Meridian Family Zone). Circus Orange is also staging an open rehearsal of its Saturday night performance on the opening night of Supercrawl (Sept. 8).
---
Inspiring Art
As an offshoot of Hamilton's monthly James Street North Art Crawls, Supercrawl does a great job celebrating the city's incredible art scene. In addition to a slew of galleries, studios and street vendors showcasing unique art pieces, Supercrawl features memorable installations selected by its visual arts committee. This year, look  out for eye-catching and thought provoking art projects on the street by artists Simon Frank, Sandi Hartling, Thea Jones, Shelley Niro, Jordyn Stewart, Kyle Stewart and Peter Michael Wilson.
Also be sure to check out new #MyHamilton Photo Contest finalists at the Tourism Hamilton Visitor Centre in the Lister Building (28 James St. N.) and vote for your favourite.
---
Super Food at Supercrawl
With so much incredible food to experience, bring your appetite. This  year, Supercrawl will host 34 local and regional food trucks along James Street North from King William to Murray Streets serving delicious food curbside including Mexican, Indian, seafood, BBQ, steak, grilled cheese, pizza, burger, fries & poutine, hotdogs, wraps, smoothies, donuts, coffee, wine and more.  Also be sure to check out downtown Hamilton's bustling cafe and restaurants serving up plenty of Supercrawl inspired items.
Hands on Family Fun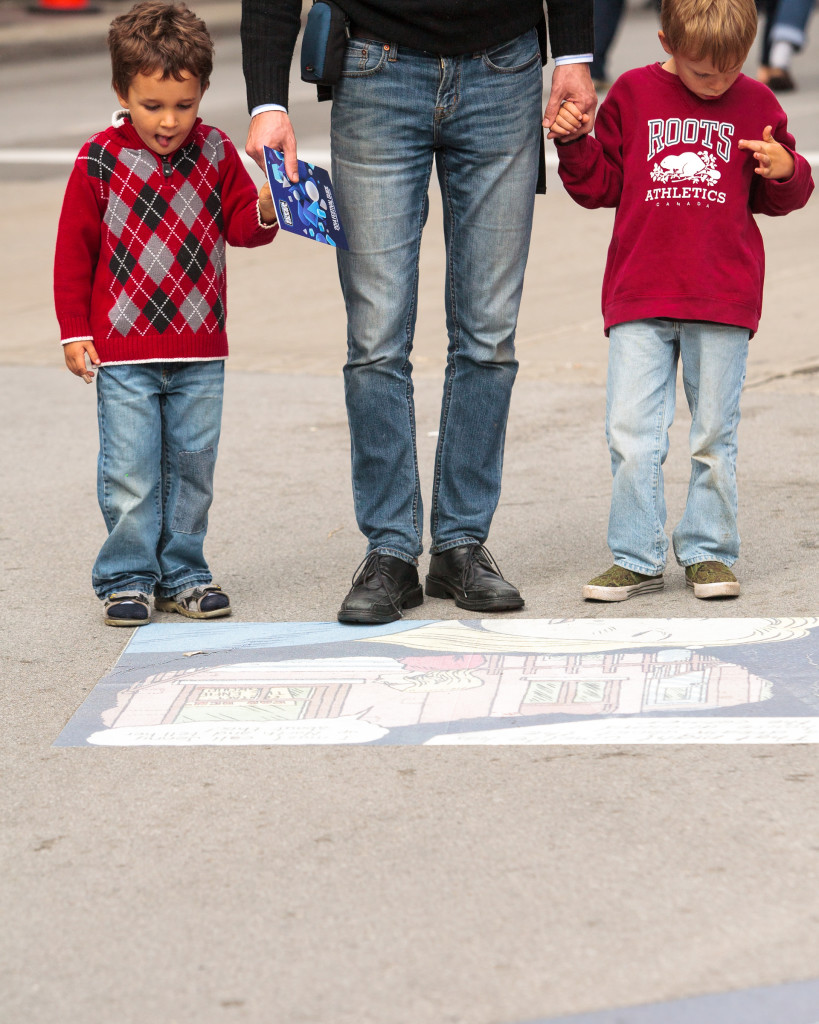 As always, Supercrawl is a great destination for art lovers of all ages. The Meridian Family Zone will run on York Boulevard between Park and James Street, and will host around two dozen community groups promoting hands-on creative family fun.  Look out for a new foam party this year and prepare to get wet!
While you're out 'crawling, be sure to check out a slew of downtown venues presenting concerts and events scheduled to coincide with Supercrawl including:  This Ain't Hollywood,  Mills Hardware, Club Absinthe,  HAVN, Casino Artspace and more.
Get out and enjoy one of the best weekends in Hamilton!
---
Kristin Archer is a lifelong Hamiltonian and the blogger behind the popular blog I Heart Hamilton where she inspires every local to "be a tourist in your own city." She's passionate about discovering her hometown, new experiences and sharing all that Hamilton has to offer. Catch Kristin Fridays at 2 p.m. when she hosts "I Heart Hamilton" on 93.3 CFMU and follow her on Twitter and Instagram. Kristin's #MyHamilton blog offers an insider's look at Hamilton's buzz-worthy arts and culture scene including James Street North staple Art Crawl, great music festivals and venues, outdoor events, theatre, dance and specialty shopping.