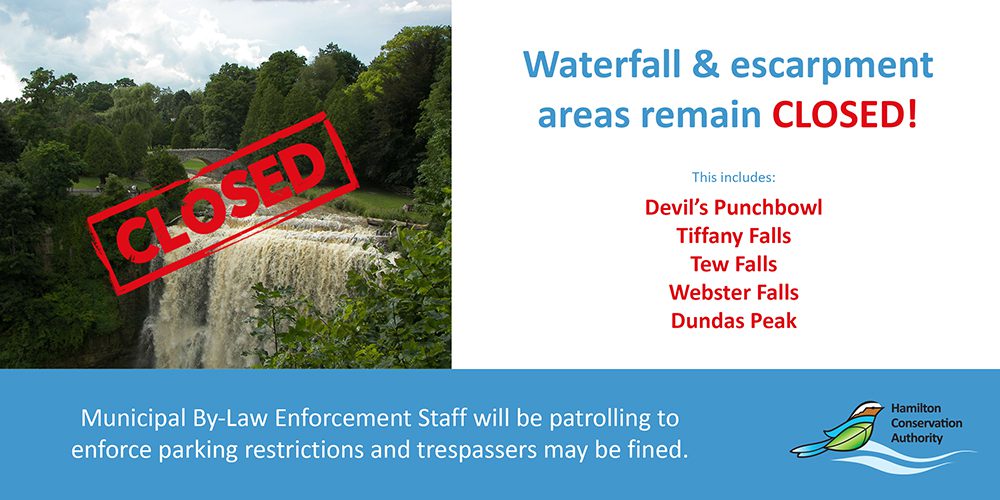 Hamilton waterfall areas remain closed due to limited space and capacity for visitors to physically distance. Please enjoy below content for future trip planning only.
Tew falls may be known as a package deal with nearby Webster Falls, but it's stunning in its own right. This slender beauty known as a ribbon waterfall happens to be the tallest in Hamilton. It also marks the beginning of an uphill forested hike towards Hamilton's famous Dundas Peak with stunning valley views.

Waterfall Description
Fed by Logie's Creek, the water tumbles down 41 metres of rock face into the valley below.
A couple of viewing platforms give visitors vantage points – with views and colours that change with the seasons.
Continue up the Webster Falls Side Trail to the Dundas Peak where you'll be rewarded with spectacular views of the Dundas Valley on a clear day. This is especially beautiful – and popular – in the fall when the leaves change colour.
Parking and Proximity to Falls
Parking and Shuttle Service for Peak Weekends and Holidays
There is no on-site parking at Tew Falls during weekends and holiday Mondays from April 19 to October 27, 2019.
During this peak visit period, the parking lot is closed, with the exception of limited accessible parking.
Guests can park at nearby Christie Lake Conservation Area and catch a shuttle, leaving approximately every 15 minutes.
The first shuttle leaves Christie Lake at 9:30 a.m. for Spencer Gorge with the last one returning to Christie Lake at 6:30 p.m. (extended to 7:30 p.m. in June, July, August).
Parking is $10 per vehicle PLUS $5 per passenger, 5 yrs+. (this is included in regular Conservation Area entry fee)
Please visit Hamilton Conservation Authority for more parking and shuttle details.
Weekday Parking
On weekdays, during peak season, limited parking available near Tew Falls at the parking lot on Harvest Road.
Cost is a $15 flat fee when attendant not on duty. When gate is staffed, cost is $10 parking and $5 per person.
Accessibilty
There are stairs leading to the viewing platforms.
Hikes Nearby
There is no public access to the trail connecting Webster Falls to Tew Falls, but you can take the road (head up Short Road and turn right on Harvest Road), where you can hook up with the Webster Falls Side Trail to the Dundas Peak for stunning views of the valley – especially in the fall.
There are also a couple of Bruce Trail side trails to explore. (See Tiffany Falls for other hikes in the Dundas Valley.)
After climbing to the second viewing platform at Tew Falls, keep hiking up towards the Dundas Peak for a rewarding view of the Dundas Valley. Once at the top, the Tew Falls Lookout Trail will lead you down into the town of Dundas. Head east when you get to the train tracks and follow the trail to Cascades Park off Sydenham Road (where you'll pass Lower Sydenham Falls). Just remember if you took the shuttle, you'll have to climb back up to get back to your car.
What to Do
Already parked at Christie Lake Conservation Area for the shuttle? Relax at Christie Lake. Rent a standup paddleboard from WhaSUP – or take a lesson. There are expansive picnic grounds, a public beach, and canoe and kayak rentals.
Extend your active excursion and hit the 10 kilometres of mountain biking trails on the east side of the conservation area.
Twice a year, the Christie Antique & Vintage Show takes over 10 acres of the conservation area with hundreds of vendors.
What to Eat
Across the road from the Christie Lake entrance, Tiny Shop Bakery whips up 36 pie flavours and other baked goods. In the fall, it marks the entrance to Hanes Corn Maze Farmland & Pumpkin Patch.
Betula Restaurant in nearby Dundas sources much of its seasonal produce from the community garden Hamilton Victory Gardens for its fresh menu.
Namu Modern Asian Cuisine in Dundas fuses styles from all over the world into its fun, eclectic menu and there is a small patio out front to enjoy.
Enjoying Hamilton Waterfalls Safely
Please consider these tips to help keep you safe while respecting the environment and surrounding neighbourhoods.
Waterfalls are located in environmentally sensitive areas – please stay on marked designated trails and obey closure signs; there are many rare plants that can be easily damaged or destroyed.
Park in designated parking areas only.
Do not cross active CN rail tracks to access waterfall areas and vistas. Crossing rail tracks is prohibited and illegal.
Stick to marked paths and stay well back from slopes, edges and other fall or slipping hazards.
Keep children and pets close.
Do not climb or otherwise bypass fencing.
Please watch this safety video from the City of Hamilton.