Get To Know Hamilton!
Attend one of our upcoming FAM tours to learn more about what all the buzz is about in Hamilton.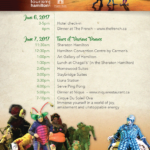 Cirque du Soleil Fam Tour – June 7, 2017
See, experience and taste Hamilton at our upcoming Cirque du Soleil FAM tour June 7. Pair French food with French entertainment as you tour various venues, play ping pong and sample some of the best Hamilton has to offer. Limited Availability. Click here to download the full itinerary in pdf.
Welcome to Hamilton!
An ambitious city with great customer service and a wide range of amenities and attractions.
One of Canada's most diverse economies with strong representation from the Healthcare, Education, and Arts & Culture sectors – just to name a few.
Located in the centre of the most densely populated corridor of economic activity in Canada, Hamilton is Canada's 9th largest regional economy and is the 5th largest "Mega-Region" in North America (Martin Prosperity Group, Hamilton Benchmarking).
Hamilton has one of the strongest young professional networks in Canada (Hamilton Hive) that focuses on next generation talent development, building a talent pool of highly skilled employees, and building and sharing business networks.
We host more than 100 meeting and convention-related events per year.
What We Offer:
A downtown with over 1,000 hotel rooms
Approximately 13 large venues (13,000 to 117,000 square feet); 27 medium-sized venues (700 to 12,000 square feet); and 100+ of small and unique venues (search small and medium venues )
Significant and recent growth in new and innovative restaurants  (95 new restaurants opened in 2013)
200 music venues ranging from bars, pubs, clubs, to theatres, and large stadium venues
300+ annual outdoor events
Major Conventions & Events Held Here:
2016 Heritage Canada: The National Trust's Annual Conference
2016 Ontario Professional Planners Institute Annual Conference
2016 Co-Operative Housing of Canada Conference and AGM
2016 Kiwanis International Annual District Convention
2015 JUNO Awards
2015 PanAm Games (soccer)
2015 Ontario Association of Architects Conference
2015 Economic Developer Council of Ontario Annual Conference and Showcase
2015 ISU World Synchronized Skating Championships
2015 Canadian Society of Exercise Physiology Conference
2014 Canadian Water Resource Association National Congress
2014 International Association of Great Lakes Research Annual Meeting
2014 Nurse Practitioners Association of Canada Conference
2013 United Way of Canada Annual Conference
2013 Ontario Building Officials Annual Conference
2013 Canadian Association of University Business Officer Annual Conference
2012 Canadian Chamber of Commerce Annual Meeting
2012 Ontario Dental Hygienists' Association Annual Conference
Sherry Lucia, our Tourism Product Development Specialist – Meeting and Convention Sales, is available to help and offer the following assistance:
Development of Bid Proposals
Site Inspections
Planning Assistance
Attendance Building
Accommodations
Transportation Assistance
Media and Promotion
Visitor/Delegate Information & Registration Assistance
Receptions and Entertainment
Welcome Letters
Airport Transfers
Convention Alerts
Post-Convention/Event Evaluation
For further information, please contact Sherry.
Get To Know Hamilton!