From soft-flowing ribbons to dramatic plunges, Hamilton is home to more than 100 waterfalls – all located minutes from the downtown core. We invite day-trippers and weekend warriors to get to know some of our most popular waterfalls and their surrounding attractions and food experiences (to help you refuel for your next adventure).
10 Waterfalls to Check Off Your Bucketlist: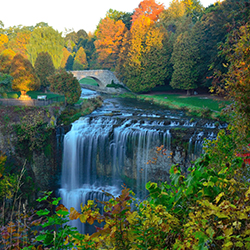 Webster Falls is the largest waterfall in the region – and one of the most popular. Located in the historic village of Dundas, Webster Falls is close to hiking trails, beautiful green space and great amenities and restaurants in town.