Chasing waterfalls across the city is a must-do during any visit to Hamilton. We're home to more than 100 waterfalls tucked behind the trails of the Niagara Escarpment that cuts through the city.
We invite day-trippers and weekend warriors to get to know some of our most popular waterfalls and their surrounding attractions and food experiences (to help you refuel for your next adventure).
Bonus: They're all found minutes from the downtown core. Now there's something you won't find anywhere else this close to home.
*Given popularity of these waterfalls, consider planning your visit during off-peak times (early morning or weekdays) and do not park on roadways if parking lots are full.
*Waterfall flow is seasonal and affected by rainfall.
Felker's Falls


View The Guide
This hidden gem is nestled in the Felker's Falls Conservation Area in the city's eastern neighbourhood of Stoney Creek.
Tiffany Falls


View The Guide
The short walk to this expansive cascade waterfall is a beautiful one through a forested trail and over bridges that crisscrosses a stream.
Devil's Punchbowl


View The Guide
One of the most stunning natural formations along the Niagara Escarpment, this deep multi-coloured gorge is a history lesson in geology.
Albion Falls


View The Guide
Albion Falls is one of the most picturesque waterfalls in the region and one of the city's most popular.
Smokey Hollow Falls


View The Guide
This beautiful ribbon waterfall in a leafy forest setting flows from Grindstone Creek in Waterdown.
Sherman Falls


View The Guide
Fairy or Angel Falls are two romantic nicknames for this captivating waterfall.
Borer's Falls


View The Guide
You have to peer through the trees to see this impressive curtain waterfall at the top of the escarpment on Royal Botanical Garden land.
Hermitage Cascade


View The Guide
Tucked into the Dundas Valley Conservation Area, the Hermitage Cascade boasts a gentle, flow from Sulphur Creek tumbling over the rocks.
Webster Falls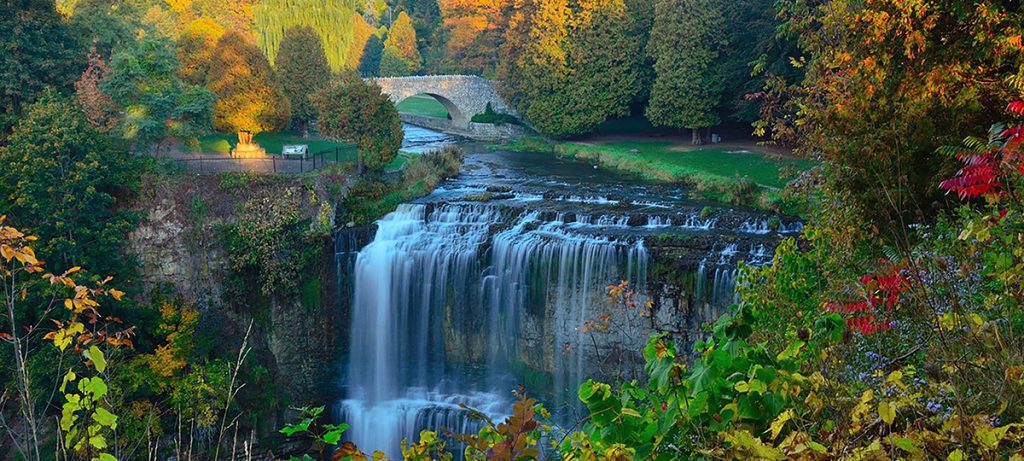 View The Guide
Webster Falls is the largest waterfall in the region – and one of the most popular.
Tew Falls

View The Guide
Tew falls may be known as a package deal with nearby Webster Falls, but it's stunning in its own right.
More Waterfalls Resources:
Enjoying Hamilton Waterfalls Safely
Please consider these tips to help keep you safe while respecting the environment and surrounding neighbourhoods.
Waterfalls are located in environmentally sensitive areas – please stay on marked designated trails and obey closure signs; there are many rare plants that can be easily damaged or destroyed
Park in designated parking areas only
Do not cross active CN rail tracks to access waterfall areas and vistas. Crossing rail tracks is prohibited and illegal.
Strick to paths and stay well back from slopes, edges and other fall or slipping hazards.
Keep children and pets close, and do not climb or otherwise bypass fencing.
Please watch this safety video from the City of Hamilton.

}