From the city's famous cream egg brownies to the prettiest Easter cookies around, here's your guide to some egg-cellent made-in-Hamilton holiday sweets.
Cake & Loaf
321 Dundurn Street South, Hamilton
Stop by Cake & Loaf for their often imitated, never duplicated, original Cream Egg Brownie. Picture a fudgey chocolate brownie stuffed with a Cadbury Creme Egg and loaded with a thick layer of whipped white chocolate then topped with creamy milk chocolate. If chocolate's not your thing, they also make amazing mini egg shortbread. Did we mention they have mini egg lattes?
The Cookie DOH Factory
What could be more delicious than eating raw cookie dough? Instead of sneaking some out of the bowl, how about eating a cup of your very own chock-full of mini eggs! It's hands down their favourite flavour this time of year. And don't worry, all their dough has been heat-treated so it's safe to eat.
Crumbled
339 Barton Street East, Hamilton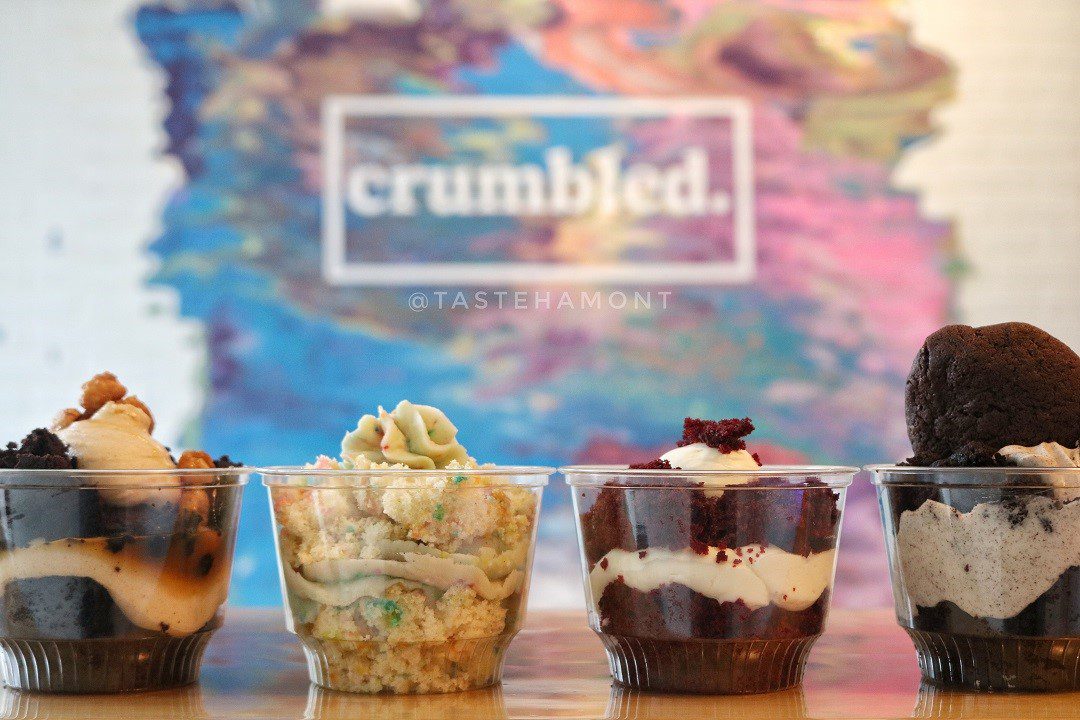 Crumbled is literally no piece of cake. Instead, they specialize in scrumptious deconstructed cake bowls made right in front of your eyes. For Easter, try one of their unbelievably tasty collabs with aforementioned Cake & Loaf: the Cream Egg Cake Bowl or the Mini Egg Cheesecake.
BOA Bakery
3200 Hwy 56, Binbrook
This Binbrook gem of a bakery is where locals in the know go for everything from baked goods to delicious sandwiches. If you're visiting the bakery for Easter treats, you won't be disappointed. From traditional Portuguese sweet Easter bread to mind-blowing mini-egg cannolis, you'll have trouble picking just one.
Hotti Biscotti
Hamilton Farmers' Market (35 York Blvd, Hamilton)
Pick up some colourful Easter themed biscotti and other goodies like chocolate caramel pecan brownies topped with crushed chocolate eggs on your next visit to the Hamilton Farmers' Market.
Madam Bonbon
165 Locke St S. Hamilton
These handcrafted chocolates are almost too beautiful to eat! With an Easter collection that includes flavours like salted caramel and crème egg, you'll be the hit of any Easter celebration if you bring these treats along. Be sure to pick up one of their beautiful rainbow eggs.
Lady Glaze Doughnuts
586 Concession St. Hamilton
Handmade with locally sourced ingredients, this doughnut shop takes the classic sweet to a "hole" other level. The ever-changing menu of beautiful doughnuts and inventive flavours will keep you coming back formore just to see what they'll do next. Expect to see bright, colourful, Easter inspired doughnuts in delicious flabour combinations.
Walker's Chocolate
1050 King St W. Hamilton
If you're looking for mouthwatering chocolate to up your Easter sweets game, then Walkers Cholocate is the place to go. Find huge chocolate bunnies, colorful 'bunny bark', and gourmet Easter jelly beans at this popular Westdale chocolatier.
Chocolate on James
123 James St N. Hamilton

Enjoy the smell of fresh chocolate as soon as you walk in the door of this James Street North chocolatier. This chocolate mecca is a must-visit, pulling out all the stops with its Easter menu including creamy milk chocolate peanut butter eggs and colourful slabs of mini egg fudge.

}