Whether you're hiking in time for spring blooms or the changing of the fall leaves, keep this list handy to help guide your Hamilton trails adventure.
Christie Lake
Christie is basically a giant outdoor playground with a beach and disc golf, and great hiking trails. There's also a special area of singletrack trails through the pine forest for mountain biking that are maintained by the Hamilton Burlington Mountain Biking Association (HBMBA). There are just over 10 kilometres of trails (with more in the works).

Trail map (PDF)
Difficulty/Terrain: Some doubletrack trails with gravel or dirt. Bike trails are a clay/dirt surface with a few rocks and roots and range in difficultry from easy to intermediate.
Length: There are 10 km of multi-use trails
Highlights: There is a bakery directly across the street from the conservation area entrance—The Tiny Shop Bakery—with fantastic pies, Belgian cookies and other post-ride or post-hike snacks.
Map to parking lot 
Parking: $10 per vehicle and driver, free for Hamilton Conservation Authority pass holders
---
Devil's Punch Bowl
The most popular feature of this hiking area, located in Stoney Creek, is the colourful, rocky gorge that is part of the Stoney Creek escarpment. It shows off over 40 million years of history with its layers of Queenston Formation red shale, grey shale and limestone and shale dolomite that were formed by inland seas. Devil's Punchbowl Falls features the Upper Falls (a 33.8-metre ribbon waterfall) and the Lower Falls (a 5.5-metre classical waterfall).

Trail map (PDF)
Difficulty/Terrain: Difficult—expect dirt, grass, wooden stairways and bridges.
Length: The trail is 2.5 km one way. You can also get on the 11.5-km Dofasco 2000 Trail through upper Stoney Creek that features a boardwalk through Vinemount Swamp Forest.
Highlights: Be sure to stop at the lookout for views of Stoney Creek and Hamilton Harbour. The Punch Bowl Market & Bakery is a great place to stop for fresh baked treats both sweet and savoury.
Map to parking lot
Parking: $2/hour per car or free for Hamilton Conservation Authority pass holders
Bus route: 5 – Delaware
---
Eramosa Karst
The word "karst" isn't one you hear often, but there happens to be one that you can visit in Hamilton. According to Merriam-Webster, a karst is "an irregular limestone region with sinkholes, underground streams and caverns." The first time visiting this conservation area in Stoney Creek, it's fun to be on the lookout for the caves this area is known for that are scattered along the trails—it features the longest in Ontario at 335 metres. However do be careful going off-trail as many caves are underground and can fill with water after heavy rains.

Trail map (PDF)
Difficulty/Terrain: The terrain here is fairly flat, but watch your footing in some uneven areas.
Length: There are just over four kilometres of trails
Highlights: While in the area, check out the beautiful Albion Falls just a few minutes away. The cascading falls, flow down the Niagara Escarpment into the Red Hill Valley. And don't miss the stunning views of the city from Mountain Brow Boulevard. Nearby restaurants and movie theatres are located at the Winterberry Plaza on Paramount Drive. Visitors looking for an overnight stay, can visit the beautiful C Hotel by Carmen's.
Map to parking lot
Parking: $2/hour per car or free for Hamilton Conservation Authority pass holders
---
The Dundas Valley is a lush, hilly 1,200 hectares of forest featuring deciduous Carolinian trees, streams and a 40-kilometre trail system. The Main Loop Trail is a popular one, with several offshoot trails. The Bruce Trail and the 32-kilometre Hamilton to Brantford Rail Trail also intersects the valley and runs past the main trail centre, with its covered pavilion. Take the Main Loop Trail to see the restored Hermitage Ruins and the Heritage Trail that leads to Canterbury Falls.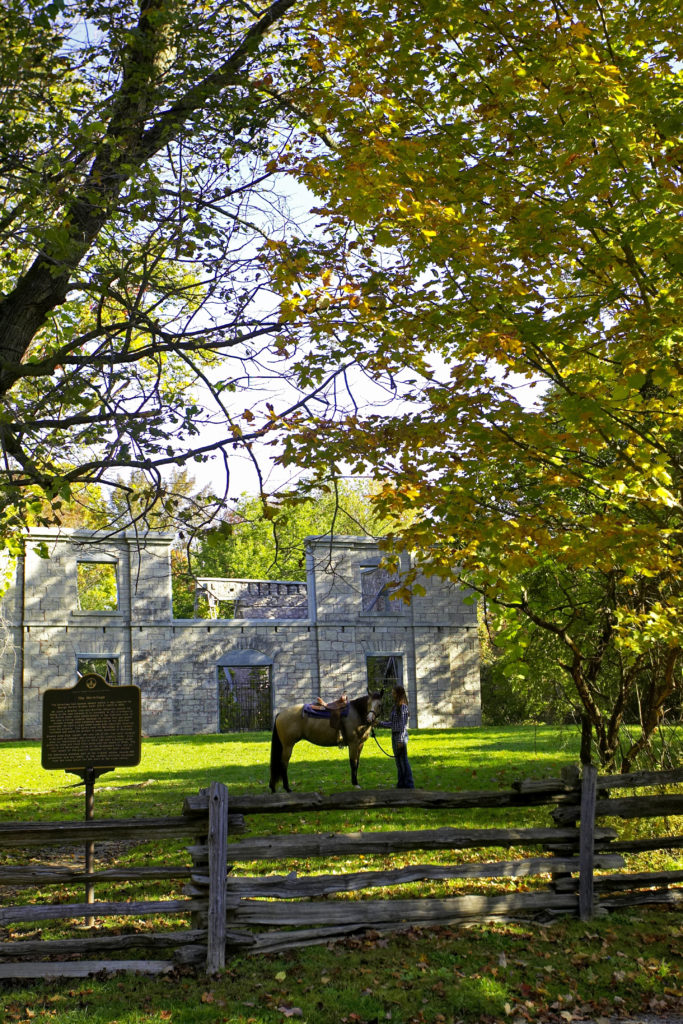 Difficulty/Terrain: Moderate to difficult: Some parts are rooty and hilly, while others are fairly flat and even.
Length: Main Loop: 3.4 km; Heritage Trail 1.8 km.
Highlights: Plan to picnic at The Dundas Valley Trail Centre. It features outdoor tables and washroom facilities (when its open). Or, head right into Dundas and stop for drinks at Grupetto, Shawn & Ed Brewing Co., Detour (where there are hanging racks), etc.
There are a few places to park, but the main lot is here.  Map to parking lot

Bus route: https://www.hamilton.ca/hsr-bus-schedules-fares
---
Venture into Hamilton's Westdale neighbourhood of shops and restaurants and it might not be apparent that behind it, lies a forest with a few different hikeable loops. These trails are part of what's known as Cootes Paradise, an 840-hectare sanctuary for animals, birds, and marine and plant life that's managed by the Royal Botanical Garden. There are 27 kilometres of trails to explore. A popular one is the Ravine Road/Sassafras Trail, which you can access from McMaster campus, or park by the aviary and hike up Caleb's Walk to Ravine Road Trail, which turns into Sassafras Point Trail. At the end, there will be views of Princess Point.

Trail map (PDF)
Difficulty/Terrain: Moderate, with a couple of short-but-steep hills
Length: 3.4 km – about one hour out and back.
Highlights: This is a great area for families given its proximity to the restaurant, shops and café's in Westdale neighbourhood. You can also see if there are any birds out at the Aviary or head to the Churchill Park playground. You also get an insider's view of Cootes Paradise from the tip looking towards the York Boulevard bridge.
Map to parking lot
Parking: There is metered parking on Oak Knoll Drive in Westdale, which is free to Royal Botanical Garden members.
Bus route: 51 University, 5 Delaware
The Escarpment Rail Trail to Albion Falls
This path that leads from downtown Hamilton up above Albion Falls was established in 1993 on an old CN rail line. It is also part of the Trans Canada trail network. The main route is paved and on a gradual slope, which makes it perfect for families on foot and with bikes.  Visitors are asked to stay on marked paths and avoid entering prohibited areas.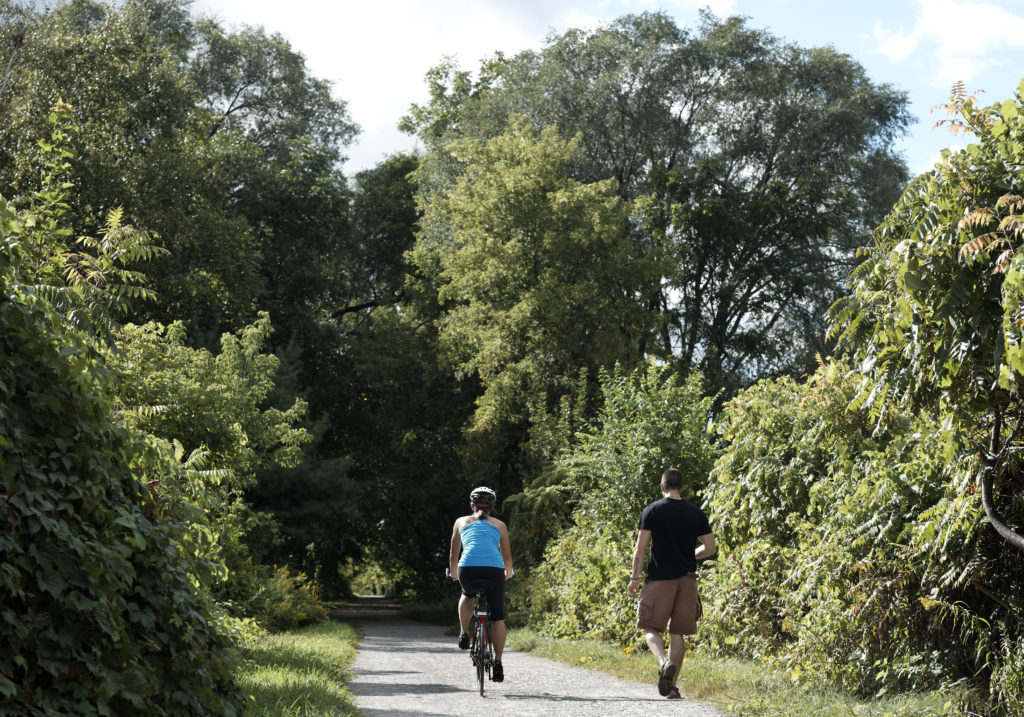 Trail map (PDF)
Difficulty/Terrain: Easy to moderate—Paved with some tar/chip surface and a gradual slope
Length: 9 km
Highlights: From here, you can also get onto the Bruce Trail which follows follows the edge of the Niagara Escarpment, one of the thirteen UNESCO World Biosphere Reserves in Canada.
Map to parking lot (you can get on the trail at Corktown Park):
Parking: Corktown Park at Ferguson Ave / Young St
Bus route: Several HSR routes go past the park.
---
Albion Falls/King's Forest Walk to Red Hill Valley Recreational Trail
If you want to make a day of it, you can keep going once you get to Albion Falls from The Escarpment Rail Trail (see above). Or, you can park and set off on a fresh hike, starting at Buttermilk Falls with a side trip to Albion Falls and then heading out on the Bruce Trail.
Trail map (PDF)
Difficulty/Terrain: Mix of gravel, soil, boardwalk, etc. Quite hilly in the King's Forest section.
Length: 6.2 km (Red Hill Valley Recreational Trail is 10.5 km)
Highlights: Be sure to check out the stunning views of the city from the top of the escarpment ridge along Mountain Brow Boulevard. There are lots of benches with great lookouts along the route. Nearby restaurants and movie theatres are located at the Winterberry Plaza on Paramount Drive. Visitors looking for an overnight stay, can visit the beautiful C Hotel by Carmen's
Map to parking lot
Several parking lots available to visitors including off Mountain Brow Blvd. and Arbour Road. See map link above.
Bus route: 21 Upper Kenilworth
---
Webster Falls and Tew's Falls, Dundas
This area is probably THE hiking hotspot in Hamilton (it's not uncommon to see a bus dropping people off). This congestion is the reason why parking has now been restricted for the busy summer season (see below). For this reason, you may want to come during the week. Also, since a part of the Bruce Trail was closed, you now have to take the road to get between two of Hamilton's more popular waterfalls: Webster Falls and Tew's. It's from this latter ribbon waterfall that you can make your way up to the Dundas Peak. At the top you'll be rewarded with a pretty spectacular view of the Dundas Valley. Come in the fall to take in the magnificent colour of the leaves.
Trail map (PDF)
Difficulty/Terrain: Moderate
Length: 1.3 km from Tew Falls to the Dundas Peak
Highlights and tips: Check out this Spencer Adventure map, a longer route that was created to combine history and nature. Head into Dundas for refreshments (see Dundas Valley).
http://conservationhamilton.ca/wp-content/uploads/sites/5/2016/03/Spencer-Adventure-Brochure-2017.pdf
Map to parking lot
Important note about parking:
There is no on-site parking at Webster or Tew Falls during weekends and holiday Mondays from April 19 to October 27, 2019.
During this peak visit period, the parking lot is closed, with the exception of limited accessible parking.
Guests can park at nearby Christie Lake Conservation Area and catch a shuttle, leaving approximately every 15 minutes.
The first shuttle leaves Christie Lake at 9:30 a.m. for Spencer Gorge with the last one returning to Christie Lake at 6:30 p.m. (extended to 7:30 p.m. in June, July, August).
Parking is $10 per vehicle PLUS $5 per passenger, 5 yrs+. (this is included in regular Conservation Area entry fee)
Please visit Hamilton Conservation Authority for more parking and shuttle details.
On weekdays, during peak season, limited parking is available near Webster Falls at the parking lot off Fallsview Road via Short Road and limited parking available near Tew Falls at the parking lot on Harvest Road.
Cost is a $15 flat fee when attendant not on duty.  When gate is staffed, cost is $10 parking and $5 per person
---
Hike to Sherman Falls
This hike allows you to see a couple of waterfalls. If you park at Tiffany Falls, it's a short walk to see the falls (in the winter, this is the waterfall that the ice climbers come to). Then, carefully cross Highway 2 (Wilson St.) to do the Sherman Falls hike, which is part of the Bruce Trail. This will take you the 17-metre-high curtain waterfall that is named after the founder of Dofasco, one of the city's steel companies. It's on private property, but along the Bruce Trail, so you can see it.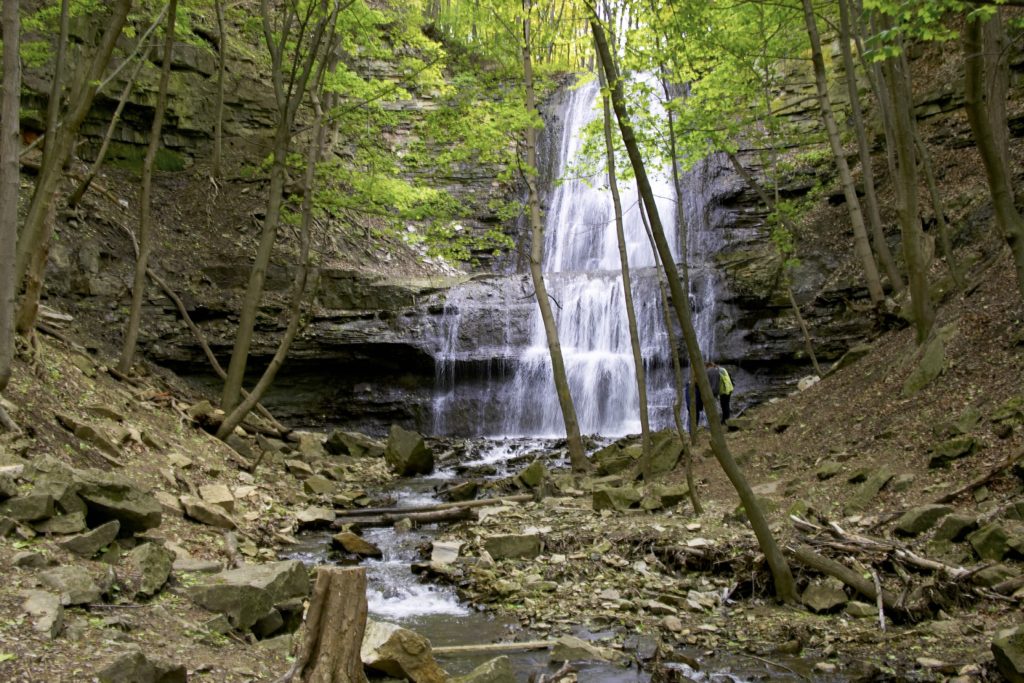 Trail map (google map)
Difficulty/Terrain: Moderate
Length: A short 1.5 km walk from Tiffany to Sherman Falls
Highlights: After your hike, be sure to visit nearby Ancaster village. This historic downtown features Fieldcote Memorial Park & Museum, a cultural heritage centre showcasing local history and natural heritage, and many great restaurants and cafes, including Ancaster Mill, Rousseau House, Coach and Lantern, Cavallo Nero and Caniche French Bakery. Overnight visitors, can lay their head down at the newly opened historic inn Barrack's Inn.
Map to parking lot: There are a couple of places to park. The Tiffany Falls parking lot will allow you to see both falls or the lot on Arteban Road, which will then allow you to hook up to the Dundas Valley trail system.
Parking: $2/hour
---
Chedoke Radial Trail
The Chedoke Golf Course off Aberdeen is a popular meeting point, not only to hike the Chedoke Radial Trail up the escarpment, but also to work out on the 289 Chedoke Stairs that give you a direct route to the top of the escarpment. The trail is also is part of the Bruce Trail, with side sections that go off the main Rail Trail.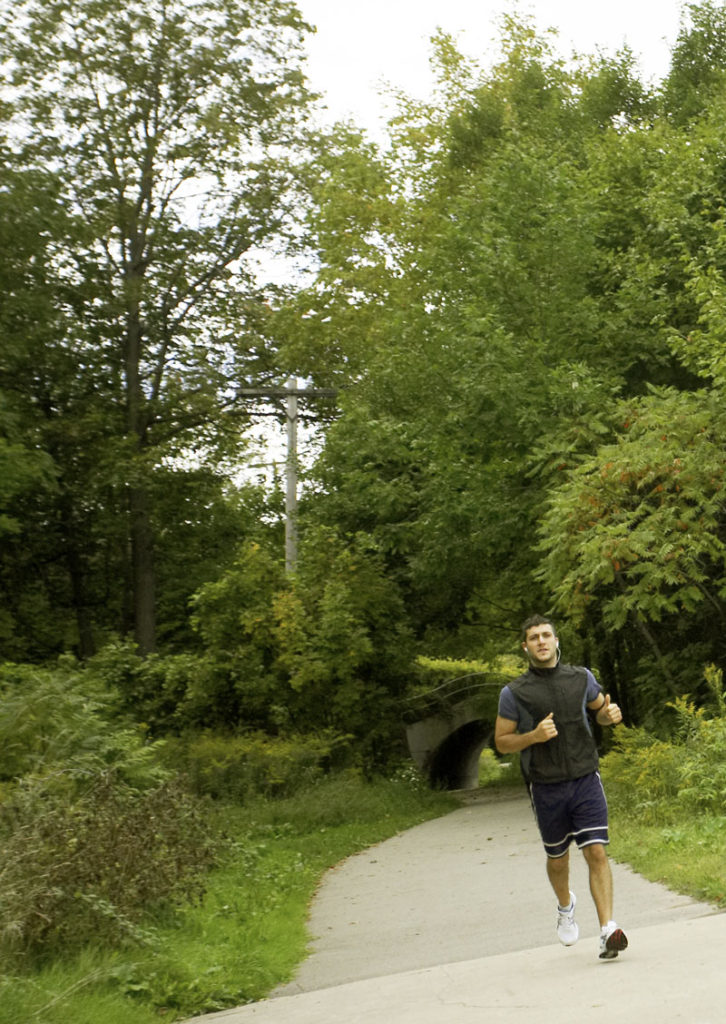 Trail map (PDF)
Difficulty/Terrain: There is a slight grade as you walk or ride up the escarpment, but rail trail itself is dirt.
Length: 12 km
Highlights: Check out the Lower/Upper Chedoke Falls (there is a new viewing platform at the top on Scenic Dr.).
Map to parking lot
Parking: Most people will park at Chedoke Golf Course and start their hike from there.
Bus route: 6 Aberdeen
---
The Waterfront Trail
Hamilton's waterfront used to be an industrial zone, but in recent decades, much of it has been revitalized. The Waterfront Trail, for example, is a great place to bring your family on foot, bikes, strollers or rollerblades. Come in the late spring and you'll see baby swans and ducks along the shores of the bay. Bring a picnic as there is lots of green space where you can eat at Bayfront Park or head to one of the restaurants at nearby Pier 8 or along James Street North. Check the Tourism Hamilton site ahead of your visit to see if it coincides with any summer festivals or events.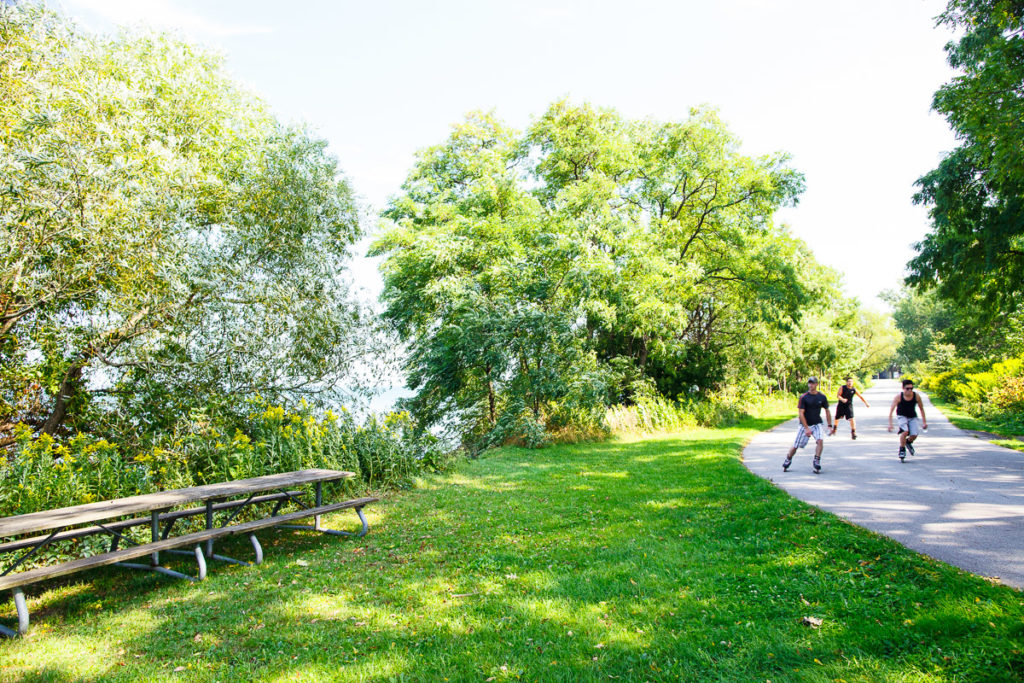 Trail map (website)
Difficulty/Terrain: Paved and smooth
Length: 7.5 km
Highlights: A trolley tour is a great option for seniors and families who want to discover the trail from the comfort of an open air trolley ride, narrated by a guide. http://www.hamiltonwaterfront.com/2011/11/01/hamilton-waterfront-trolley/
Food-wise, Williams Fresh Café is a great place to refuel when you're on a long walk or ride. And don't miss the rollerskaters, out at Pier 8's waterfront rink, skating to music on many summer evenings.
Map to parking lot
Parking: There are various free and metered parking lots along the route including Bayfront Park and Princess Point. 
Bus route:  The trail is well serviced by bus routes. Enter your starting address in the HSR Trip Planner for details.

The City of Hamilton encourages all visitors to enjoy the city's trails and waterfalls safely and has provided following resources:
---
Urban Heritage Walking Routes
Feel like exploring architecture and heritage buildings while taking a walk? Try one of these routes:
---
Tara Nolan is a Dundas-based freelance writer with a passion for exploring the outdoors. Tara loves to write about mountain biking, gardening and other active pursuits for a variety of print and online publications. Follow her on Twitter @thattaranolan and Instagra @tara_e. Her blog The Outdoor Explorer reveals Hamilton's stunning outdoor spaces, from nature trails and waterfalls to conservation areas, farms and gardens. Whether you want to walk, hike, bike or paddle, discover where to seek out your next outdoor adventure – all minutes from the city's core.