Don't hide from winter this year. Get outside and own it.
Hamilton has been known as an all-season outdoor playground for those in the know. And winter is no exception.
Here are some of our favourite outdoor winter adventures to get you started.
1. Pedal Through the Snow on a Fat Bike

Fat biking is quickly becoming a bonafide winter sport and Hamilton's many trails make it easy to try while visiting. These two-wheeled beasts, with their extra-wide tires, power through snow and slush and allow cyclists of all abilities to keep riding throughout the winter while their road or mountain bikes enjoy hibernation.
Looking for somewhere to rent a fat bike in town?
Freewheel Cycle in Dundas has a fleet of fat bikes for rent and is in perfect proximity to the Dundas Valley trail network — you can ride there from the store.
Downtown Bike Hounds also has a couple of fat bikes to rent. From that shop you can ride up John Street to the escarpment and hit all the trails around Chedoke Golf Course and if you're so inclined, hook up to the Hamilton to Brantford Rail Trail.
2. Float Through Fresh Powder in Showshoes
There's nothing better than that feeling of being the first on a trail after — or during — a fresh snowfall. Snowshoes get you out walking in the woods without it feeling like a slog when the snow is especially deep.
Head down to Cootes Paradise and along the Waterfront Trail (before it's cleared) or choose to explore a section of the Bruce Trail which winds its way throughout the city.
Snowshoe rentals are available at Adventure Attic in downtown Dundas throughout the winter.
If you're feeling extra adventurous, wait for a new snowfall and head out at night. Bring a headlamp, but it's likely the snow will be bright enough to light the way!
3. Glide Through the Woods on Cross-Country Skis

Christie Lake Conservation Area is a great place to bring your cross-country skis for a little trail action. Routers are multi-use and self-set. After working up an appetite, you can hit The Tiny Shop Bakery directly across the street from the gates for some well-earned, freshly baked goodies to take home.
Valens Lake Conservation Area offers 10 kilometres of cross-country trails and, if you are REALLY into winter, they offer winter camping from January 1 to April 30!
The Dundas Valley Rail Trail is another great place to cross-country ski because it just keeps going and going. Technically you can glide all the way to nearby Paris!
MEC in neighbouring Burlington offers cross-country ski rentals. They're also holding a couple of rental days throughout the winter right at Christie Lake and Valens.
4. Climb a Frozen Waterfall
Yes, you read that right. Once Tiffany Falls in Ancaster freezes over, members of the Alpine Club of Canada and those taking a course with the adventure company OneAxe Pursuits are allowed to scale it.
It's Hamilton's own Game of Thrones and it's as awesome as it sounds.
5. Practice Your Figure Eights at an Outdoor Rink

Among the city's many outdoor rink — there's a couple of visit-worthy standouts.
For a unique outdoor skating experience, head to Pier 8 and glide your way across a waterfront rink overlooking Hamilton's historic harbor. Enjoy skate and equipment rentals and then warm up Williams Coffee Pub with warm drinks and delicious treats and snacks.
Over in Dundas, the beautiful Dundas Driving Park is home to another popular outdoor rink, maintained by a Zamboni for optimal surface conditions. An onsite concession stand will help fuel you.
6. Hike Your Heart Out

If a winter, snowy hike is what you're after — there's no better place than Hamilton to hit the trails. Thanks to the Niagara Escarpment (a UNESCO World Biosphere Reserve) that cuts through the city, we're blessed with endless forested trails to choose from.
Check out our year-round guide to Hamilton's Hottest Hiking Trails and choose from easy to reach trails and even walks past frozen waterfalls!
Traveling with smaller hikers? Then, visit our guide to for where to go for kid-approved outdoor fun.
---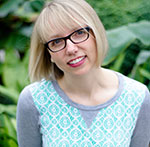 Tara Nolan is a Dundas-based freelance writer with a passion for exploring the outdoors. Tara loves to write about mountain biking, gardening and other active pursuits for a variety of print and online publications. Follow her on Twitter @thattaranolan and Instagram @tara_e. Her blog The Outdoor Explorer reveals Hamilton's stunning outdoor spaces, from nature trails and waterfalls to conservation areas, farms and gardens. Whether you want to walk, hike, bike or paddle, discover where to seek out your next outdoor adventure - all minutes from the city's core.