It's time to make plans the best meal of the week!
Champagne pancakes. Breakfast Tacos. Perfect pastries. Find all this and more at these amazing brunch locations across Hamilton.
Ancaster Mill
548 Old Dundas Rd, Ancaster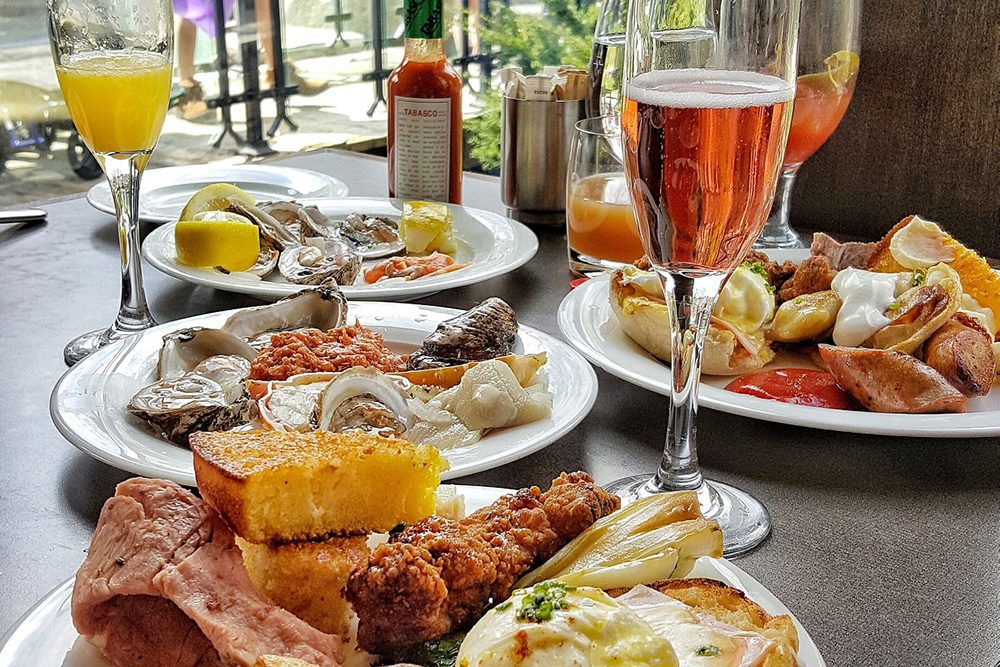 How does brunch overlooking a waterfall sound? Take your meal to the next level with an elegant experience at this iconic fine-dining institution, housed in an old stone flour mill. Their famous weekend brunch celebrates their earth-to-table ethos with seasonally inspired, chef-curated dishes ensuring a menu as exceptional as the views.
Martello
298 James St N, Hamilton
Add a modern Italian twist to your weekend brunch at this popular James Street North restaurant with soppressata and mortadella eggs benny, breakfast pizza and stuffed brioche. They also have locally sourced baked goods to die for like ricotta cannoli, biscotti and almond croissants – so do yourself a favour and come hungry.
Shy's Place
11 Coreslab Dr Dundas
Dig into a memorable brunch inside this historic Dundas home-turned restaurant or outside on their year-round patio. Choose from delectable eggs benny, traditional egg plates and hashes, gourmet sandwiches, and dishes on the sweeter side like buttermilk chicken and toast slathered with grape jelly, goat cheese and maple syrup, and apple cinnamon french toast.
Eat Undefined
This ain't your average brunch. Order mimosas for the table and dive into elevated dishes like avocado toast with smoked salmon, blueberry and ricotta pancakes, crispy pork belly eggs benny and Tokyo style hot chicken and waffles.
Saints James Espresso Bar & Eatery
170 James St N, Hamilton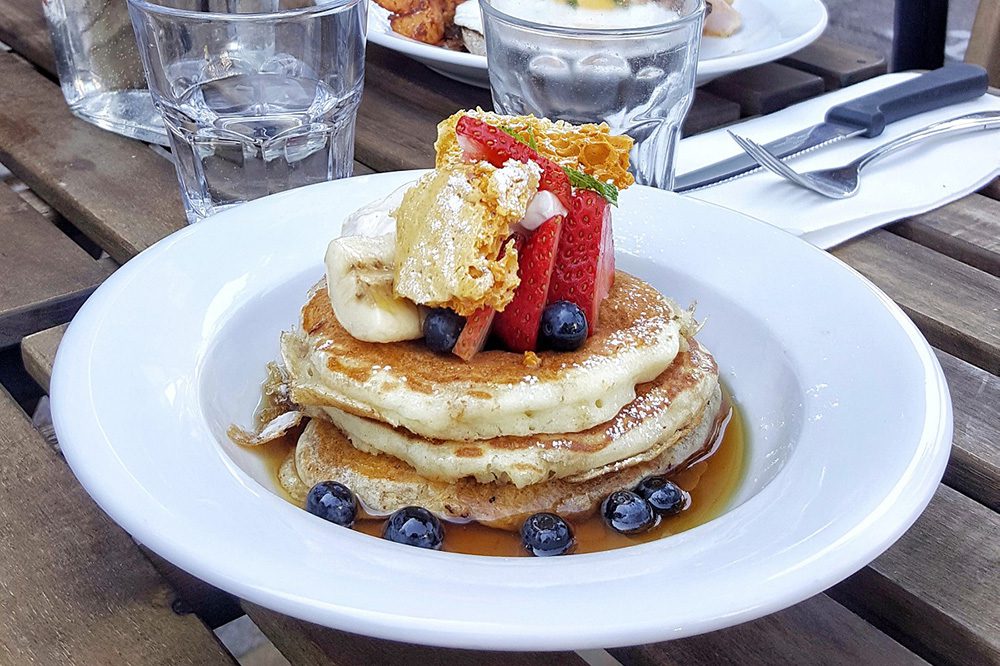 Everything on the menu at this popular downtown coffeeshop and eatery is worth a try, but they're famous for their "Drive-thru" breakfast sandwich or unbelievable short stack pancakes with rotating flavours like Cinnabon, lemon ricotta or apple crumble. Their coffee is amazing too, with unique 'steam-punk' style machines for brewing.
The Aberdeen Tavern
432 Aberdeen Ave, Hamilton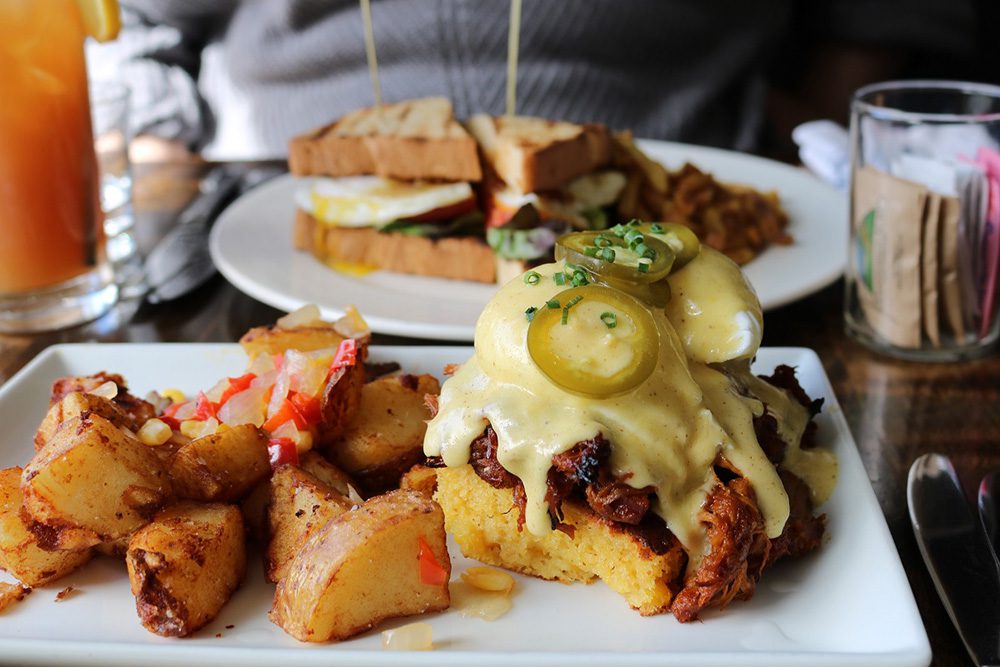 This Kirkendall restaurant housed in an old converted bank is another popular brunch destination. They take brunch seriously with two-course options including crab cakes and smoked salmon apps and mouth-watering mains like Tostada Rancheros and cheesecake-stuffed French Toast. Check out their delivery menus as well.
The Cannon
179 Ottawa St N, Hamilton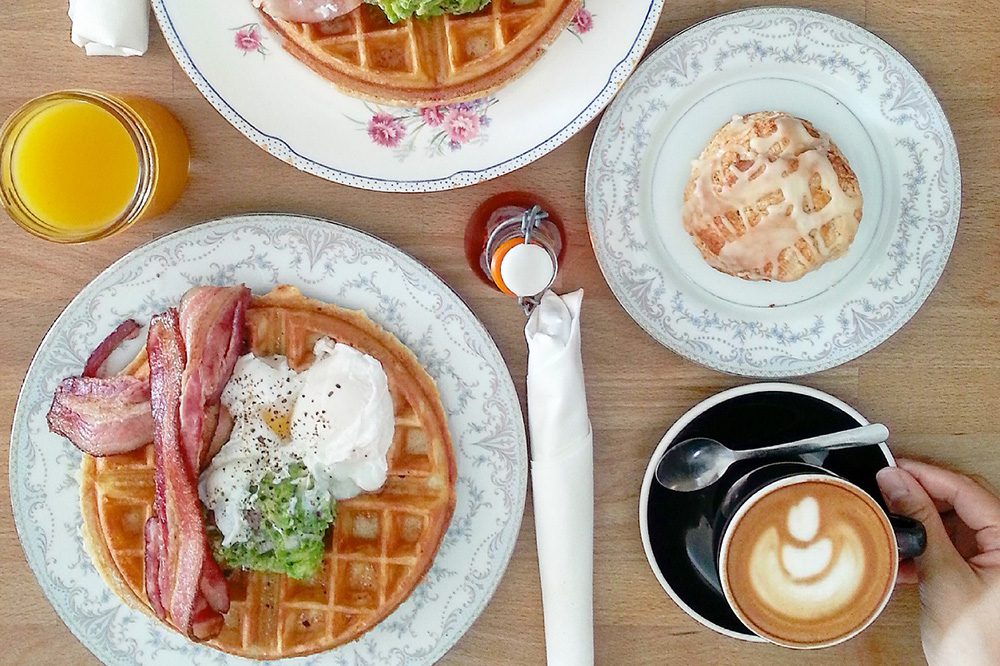 This friendly, sunny coffeeshop is not only a favourite with its Crown Point neighbours but Hollywood directors too! When in town a few years ago shooting a film, Guillermo Del Toro posted this on twitter: "Had the best breakfast at Cannon… The Canadian brunch plate. Best, fluffiest, chewiest fresh-made waffles ever!". Visit for coffee, tea, pastries and celebrity-endorsed breakfast sandwiches.
The Mule
41 King William St, Hamilton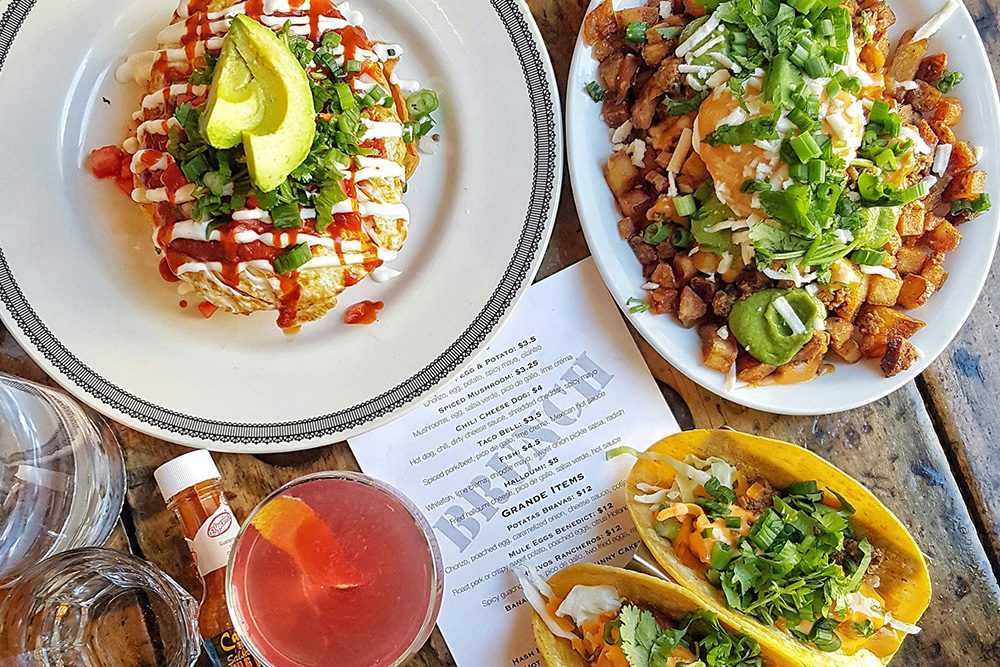 Get your Mexican style breakfast fix at this long-serving downtown favourite with unbelievable tacos, Huevos Rancheros and breakfast Bravas with a side of Caesars or bottomless Mimosas.
Caro
4 Ottawa St N, Hamilton
228 James St N, Hamilton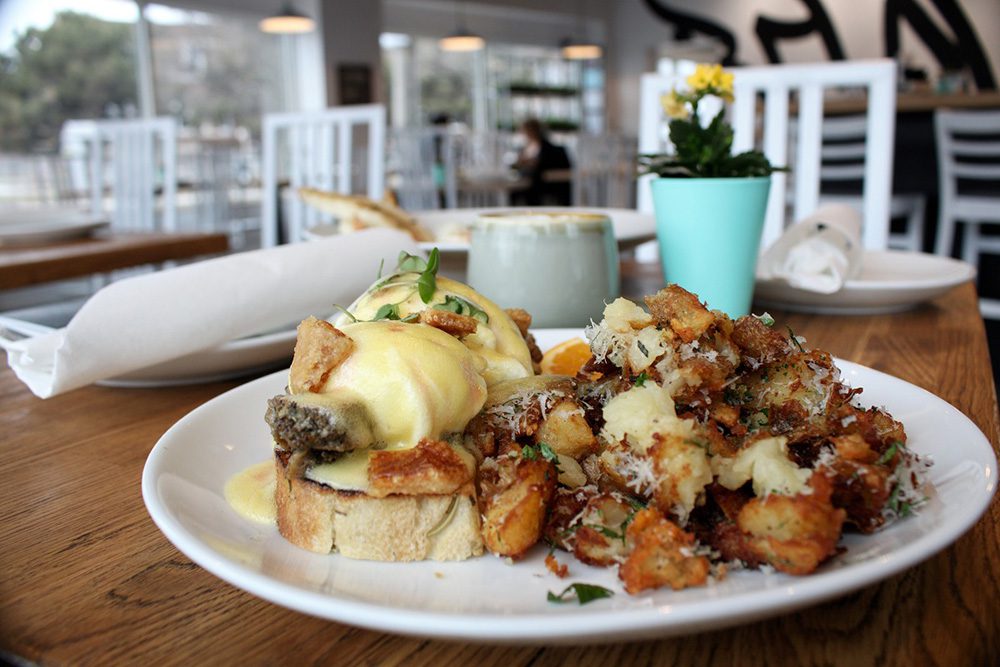 Add a taste of Italy to your morning with Caro's unique twist on brunch classics like Cannoli Waffles topped with strawberries, candied walnuts and maple syrup or Porchettea Benny served on grilled focaccia with Hollandaise, rosemary & parmesan fries or salad. Check them out at one of two popular locations: James Street North and Ottawa Street.
Motel Restaurant
359 Barton St E, Hamilton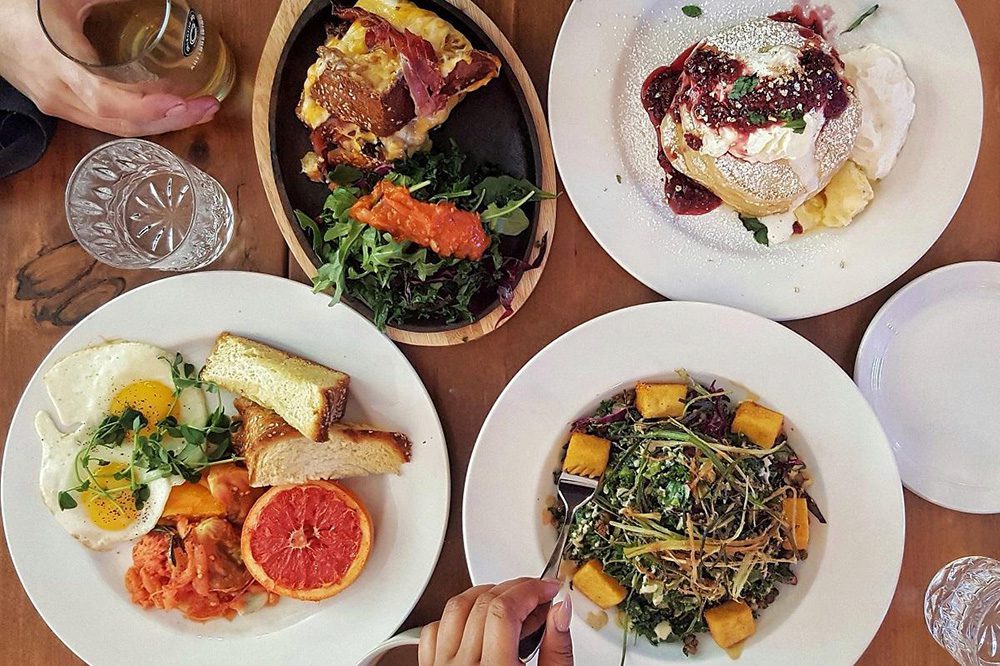 Make sure your phone's charged when you visit this Gram-worthy, often photographed east end brunch spot. The pink walls and neon signs evoke a cool Miami vibe. But the real star here is the menu thanks to items like the luxurious Champagne Pancakes (served with Devonshire cream, raspberry and pink champagne coulis and gold flakes) or the more savoury buttermilk fried chicken & waffles. Playful cocktails names include the Naughty Chambermaid and Flamingo Brunch Paloma.
Breezy Corners
1480 Highway 6 North
1145 Main Street East
Looking for the ultimate diner breakfast? You'll taste the difference at Breezy's thanks to their from-scratch approach to fresh, quality ingredients. You'll find generous portions of all the breakfast classics (and a great kid's menu) at this family run operation with locations in both Freelton (close to Christie Lake and Valens Conservation Areas) and the east end near Gage Park.
Electric Diner
96 George Street
This popular Hess Village diner is a treat for all the senses. The brightly coloured decor combines nostalgic elements from different eras including the 1980s and 1950s. The breakfast menu is loaded with nostalgic comfort food as well brightly coloured standouts like Rainbow Brite Pancakes, topped with rainbow cream cheese icing and Froot Loops.
Caniche French Bakery
346 Wilson Street E, Ancaster
If you're looking for a quick but decadent breakfast treat to-go, this French bakery in Ancaster should be on your list. Its fresh, flaky croissants and pain au chocolat sell out quickly, so try go before noon. Their sweet or savoury Galettes and quiches are also visit-worthy.
Dim Sum House
Hamilton's recently upped its Dim Sum game with the addition of this downtown restaurant serving up authentic Cantonese-style small dishes – both savoury and sweet – and perfect for sharing. Think steamed and fried shrimp dumplings, pan-fried stuffed eggplant with shrimp, steamed bbq pork buns, and steamed papaya sponge cake.

}