*Given popularity of these waterfalls, consider planning your visit during off-peak times (early morning or weekdays) and avoid parking on roadways if parking lots are full.
*Waterfall flow is seasonal and affected by rainfall.
One of the most stunning natural formations along the Niagara Escarpment, this deep multi-coloured gorge is a history lesson in geology. A nearby lookout offers spectacular views of Stoney Creek and Hamilton Harbour.

Waterfall Description
Devil's Punchbowl Conservation Area in the city's east end offers visitors two separate waterfalls: Upper Falls, a 33.8 metre ribbon waterfall and Lower falls, a 5.5 metre classical waterfall.
The Devil's Punchbowl Falls can be ebb to a trickle when it hasn't rained in a while, but don't worry if it's a slow day when you visit. The steep gorge with colourful layers of rock that encircles the falls is photo-worthy in and of itself and dates back a million years.
On a clear day, you can see the Toronto skyline from the observation platform
If you're wondering about the 10 metre high steel cross, it was constructed in 1966 by a local resident to "bring light to the community."
Parking and Proximity to Falls
Paid parking is available at the conservation area parking lot, located off of Ridge Road and is located a very short distance to the viewing platform (around 200 metres or a two-minute walk).
Accessibilty
There is a short path from the parking lot off Ridge Road to the viewing platform.
Hike Nearby
The Devil's Punchbowl Conservation Authority is part of the Dofasco 2000 Trail, an 11.5 kilometre trail through upper Stoney Creek. It passes through rural countryside of Stoney Creek with a boardwalk trail passing through the Vinemount South Swamp, the biggest natural forest area south of the Niagara Escarpment.
What to Do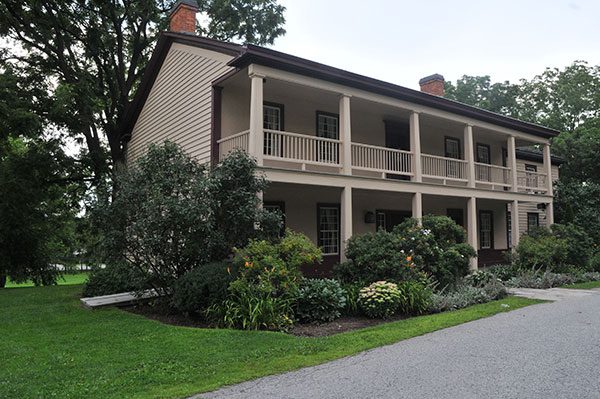 Experience 19th century life at Battlefield House Museum & Park, a living history museum with 32 acres of parkland.
Hit the beach at Fifty Point Conservation Area to relax after exploring. This 80 hectare park feels like cottage country with its long beach and marina, visitor docks and boat launch. It's also a hotspot for bird watchers and fishers.
What to Eat
Enjoying Hamilton Waterfalls Safely
Please consider these tips to help keep you safe while respecting the environment and surrounding neighbourhoods.
Waterfalls are located in environmentally sensitive areas – please stay on marked designated trails and obey closure signs; there are many rare plants that can be easily damaged or destroyed.
Park in designated parking areas only.
Do not cross active CN rail tracks to access waterfall areas and vistas. Crossing rail tracks is prohibited and illegal.
Stick to marked paths and stay well back from slopes, edges and other fall or slipping hazards.
Keep children and pets close.
Do not climb or otherwise bypass fencing.
Please watch this safety video from the City of Hamilton.

}