When you view the city as a canvas, beautiful things start to happen.
Hamilton's street art scene continues to grow and inspire, offering a window into the city's character and many stories.
Create your own self-guided tour for a street-level gallery experience with our neighbourhood guides to just some of the murals to look for in the city.
We've also checked in with some of the artists for their take on the city's street art scene.
Locke Street
Donut Monster Mural
Where: 246 Locke St. S.
Artist: Vermillion Sands
Follow: @ver_sands @jacquioakley @JamiesLawson
You'll find one of the largest murals on the street at the corner of Charlton Avenue and Locke Street outside the insanely popular Donut Monster. The talented Hamilton-based artist of Vermillion Sands who hand-painted this vibrant piece have had their work featured in National Geographic and Oprah Magazine among many. This vibrant and whimsical design includes donuts, monsters, dinosaurs, a dragon and other characters straight from a fairytale. The little ducks on the bottom right corner represent the Vanderkwaak family, who own the shop.
Hess Street
Woman with Flowers
Where: 24 Hess Street South
Artist: Megan Oldhues
Follow: @oldheus
Part of 2022 Concrete Canvas Festival, this expansive mural is a reminder that beauty can emerge in the most unexpected places. Toronto based artist, Megan Oldhues, use of rich earth tones make the piece feel like it has lived forever among the historic red-brick buildings of Hess Street. As you get closer, you begin to see the detail behind every brushstroke that brings this young woman to life.
Helping Hand
Where: 26 Hess St. S.
Artist: Alexander Bacon
Follow: @vizsla_bacon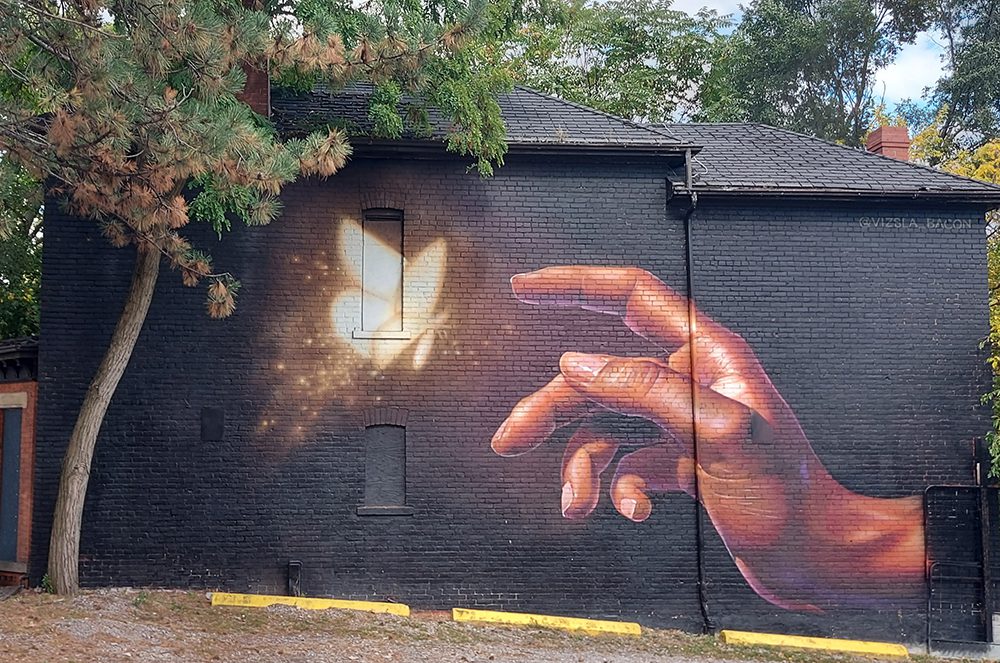 Alexander Bacon is a world-renowned graffiti artist who's best known for his colourful aerosol pieces. He visited Hamilton to create this detailed hand and butterfly piece during the Concrete Canvas Festival in 2019 (founded by multi discipline local artist Leon Robinson and curated by artist Scott McDonald). Bacon often features animals in his art to raise awareness of endangered species.
Hess Street Raven
Where: 26 Hess St. S.
Artists: Mique Michelle & Kalkidan Assefa
Follow: @miquemichelle & @drippin_soul
This striking piece featuring a huge raven, turtle and other earth elements was a collaboration between Mique Michelle and Kalkidan Assefa during the 2019 Concrete Canvas Festival which welcomed local and visiting muralists to "elevate the visual landscape of the city while simultaneously inspiring a new generation of artists."
Downtown Murals
Collective
Where: 84 James St N
Artists: Alexander Bacon, Heiro, KWest, TukeOne
Follow: @vizsla_bacon, @hieroveiga, @kwest88, @tukeone
You can't miss this stunning piece on the corner of James Street North and Wilson Street. The beauty of this mural changes with every glance, from the sharper edges of the golden baby to the soft pastel colours of the background, and all of the striking characters in between. If you find yourself downtown, this mural is a must-see.
RECKONING
Where: 118 James Street North
Artist: stylo starr
Follow: @stylostarr
The vibrant digital collage by local artist, stylo star, brings with it a breath of fresh air to the heart of James Street North. With a stated focus on the elevation of Black people and asserting their existence in fantasy and the future, starr creates collages filled with beauty and power. The mural was unveiled in 2023 as part of Supercrawl's Visual and Public Art programming.
EAT 'EM RAW
Where: 10 Barton Street
Artist: Scott McDonald
Follow: @ScottandDestroy
This mural is about as Hamilton as they come. The roaring tiger and "Eat 'em raw" slogan pays homage to the city's beloved Tiger-Cats football team and the last line of the CFL team's famous Oskee Wee Wee cheer: "Tigers, em raw". Find it in the alleyway next to Dirty South restaurant on Barton Street near James Street North.
COLOURS AT THE WATERFRONT
Where: Pier 8
Artist: Clear Eyes Collective
Follow: @cleareyescollective
Keep your eyes peeled to the ground for this first-of-its-kind street mural by local artist team, Clear Eyes Collective. Covering 5850 square feet, this colourful mural brings the street to life with bright blues, greens, and pinks. Make sure to take a good look, because the longer you stare at it the more images begin to appear.
A World of Welcome
Where: 245 King St. E., 197 King William St., 215 King St E., 19 King William St.
Artists: Amani Muhammad Ruiz with Robyn Lightwalker, Parisa Partovi, Ismaeil Rezaei, Leila Partoi and Tania Sedighi as Olka Art Collective, Stylo Starr and Kate Szabo
Follow: @thelightwalker93, @amanimuhammadru, @olka.artcollective, @stylostarr, @etak.designz
This striking mural series located in downtown's International Village, stands as a tribute to the unique and diverse experience of women of colour in Hamilton. With bright colours and bold imagery, the works of various artists come together to share the message that this is a space where all are not only welcome, but also celebrated. Don't just take our word for it, because the best way to experience the beauty and power of this collection is in person.
Falcon
Where: 12 York Blvd (York Street Parkade Wall)
Artist: Scott McDonald
Follow: @ScottandDestroy
This massive Peregrine Falcon mural (representing Hamilton's unofficial city bird) is one of the first of its kind. Before he coloured in the bird, artist Scott McDonald, invited passersby to scan a QR code to try their hand at painting their own version. He then projected the best ten and asked the public to vote on their favourite via Instagram. The resulting blue, green and yellow piece was the people's choice!
Mother Nature
Where: 21 Rebecca Street
Artist: Alexander Bacon
Follow: @vizsla_bacon
Created for the 2022 Concrete Canvas Festival by Toronto based artist, Bacon, this striking mural will stop you in your tracks. Light hues of green, purple, pink, and orange surround the face of a strong woman, who is meant to represent a new Mother Earth. The contrast of soft natural elements and sharp robotic edges symbolize the harmony that can exist between nature and technology. You can also watch Mother Nature come to life with a quick tap of a QR code.
Harmony
Where: 233 Queen St. S. (Queen and Charlton)
Artist: Robyn Lightwalker
Follow: @thelightwalker93
It's hard to miss this vibrant piece on the corner of Queen Street South and Charlton Avenue, created by local artist Robyn Lightwalker. Bold strokes of pink, purple, and teal draw the eye to the central focus of the mural, a young child joyfully interacting with the natural world around them. Bringing to life the concept that animals, humans, and nature can co-exist within the urban landscape of the city.
Raise
Where: 1 West, on King St. E.
Artists: Lester and Norman Coloma
Follow: @lestercolomaart
After doing research into the history of the building, brothers Lester and Norman Coloma, wanted to honour the family owned and operated furniture manufacturer that once occupied this space. They painted labourers working hard to "lift a hammer", symbolizing the grit and determination of Hamiltonians.
"It's quite exciting to see the diversity of artists and how the city has made accommodations to help nurture the production of art and murals in a public forum. I'm grateful to the community for letting me be a part of this ever growing street art scene in Hamilton." – Lester Coloma
Catch of The Day
Where: Behind 37 King William St.
Aritst: WERC
Follow: @w3rc
This giant, bold design is actually easy to miss if you're not looking for it. Find it on Hughson Street behind The French restaurant at King William Street. It was commissioned by Collective Arts Brewing who invited the famed artist WERC to visit Hamilton to create this piece he describes as capturing his creative process.
Helping Hand
Where: 75-77 Hunter St. E.
Artist: Scott Martin / Burnt Toast Creative
Follow: @burnttoastcreative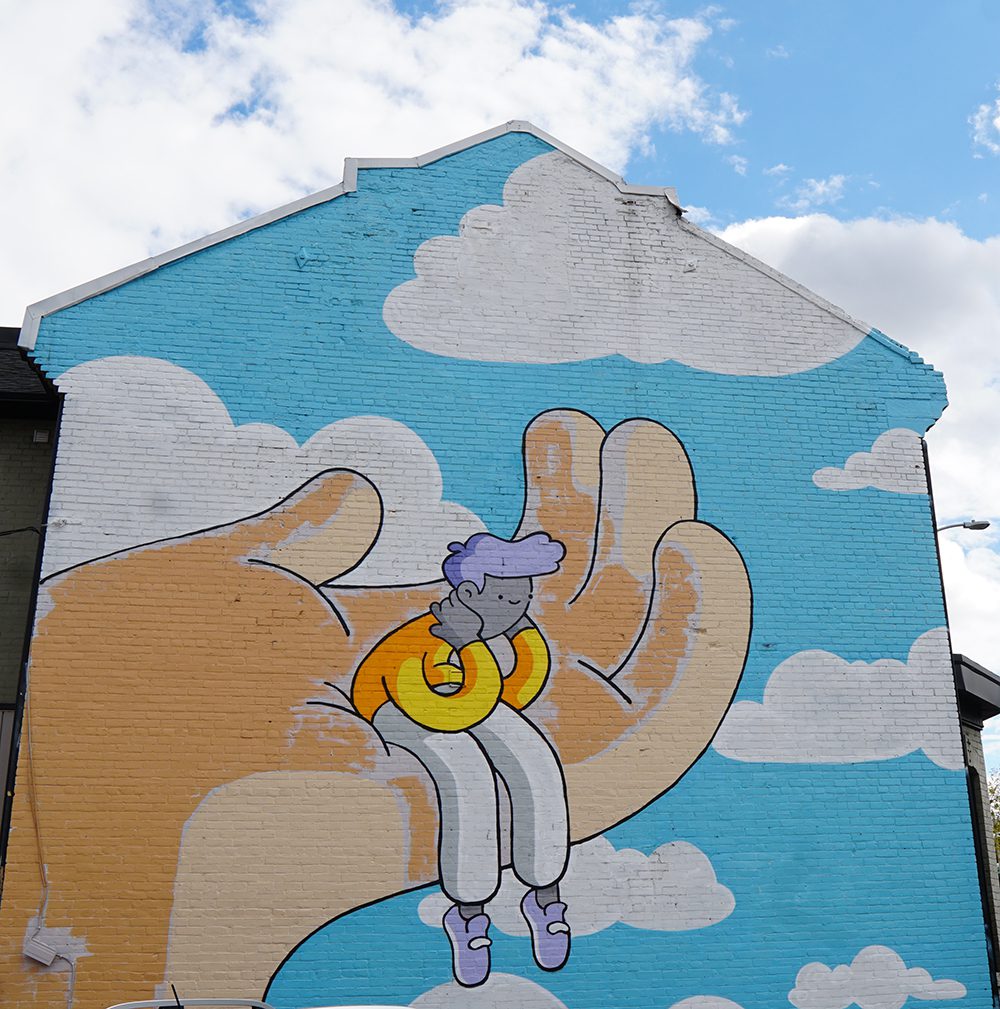 Burnt Toast Creative's signature doodle pieces can be found across Hamilton and around the world. Scott Martin is the talented artist behind these colourful works and has done illustrations for brands like Dropbox, Facebook and Samsung. This popular piece featuring marshmallow clouds and a cartoon figure sitting on a hand was Martin's contribution to the 2019 Concrete Canvas Festival.
Bridgeworks Mural
Where: 200 Caroline St. N.
Artist: Clear Eyes Collective (Darian Poisson, Adam Bates, Josh Kellet)
Follow: @cleareyescollective
It's hard to miss Hamilton's north-end music venue and event space Bridgeworks thanks to the huge, colourful mural splashed across its outside wall. The building-sized artwork was inspired by the live music perform inside, according to the trio of artists behind "Clear Eyes Collective" who credit music as a common theme and inspiration for their art.
We wanted the exterior of the building to visually reflect the essence of the performances that take place there. While the inside of the building maintains Hamilton's industrial charm, we wanted the outside to be easily identified as a place of the arts, and stand out as a landmark in the area. – Clear Eyes Collective
Lancaster Mural
Where: Barton and Greig Streets (just west of Queen Street)
Artists: Scott McDonald, Burnt Toast Creative
Follow: @ScottandDestroy @BurntToastCreative
Hamilton is home to one of only two airworthy Lancaster bombers left in the world. And the only one you can purchase a flight on via the Canadian Warplane Heritage Museum. For those who can't splurge on a flight, there's still lots of ways to marvel at this famous WWII plane with local flyovers, grounded at the museum and now – thanks to local artist Scott McDonald – on this incredible mural near Barton and Queen Streets.
Traffic Box Wraps
Where: Various Locations
Follow: @publicarthamilton

Photographer: Jocelyn Reynolds
Sometimes, the smallest things can make a big impact. As you explore the downtown, look out for brightly wrapped electric and traffic boxes, each designed by a local artist and chosen through the City of Hamilton's Public Art Process. Find them all using this map.
Barton Street Murals
Life of the Party
Where: 92 Barton Street East
Artist: Golden
Follow: @golden305
This playful creation will keep you smiling as you stroll down the block. Bold greens, blues, purples, and yellows make the larger than life personalities featured in the mural pop right off the building. Light-hearted, fun, and full of energy, the "stay golden" vibe is sure to stick with you long after seeing the piece. Scan the QR code and watch these party-animals do their thing.
Animated Tiger
Where: 907 Barton Street East
Artist: Michael Byers
Follow: @michaelbyers
The 2022 Concrete Canvas Festival saw a number of mixed media pieces added throughout the city. This Barton Street beauty comes to life with the quick snap of a QR code. In his debut mural with spray paint, artist Michael Bryer filled the wall with nods to Hamilton in this animated piece. Watch as the vibrant pinks, purples and blues flow from the boombox and dance around the mural. You might just want to groove along with it!
West Hamilton Murals
CHURCHILL PARK MURAL
Where: 167 Cline Ave W
Artist: Kyle Joedicke
Follow: @kylejoedickeart
Inspired by the housing crisis, this breathtaking piece by local artist Kyle Joedicke in Churchill Park encourages us to not turn a blind eye and remember there is a story behind every person you may pass on the street.
North End Murals
Wall Project at Collective Arts
Where: 207 Burlington St. E, Collective Arts Brewing
Artists (some): Bruno Smoky, Peru143, Shalak Attack, Chris Dyer, Jordan Warmington, The Weird Crew (Vidam the Weird, Cone the Weird, Rookie the Weird), Werc, Ola Volo, Viszla Bacon, Ryan Mosher
Follow (some): @brunosmoky, @peru143, @Shalakattack, @jordan_war, @w3rc, @olavolo, @viszla_bacon
It's no surprise this North End brewery which showcases the work of artists on their cans and bottle labels, is also home to some of the best and biggest murals in the city. In the summer of 2017, five local and international artists spend four weeks painting a large wall on site.
In 2019, the Wall Project grew even larger with more on-site art-making during the brewery's now annual Collective Arts Festival, most notably a striking purple, pink and blue toned creature by Brooklyn based WERC.
The Electric City
Where: 400 Wellington St. N.
Artist: Lester Coloma
Follow: @lestercolomaart
Local muralist Lester Coloma was commissioned to paint this portrait to highlight Hamilton's claim to fame as "The Electric City". In the late 1890s, Nikola Tesla helped establish a hydroelectric power plant in the city. With reliable and affordable power now available, Hamilton became an attractive manufacturing destination and "The Steel City" was born.
Meet local muralists and learn about the stories behind their art during regularly scheduled mural tours around the city.
Keddy Access Trail Public Art Project & Legal Wall
Where: Keddy Access Trail
Artists: Dan Bergeon & Gabriel Spector, Clear Eyes Collective, Janet MacPherson, Kayla Whitney, Nereo Zorro, Sowl
Follow: @iamfauxreel, @cleareyescollective, @janetmacpherson, @koe.design, @scenereo
The Keddy Access Trail never looked so good! As part of a Public Street Art Project, supported by the City of Hamilton, six artist and artist teams were selected to bring colour to the barriers and columns on the public trail. Concrete Canvas also left their mark on the Keddy, with the newest legal wall in the city. In addition to showcasing vibrant new works by established artists, the legal wall lets mentors with decades of experience, take emerging artists under their wing and share traditions, skills, and wisdom.
Whether you're biking, walking, or driving by, the vibrant blues, greens, yellows, pinks, and purples in the murals are going to make you want to stop and explore them all.
Hamilton Mountain Murals
Where: 828 Fennell Ave
Artist: Kyle Joedicke
Follow: @kylejoedickeart
Check out the latest Concrete Canvas Festival addition from local artist, Kyle Joedicke. Stretching over one-hundred feet long, this mural draws you in with vibrant colours and bold imagery. Infusing Indigeous art into the Hamilton community, Joedicke brings teachings and traditions to life through his murals. As your eyes move through the bright blues, purples, and oranges, you can't help but feel there is a story being told in every corner of the piece.
Seven Sacred Grandfather Teachings
Where: 576 Concession St
Artist: Kyle Joedicke
Follow: @kylejoedickeart
The sprawling and vividly colourful Seven Sacred Grandfather Teachings features seven animals that reflect the oral history and traditions passed down by Indigenous elders from the artist Kyle Joedicke's Haudenosaunee culture. Find it just off bustling Concession Street across the street from the public library.
Ray of Sunshine Mural
Where: 533 Concession St
Artist: Tim Nijenhuis
Follow: @tim.ninehouse
On the edge of the Hamilton escarpment, you'll find an explosion of yellow, blue and green wrapped around this building at the corner of Concession and Summit that brightens up the entire neighbourhood. Completed in 2020, this mural uses artist Tim Nijenhuis' signature "trick of the eye" style with each window lined with a ray of sunshine.
More on Hamilton Street Art
}