*Given popularity of these waterfalls, consider planning your visit during off-peak times (early morning or weekdays) and avoid parking on roadways if parking lots are full.
*Waterfall flow is seasonal and affected by rainfall.
The short walk to this expansive cascade waterfall is a beautiful one through a forested trail and over bridges that crisscross a stream. It's an easy hike from the parking lot on Wilson Street – making it a great spot for kids and families. There's also a connection to the Bruce Trail if you're up for a longer hike.

Waterfall Description
This 21 metre tall cascade waterfall is stunning in the spring when it's roaring from the spring melt and also in the winter when it's frozen in place (ice-climbing is allowed at this location).
The waterfall tumbles from a broad valley above the escarpment into a v-shaped ravine below, creating a memorable experience for visitors below, surrounded by cliffs on either side.
The Hamilton Conservation Authority considers the surrounding forest and bedrock to be a significant natural area, with various species and a canopy that consists of Eastern hemlock, sugar maple, red oak, American beech and many more species.
Parking and Proximity to Falls
Limited paid parking is available off of Wilson Street E.
It takes about 10 to 15 minutes to walk to the falls.
Accessibility
The dirt path is relatively easy to navigate, but there is the odd root to step over and a few stairs up to the viewing platform.
Hikes Nearby
There are about 1,200 hectares of meadows, Carolinian forest, streams and numerous hiking trails to explore in the nearby Dundas Valley.
For a leisurely half hour hike, cross Wilson Street from Tiffany Falls and hop on the Bruce Trail- where you'll pass Sherman and Canterbury Falls (around 30 minutes one way).
Or drive into Dundas and park at the main lot off Governor's Road. Walk towards the Dundas Valley Trail Centre and then enter the trail head on the other side of the rail trail. Here you can take the 3.4-kilometre Main Loop trail (about 90 minutes) and hook on to other trails, including the Bruce Trail. Expect a hilly walk! Keep an eye out for both cyclists and horses as the trails are multi-use. Refuel at the official Trail Centre, a replica Victorian train station.
What to Do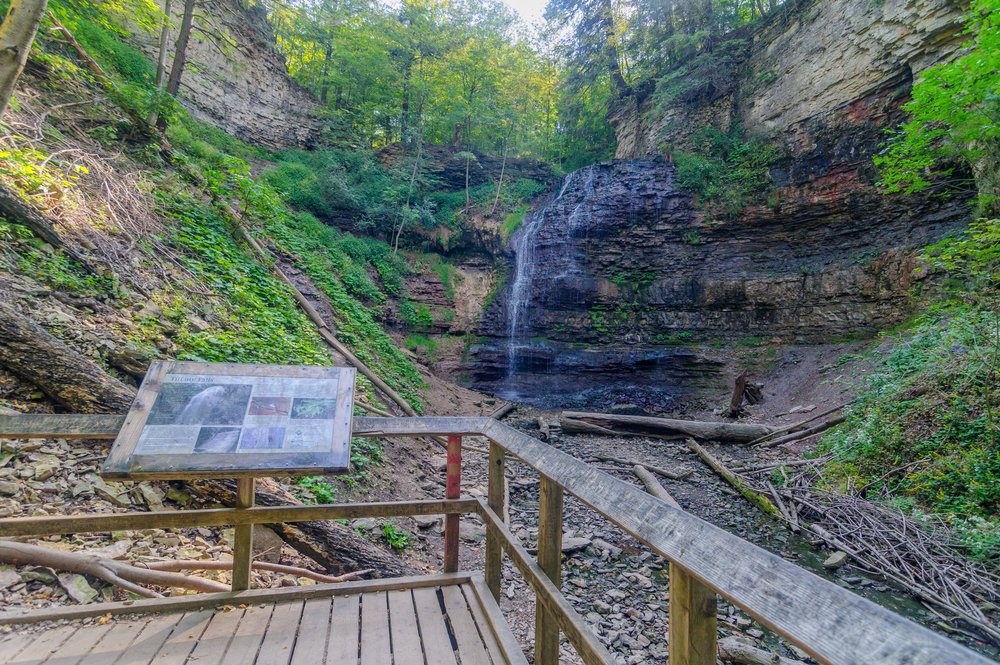 What to Eat
Enjoying Hamilton Waterfalls Safely
Please consider these tips to help keep you safe while respecting the environment and surrounding neighbourhoods.
Waterfalls are located in environmentally sensitive areas – please stay on marked designated trails and obey closure signs; there are many rare plants that can be easily damaged or destroyed.
Park in designated parking areas only.
Do not cross active CN rail tracks to access waterfall areas and vistas. Crossing rail tracks is prohibited and illegal.
Stick to marked paths and stay well back from slopes, edges and other fall or slipping hazards.
Keep children and pets close.
Do not climb or otherwise bypass fencing.
Please watch this safety video from the City of Hamilton.

}