Webster Falls is the largest waterfall in the region – and one of the most popular. Located in the historic village of Dundas, Webster Falls is close to hiking trails, beautiful green space and great amenities and restaurants in town.

Description
This 22-metre classical curtain waterfall is one of Hamilton's most iconic waterfalls.
Its wide expanse of waterfall spills over a tiered drop, not far from where the shuttle drops off visitors.
It's well worth a visit in the fall for prime leaf viewing of stunning Dundas Valley.
It's part of the Spencer Gorge/Webster Falls Conservation Area, one of Upper Canada's earliest industrial communities.
The open grounds around the falls are easy to navigate and pause for photos or to enjoy a snack.
Don't miss the beautifully restored cobblestone bridge that crosses Spencer Creek.
Parking and Proximity to Falls
Parking Off-Season (November – April)
Spencer Gorge Conservation Area parking lots open 7 days a week (sunrise to sunset)
Parking is also available at the Greensville Optimist Park, Crooks Hollow and Christie Lake Conservation Area (no shuttle available)
Parking in non-designated spots will be ticketed with fines up to $250
Parking and Shuttle Service for Peak Weekends (April – October) and Holidays :
There is no on-site parking at Webster Falls during weekends and holiday Mondays from April 19 to October 27, 2019.
During this peak visit period, the parking lot is closed, with the exception of limited accessible parking.
Guests can park at nearby Christie Lake Conservation Area and catch a shuttle, leaving approximately every 15 minutes.
The first shuttle leaves Christie Lake at 9:30 a.m. for Spencer Gorge with the last one returning to Christie Lake at 6:30 p.m. (extended to 7:30 p.m. in June, July, August).
Parking is $10 per vehicle PLUS $5 per passenger, 5 yrs+. (this is included in regular Conservation Area entry fee)
Please visit Hamilton Conservation Authority for more parking and shuttle details.
Weekday Parking
On weekdays, during peak season, limited parking is available near Webster Falls at the parking lot off Fallsview Road via Short Road.
Cost is a $15 flat fee when attendant not on duty. When gate is staffed, cost is $10 parking and $5 per person.
Accessibility
The walk to the falls from the shuttle drop-off is 600 metres.
The shuttle is not accessible, so visitors with accessible parking permits can park in the Webster Falls lot.
Only a small portion of the conservation area is accessible by wheelchairs and other mobility aids, but much of the area is natural, with packed earth trails.
Hikes Nearby
If you're up for a great hike from Christie Lake to Webster Falls, follow signs that indicate the Spencer Adventure route. During this 40 minute walk from the Christie Lake dam, you can learn about the area's industrial past as part of Upper Canada and the fascinating ecology of the Spencer Gorge.
There is no direct trail access connecting Webster Falls to Tew Falls, but you can hop back on the shuttle to visit Tew Falls (on summer weekends and public holidays). On weekdays, you can drive between the Webster and Tew Falls parking lots as your parking pass is valid for the day at both locations.
It is possible to walk along the road but important to note there are no sidewalks on this narrow route. Head up Short Road and turn right on Harvest Road where you can hook up with the Tew Falls parking lot and trail to see Tew Falls. (around 20 minutes).
Continue on to Dundas Peak for stunning views of the valley – especially in the fall.
There are also a couple of Bruce Trail side trails to explore.
What to Do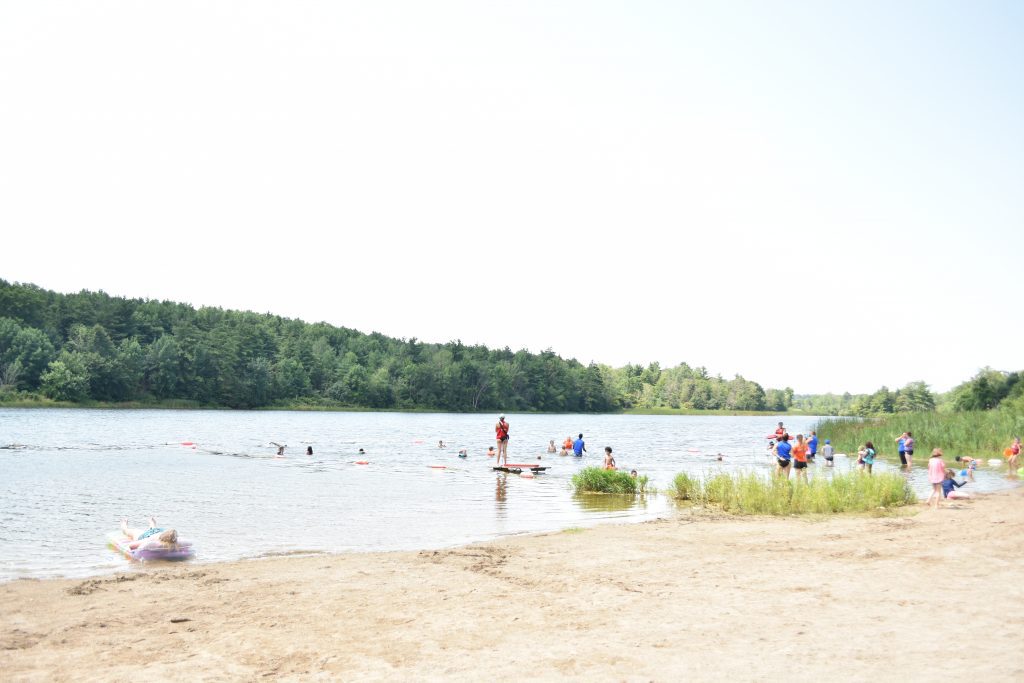 Already parked at Christie Lake Conservation Area for the shuttle? Relax at Christie Lake. Rent a standup paddleboard from WhaSUP – or take a lesson. There are expansive picnic grounds, a public beach, and canoe and kayak rentals.
Extend your active excursion and hit the 10 kilometres of mountain biking trails on the east side of the conservation area.
Twice a year, the Christie Antique & Vintage Show takes over 10 acres of the conservation area with hundreds of vendors.
What to Eat
Enjoying Hamilton Waterfalls Safely
Please consider these tips to help keep you safe while respecting the environment and surrounding neighbourhoods.
Waterfalls are located in environmentally sensitive areas – please stay on marked designated trails and obey closure signs; there are many rare plants that can be easily damaged or destroyed.
Park in designated parking areas only.
Do not cross active CN rail tracks to access waterfall areas and vistas. Crossing rail tracks is prohibited and illegal.
Stick to marked paths and stay well back from slopes, edges and other fall or slipping hazards.
Keep children and pets close.
Do not climb or otherwise bypass fencing.
Please watch this safety video provided by the City of Hamilton.