Forested trails. Scenic waterfronts. Urban routes that lead to stunning lookouts.
Hamilton's unique landscape offers all this and so much more to cyclists looking to explore the city on two wheels.
Here are some favourite Hamilton routes to put your tires to the trails and make the most out of your next cycling adventure.
The Dundas Valley is a 1,200-acre treasure with lush Carolinian forest bordering a 40-kilometre network of trails. If you're ambitious, continue on the Hamilton to Brantford Rail Trail, or explore several unpaved out-and-back trails and loops.
Since it's a multi-use trail, please have a functioning bell, and be mindful of hikers and horses (please stop and allow the horses to proceed). Bruce Trail sections are off limits to bikes.
Why Choose This Trail: When you're in the forest, this truly feels like an escape from the city. If you're looking for a longer gravel ride, hop on the Hamilton to Brantford Rail Trail, which will eventually take you out of the forest and onto rural routes past farmers' fields.
Terrain: Flat rail trail with slight incline, hilly double track routes
Distance: 44km + 32km Hamilton to Brantford Rail Trail
Parking: 650 Governor's Road, Dundas
Along the Way:
The official Trail Centre, which is not far from the parking lot, is in a replica Victorian train station with public washrooms, an outdoor fountain and plenty of picnic tables. Explore the fascinating ruins of the Hermitage Gate House from the Main Loop. Or head to nearby Dundas Driving Park where you can rest at under the shade of a mature tree.
Spots to Refuel:
Head into historic downtown Dundas for plenty of options for food and drink.
There's bike parking at Detour where you'll find freshly baked goods and other market goodies.
Domestiique is a cycling cafe serving lunch, baked goods and great coffee.
Shawn & Ed Brewing Co. is a popular local brewery with a few outdoor tables to enjoy. If you're on the rail trail and head in the opposite direction towards Brantford, you can hit two breweries on the same street: Fairweather Brewing Company and Grain & Grit.
There are certain points along this 7.5-kilometre paved trail where it's easy to forget you're in the city. Riding towards Princess Point and Cootes Paradise takes you along the waterfront of Burlington Bay where adorable baby ducks and swans bring pedalling to a halt in the spring. At the other end, big things are in store for Hamilton's West Harbour, currently undergoing a big redevelopment. Buy you can still access great views of Hamilton Harbour here.
Why Choose This Trail: This is a great route for families, though it can get busy on weekends. Also, you'll love the waterfront views and proximity to urban amenities.
Terrain: Mostly paved
Distance: 7.5km
Parking: Near Williams Fresh Cafe at 47 Discovery Drive or at the end of Longwood Road near Princess Point.
Along The Way:
Riding with kids? There's a colourful tugboat playground at Pier 4, popular with locals in the know. At Cootes Paradise, you can pop to Dundurn Park via a staircase with a convenient trough.
Spots to Refuel:
Did you think we said hamburgers? While you might pedal past a burger joint at some point, the Hambur Loop refers to a 50-kilometre route connecting existing trails throughout Hamilton and Burlington. This is a great day trip (or multi-day if you want to do it in chunks) itinerary that will take you along both paved and unpaved trails (and along some shared roadways), along the water and through some of the region's forested areas, with scenic lookouts along the way.
The Hambur Loop includes various smaller routes, including: Hamilton Waterfront Trail, Escarpment Rail Trail, Red Hill Valley Trail, and the Breezeway Trail.
Why Choose This Trail: This route is for those seeking a day-long diverse cycling adventure that takes you past the shores of Lake Ontario all the way up to the Hamilton Mountain and back.
Terrain: Paved road, paths
Distance: 50km
Parking: Check the map for multiple parking options, depending on where you start.
Along The Way:
Part of the route takes you on the Great Lakes Waterfront Trail. This is an urban ride, mixed with scenic vantage points and some stretches of forest. Once you reach the top of the escarpment portion you'll be awarded with views of Albion Falls, a popular cascading waterfall.
Spots to Refuel:
Escarpment Rail Trail
Built over an old CN railway line, this 9-kilometre recreational trail, part of the Trans Canada Trail, will take you up the escarpment along a paved path in the woods. At the top, head over to Albion Falls, one of the city's many waterfalls. Here, you can continue on to explore some of the Red Hill Valley. If you start your route at the bottom in Corktown Park, the way back tot he car is all downhill!
Why Choose This Trail: A great option if you're looking for an easy, gradual climb through the city and into the forest.
Terrain: Asphalt, gravel, mixed
Distance: 9km
Parking: Look for parking around Ferguson Avenue South and Young Street, near Corktown Park as that's where you'll begin the route if you start at the bottom.
Along The Way
This route offers an urban and nature mix. Expect to enjoy both the bustle of Downtown Hamilton and picturesque escarpment views, the Bruce Trail, and waterfalls like Albion Falls.
Spots to Refuel:
Pack a picnic to eat at the top, or wait until you descend. There are a few notable cafes and restaurants fairly close to Corktown Park – all worth a stop.
Hamilton Beach Trail (Breezeway)
If a beach-front vacation isn't in the cards, you can still get that beach vibe by riding this trail along the water. Starting at Confederation Park. You can follow the shores of Lake Ontario towards the Burlington Canal Lift Bridge, while being serenaded by seagulls. You'll also see this route referred to as the Breezeway Trail.
Why Choose This Trail: This is an easy relaxing ride for those looking for a waterfront ride that's scenic but manageable. Great for a family beach outing.
Terrain: Paved path
Distance: 8km
Parking: Confederation Park, 585 Van Wagners Beach Rd, Hamilton
Along The Way:
Interpretative panels describe the history of Hamilton's waterfront and explain the restoration process. Nearby Confederation Park offers lots of room to spread out while Adventure Village offers mini golf and batting cages.
Spots to Refuel:
Barangas on the Beach features a stunning outdoor patio and a full mediterranean menu.
Hutch's on the Beach is an institution – it's been around since 1946 and still maintains its vintage diner charm. Stop here for an ice cream cone or their famous fish and chips.
Christie Lake is home to about 10 kilometres of well-thought-out, flowy singletrack, some planned by IMBA (the International Mountain Biking Association), and maintained by the Hamilton Burlington Mountain Biking Association, with more in the works. Pedal through the family-friendly pine forest with the odd rooty bits and some fun berms. Trails are currently one-direction. Please heed the signs.
Why Choose This Trail: If you're looking to get back to nature, this is a lovely trail. It's a great place to spend the day with the family, especially if some won't be biking with lots of space and a beach to enjoy.
Terrain: Singletrack and doubletrack off-road trails
Distance: 10km
Parking: Enter Christie Lake Conservation Area, follow the main road to the end and turn right for signs to parking.
Along The Way:
There is a beach and plenty of picnic tables to enjoy a packed lunch. Call ahead for canoe, kayak and SUP board rentals. Bring a fishing rod or take in a game of disc golf.
Spots to Refuel
There is a snack bar by the beach, but check ahead for hours.
Keddy Access Trail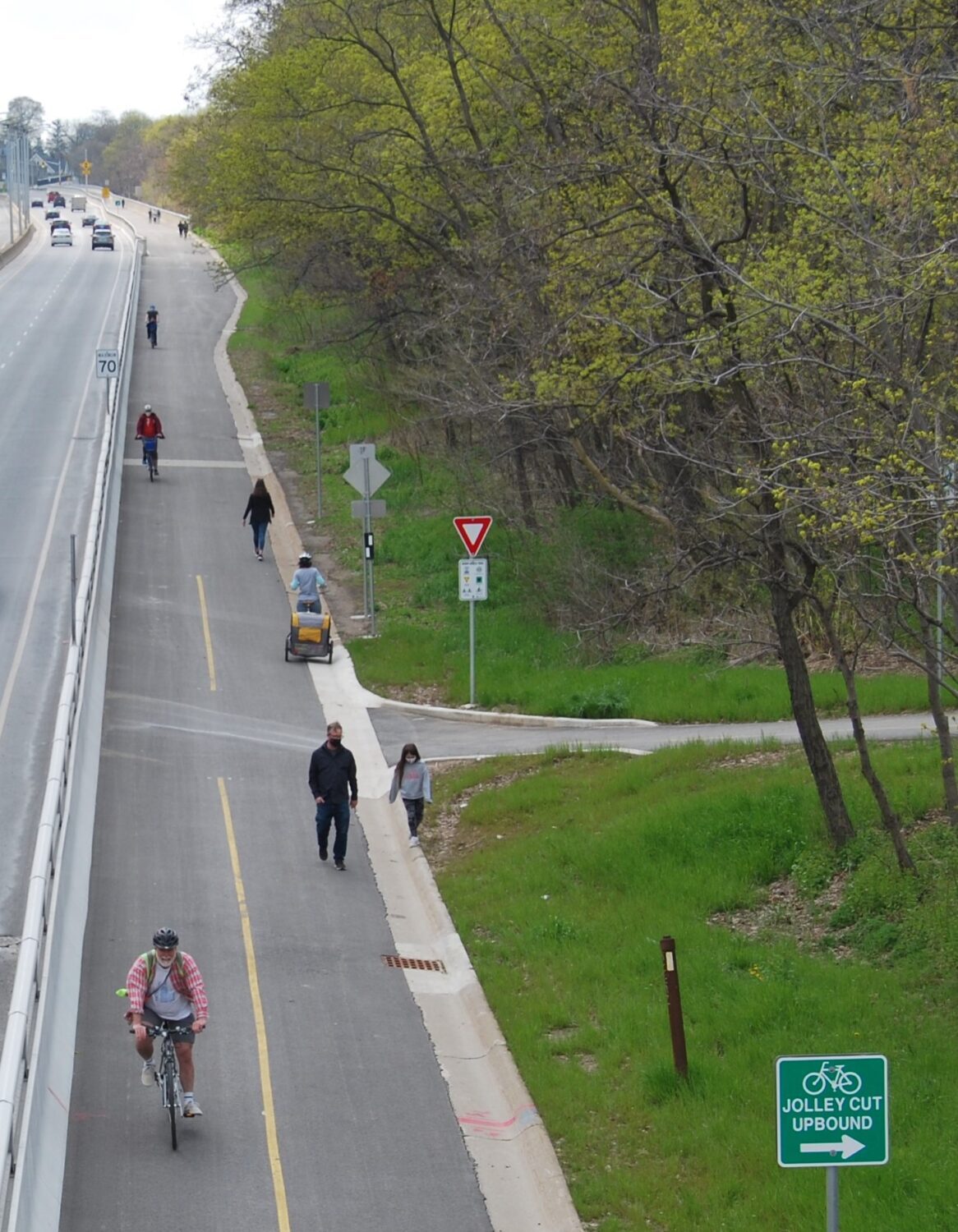 Hamilton's newest trail (opened in 2020) gives urban cyclists looking to travel up the escarpment to the 'mountain' from the city's lower city, a safe and scenic option.
The protected paved trail stretches from Hunter Street all the way up to West 5th Street with an entry point at Hunter Street and the Claremont Access, with four side connections to trails along the way. (The trail is named after Jay Keddy, a 53-year-old kindergarten teacher and father of three, who was struck and killed while biking up the Claremont Access)
Why Choose This Trail: This route offers a safe way to get up the mountain from the lower city. There are barricades for nearly the entire trail that will protect you from traffic. And the views along the escarpment are stellar.
Terrain: Paved
Distance: 2.4km
Along The Way:
If you start from the bottom, you'll be rewarded with views of the city as you climb the Bruce Trail.
Spots to Refuel:
One of the side trails will lead to John Street where you'll find plenty of great downtown eateries:
The Ship is one of several popular casual stops with great burgers along pub-lined Augusta Street, just off John Street.
Planted in Hamilton offers very delicious and generous portions of vegan and gluten-free fare.
Chedoke Radial Trail
Head into the woods on this wide scenic trail, that is part of the Bruce Trail, offering a gentle climb up the escarpment through the trees. If you start at the Chedoke Golf Course in south west Hamilton, look out for a small but pretty waterfall called Lower Chedoke Falls.
Why Choose This Trail: A short pedal with a gradual incline that offers a brief respite from the city while serving up great views of both the city below and the Niagara Escarpment above.
Terrain: Smooth dirt, gravel
Distance: 2.7km
Parking: Chedoke Golf Club, 563 Aberdeen Ave
Along the Way:
If you want to add in even more of a workout, park your bike at the base of the Chedoke or Dundurn Stairs and climb the many stairs to the top of the escarpment and back. (You'll definitely want to stretch your legs before and after).
Spots to Refuel:
There are fountains at the base of the Chedoke and Dundurn Stairs to refill your water bottle.
If you've done an out and back, carry on down the trail at the end of the parking lot, which will take you to Dundurn Street where Cake & Loaf Bakery is full of from-scratch delicious rewards.
Steps away is Dundurn Market, a local destination for amazing coffee, local flowers and thoughtfully selected snacks, groceries and wines. They've also got a cute patio where you can pull up a chair and catch your breath.
Head one major block east and you're on Locke Street where there is a while strip of restaurants to choose from.
Dofasco 2000 Trail
Though named after a Hamilton steel company, this trail focuses on nature, winding its way through a rural part of Stoney Creek. You'll also come to a boardwalk built over the Vinemount South Swamp, the biggest natural forest south of the escarpment and home to several important endangered species.
Why Choose This Trail: For those looking for a pretty route past waterfalls and historic gardens and wanting to explore Hamilton's Stoney Creek community.
Terrain: Paved and gravel paths, boardwalk section
Distance: 11.5km
Parking: Devil's Punchbowl, 204 Ridge Road, Stoney Creek
Along the Way:
Before you hop on your bike, take in the views from the top of the Devil's Punchbowl. You can also check out the Battlefield House Museum & Park a pioneer homestead built in 1796 and the sprawling grounds that surround it.
Spots to Refuel:
Hamilton Cycling Resources
Here's where to rent and service a bike in Hamilton:
More on Hamilton Cycling:
---
Tara Nolan is a Dundas-based freelance writer with a passion for exploring the outdoors. Tara loves to write about mountain biking, gardening and other active pursuits for a variety of print and online publications. Follow her on Twitter @thattaranolan and Instagram @tara_e.

}