Hamilton is a bike-friendly hub offering a vast range of trail networks that lead cyclists through urban areas to forested trails and along the city's scenic waterfront. There's an amazing amount of green space in the city – 2,682 acres of parkland and 1,356 acres of natural areas.

Here are some favourite off-road options for both recreational riders and mountain bikers.
The Dundas Valley

The Dundas Valley is a 1,200-acre treasure with lush Carolinian forest bordering a 40-kilometre network of trails. If you're ambitious, you can hop on the Hamilton to Brantford Rail Trail, or explore several unpaved out-and-back trails and loops. Please note you cannot ride on the Bruce Trail sections. Being a multi-use trail, be mindful of hikers and horses.
Parking tip: Parking in the Hamilton Conservation Authority lot at 650 Governor's Road.
Insider tip: There's an actual cycling cafe in Dundas called Grupetto. It's located in behind The HOP Urban Market and attracts cyclists from all over the GTA.
The Hamilton Waterfront Trail
There are certain points along this 7.5-kilometre paved trail where it's easy to forget you're in the city. Riding towards Princess Point and Cootes Paradise takes you along the waterfront of Burlington Bay where baby ducks and swans will bring pedalling to a halt in late spring.
Parking tip: There's parking at Pier 8, near Williams Fresh Cafe (with a patio to enjoy post-ride treats) at 47 Discovery Drive. There's also parking at the end of Longwood Road near Princess Point.
Insider tip: Pack roller skates in your paniers – the outdoor rink by Williams takes you back to the 80s in the summer months.
The Escarpment Rail Trail

Built over an old CN railway line, this 9.5-kilometre recreational trail, part of the Trans Canada Trail, will take you up the escarpment along a paved path in the woods. At the top, head over to Albion Falls one of the city's many waterfalls. Here, you can continue on to explore some of the Red Hill Valley. If you start your route at the bottom in Corktown Park, the way back to the car is all downhill!
Parking tip: Look for parking around Ferguson Avenue South and Young Street near Corktown Park as that's where you'll begin the route if you start at the bottom.
Insider tip: Pop into the friendly cafe Salty Espresso near Corktown Park for pre- or post-ride brunch.
Christie Lake Conservation Area
There are just over 10 kilometres of fast and flowy singletrack trails at Christie Lake, some planned by IMBA (the International Mountain Biking Association), and maintained by the Hamilton Burlington Mountain Biking Association (hbmba.ca), with more in the works.
Parking tip: There's a special parking lot close to the mountain biking trails, but you can park near the beach as well, and just ride over to the trail head.
Insider tip: There's a sweet little bakery right across the street from the entrance to Christie Lake called The Tiny Shop Bakery to help fuel your ride.
The Hambur Loop
Did you think we said hamburgers? While you might pedal past a burger joint at some point, the Hambur Loop refers to a 50-kilometre route connecting existing trails throughout Hamilton and Burlington. This is a great day trip (or multi-day if you want to do it in chunks) itinerary that will take you along both paved and unpaved trails (and along some shared roadways), along the water and through some of the region's forested areas, with scenic lookouts along the way.
Parking tip: Because this route crosses through some of the routes mentioned, you could use the parking info from The Hamilton Waterfront Trail or the Escarpment Rail Trail, depending on where you want to start.
Insider tip: Stop in at Royal Botanical Garden's renovated Rock Garden and grab a refreshment at the delicious onsite cafe with stunning views.
Visiting without wheels? Here's where to rent a bike in Hamilton:
For detailed Hamilton cycling information visit:
---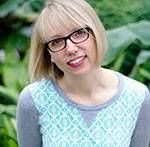 Tara Nolan is a Dundas-based freelance writer with a passion for exploring the outdoors. Tara loves to write about mountain biking, gardening and other active pursuits for a variety of print and online publications. Follow her on Twitter @thattaranolan and Instagram @tara_e Her blog The Outdoor Explorer reveals Hamilton's stunning outdoor spaces, from nature trails and waterfalls to conservation areas, farms and gardens. Whether you want to walk, hike, bike or paddle, discover where to seek out your next outdoor adventure – all minutes from the city's core.