Now more than ever, we need the healing power of nature.
Hamilton's outdoor playground is here to help you answer the call to get outside.
Its vast trail network winds through forests, along waterfronts, and across the edge of the striking Niagara Escarpment.
Best of all, these stunning walks are easy to reach and close to great attractions and dining perfect for refueling.
Christie Lake
This Hamilton Conservation area is basically a giant year-round outdoor playground with 10 kilometres of gorgeous hiking trails through meadows and towering pine forests. There's also a great mountain bike single-track trail that cuts through the forest.

Difficulty/Terrain: Some doubletrack trails with gravel or dirt. Bike trails are a clay/dirt surface with a few rocks and roots and range in difficulty from easy to intermediate.
Length: There are 10 km of multi-use trails
Parking: Plenty of paid parking is available in the on-site lot.
Map to parking lot
Nearby
There is a bakery directly across the street from the conservation area entrance – The Tiny Bakery – with fantastic pies, Belgian cookies and other post-ride or post-hike snacks.
Eramosa Karst
The word "karst" isn't one you hear often, but there happens to be one that you can visit in Hamilton. According to Merriam-Webster, a karst is "an irregular limestone region with sinkholes, underground streams and caverns." When visiting this conservation area in Stoney Creek, be on the lookout for the caves this area is known for scattered along the trails.

Difficulty/Terrain: The terrain here is fairly flat, but watch your footing in some uneven areas.
Length: More than 7 km of trails, boardwalks and bridges to explore through escarpment forests, meadows and unique geological formations.
Parking: Paid parking is available in the on-site lot.
Map to parking lot
Nearby
Check out beautiful Albion Falls just a few minutes away, flowing down the Niagara Escarpment into the Red Hill Valley. And don't miss the stunning views of the city from Mountain Brow Boulevard. Visitors looking for an overnight stay, can visit the beautiful C Hotel by Carmen's.
Devil's Punchbowl
The most popular feature of this hiking area, located in Stoney Creek, is the colourful, rocky gorge that is part of the Stoney Creek escarpment. It shows off over 40 million years of history with its layers of shale and limestone formed by inland seas and the popular Devil's Punchbowl falls.

Difficulty/Terrain: Difficult - expect dirt, grass, wooden stairways and bridges.
Length: The trail is 2.5 km one way. You can also get on the 11.5-km Dofasco 2000 Trail through upper Stoney Creek that features a boardwalk through Vinemount Swamp Forest.
Parking: Paid parking is available in the on-site lot.
Map to parking lot
Nearby
Be sure to stop at the lookout for panoramic views of Stoney Creek and Hamilton Harbour. Then refuel with some takeout from Memphis Fire Barbecue Company, The Himalaya or an iconic Roma Pizza.
The Dundas Valley trail system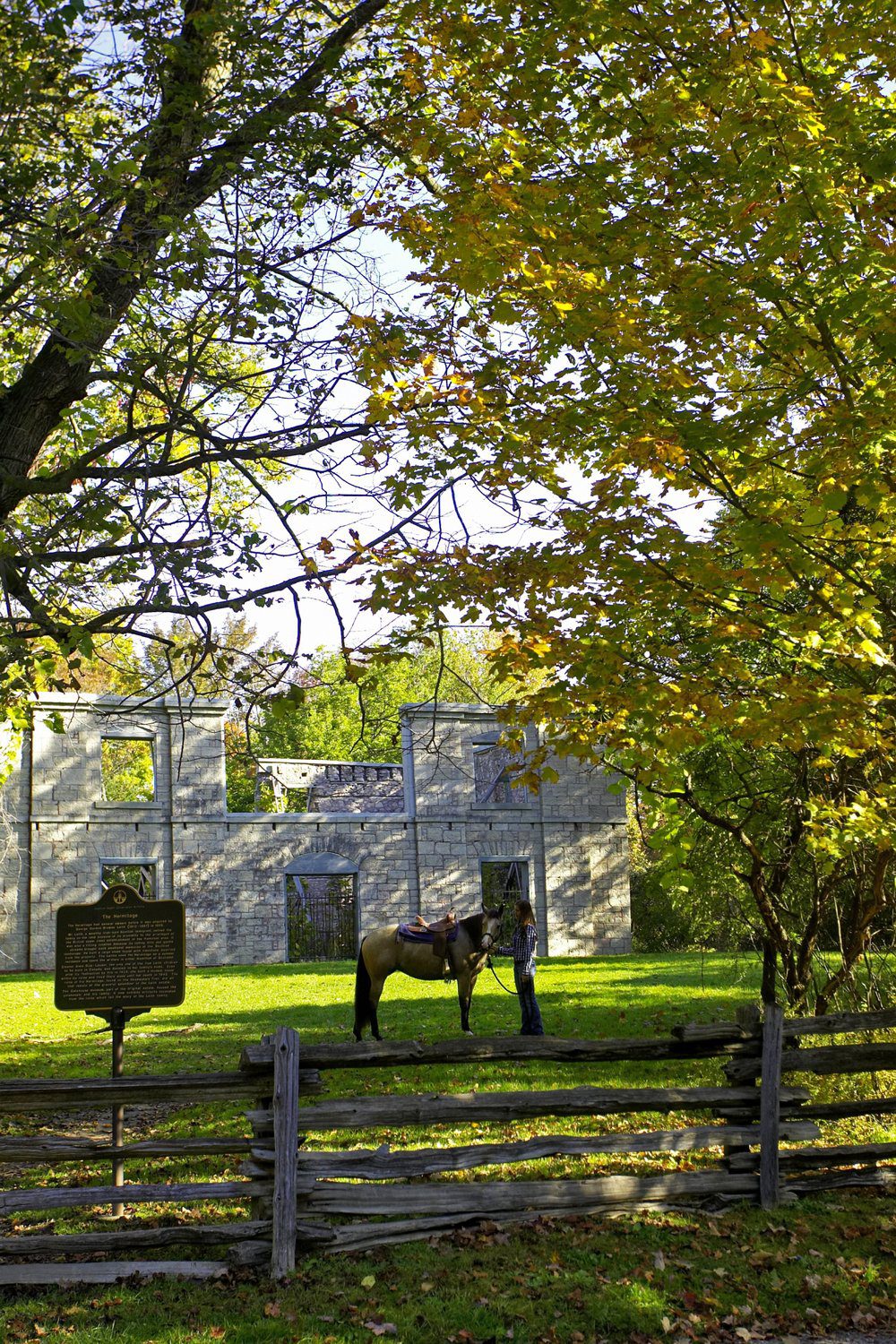 The Dundas Valley is a lush, hilly 1,200 hectares of forest featuring deciduous Carolinian trees, streams and a 40-kilometre trail system. The Main Loop Trail is a popular one, with several offshoot trails. The Bruce Trail and the 32-kilometre Hamilton to Brantford Rail Trail also intersects the valley and runs past the main trail centre, with its covered pavilion. Take the Main Loop Trail to see the restored Hermitage Ruins and the Heritage Trail that leads to Canterbury Falls.
Difficulty/Terrain: Moderate to difficult: Some parts are rooty and hilly, while others are fairly flat and even. Length: Main Loop: 3.4 km; Heritage Trail 1.8 km.
Parking: Map to parking lot
Nearby
Once you've worked up an appetite, wander to historic downtown Dundas for a perfect coffee and pastry from Detour or pick up some wood fired pizza to go with your bottles of beer at Shawn & Ed Brewing.
Chedoke Radial Trail
This scenic 2.7 kilometre path is part of the Bruce Trail and passes by the rolling green hills of the Chedoke Golf Club course off Aberdeen Avenue. It's a popular meeting point, not only for hikers, joggers and cyclists, but for those looking to push themselves by climbing the steep Chedoke Stairs (all 280 of them) that connect the lower city to the west mountain at the top of the escarpment.

Difficulty/Terrain: There is a slight grade as you walk or ride up the escarpment, but rail trail itself is dirt.
Length: 12 km
Parking: Most people will park at Chedoke Golf Course and start their hike from there.
Map to parking lot
Nearby
Pre or post hike, grab a coffee and groceries at the friendliest corner grocer Dundurn Market, some upscale comfort food at Aberdeen Tavern, and from scratch deserts locals rave about at Cake & Loaf.
The Waterfront Trail
This is a great way to enjoy the shoreline of Hamilton Harbour from Princess Point (Cootes Paradise) through Bayfront Park and the West Harbour. The paved trail connects visitors to a once industrial waterfront, now revitalized with restored natural areas and amenities like outdoor skating.

Difficulty/Terrain: Paved and smooth
Length: 7.5 km
Parking: There are various free and metered parking lots along the route including Bayfront Park and Princess Point. Map to parking lot
Bus route: The trail is well serviced by bus routes. Enter your starting address in the HSR Trip Planner for details.
Nearby
Warm up with a hot beverage and snacks at Williams Fresh Cafe or head to one of the many coffeeshops and restaurants along James Street North.
Sassafras Point Trail in Churchill Park
Venture into Westdale neighbourhood and you might be surprised that just behind it, lies a forest with some beautiful hiking loops. These trails are part of what's known as Cootes Paradise, an 840-hectare sanctuary for animals, birds, and marine and plant life that's managed by the Royal Botanical Gardens. There are 27 kilometres of trails to explore, including the popular Sassafras Trail. At the end of this winding, forested walk, you'll be rewarded with views of beautiful Princess Point.

Difficulty/Terrain: Moderate, with a couple of short-but-steep hills
Length: 3.4 km – about one hour out and back.
Parking: There is metered parking on Oak Knoll Drive in Westdale, which is free to Royal Botanical Garden members.
Map to parking lot
Nearby
Warm yourself with some of the best coffee in town at Phin Coffee and grab something sweet at Walker's Chocolates or Weil's Bakery.
THE ESCARPMENT RAIL TRAIL TO ALBION FALLS
This path that leads from downtown Hamilton up above Albion Falls was established in 1993 on an old CN rail line. It's also part of the Trans Canada trail network. The main route is paved and on a gradual slope, which makes it perfect for families on foot and with bikes. Visitors are asked to stay on marked paths and avoid entering prohibited areas.
Trail map (PDF)
Difficulty/Terrain: Easy to moderate. Paved with some tar/chip surface and a gradual slope
Length: 9 km
Parking: Corktown Park at Ferguson Avenue and Young Street.
Map to parking lot (you can get on the trail at Corktown Park)
Nearby
From here, you can also get onto the Bruce Trail which follows the edge of the Niagara Escarpment, one of the thirteen UNESCO World Biosphere Reserves in Canada.
INDIGENOUS PLANT MEDICINES TRAIL
Discover how native plants provide much of life's essentials on this fascinating trail at the Arboretum at Royal Botanical Gardens.
Developed in partnership with the Mississaugas of the Credit First Nation, the trail explores plants used by the Anishinaabe peoples, and their connections to culture, language, ecology, and history. Plant teachings are provided using both interpretive panels and audio devices at two waterside teaching areas along the trail, to honour the oral nature of Indigenous cultures.
Difficulty/Terrain: Hilly with packed earth, gravel and wood mulch surfaces. Muddy trails are slippery when wet and the trail is often icy in the winter.
Length: 1.1 kilometres, from the Nature Interpretive Centre along the north side of Cootes Paradise marsh to Hickory Valley.
Parking: Park at the Arboretum parking lot for a flat fee when staffed or use metered parking after hours.
Nearby
Fuel up in nearby Westdale Village with a bowl of soup from Burnt Tongue or enjoy a flight at family-run brewery Grain & Grit. Hamilton's iconic Dundurn Castle is also nearby.
---
The City of Hamilton encourages all visitors to enjoy the city's trails and waterfalls safely and has provided following resources:
---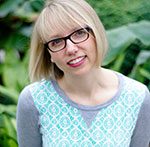 Tara Nolan is a Dundas-based freelance writer with a passion for exploring the outdoors. Tara loves to write about mountain biking, gardening and other active pursuits for a variety of print and online publications. Follow her on Twitter @thattaranolan and Instagram @tara_e.

}