Feeding your sweet tooth is a piece of cake in Hamilton thanks to a huge selection of decadent treats. So go ahead and indulge in these made-in-Hamilton desserts.
KEEP CALM AND EAT CHOCOLATE!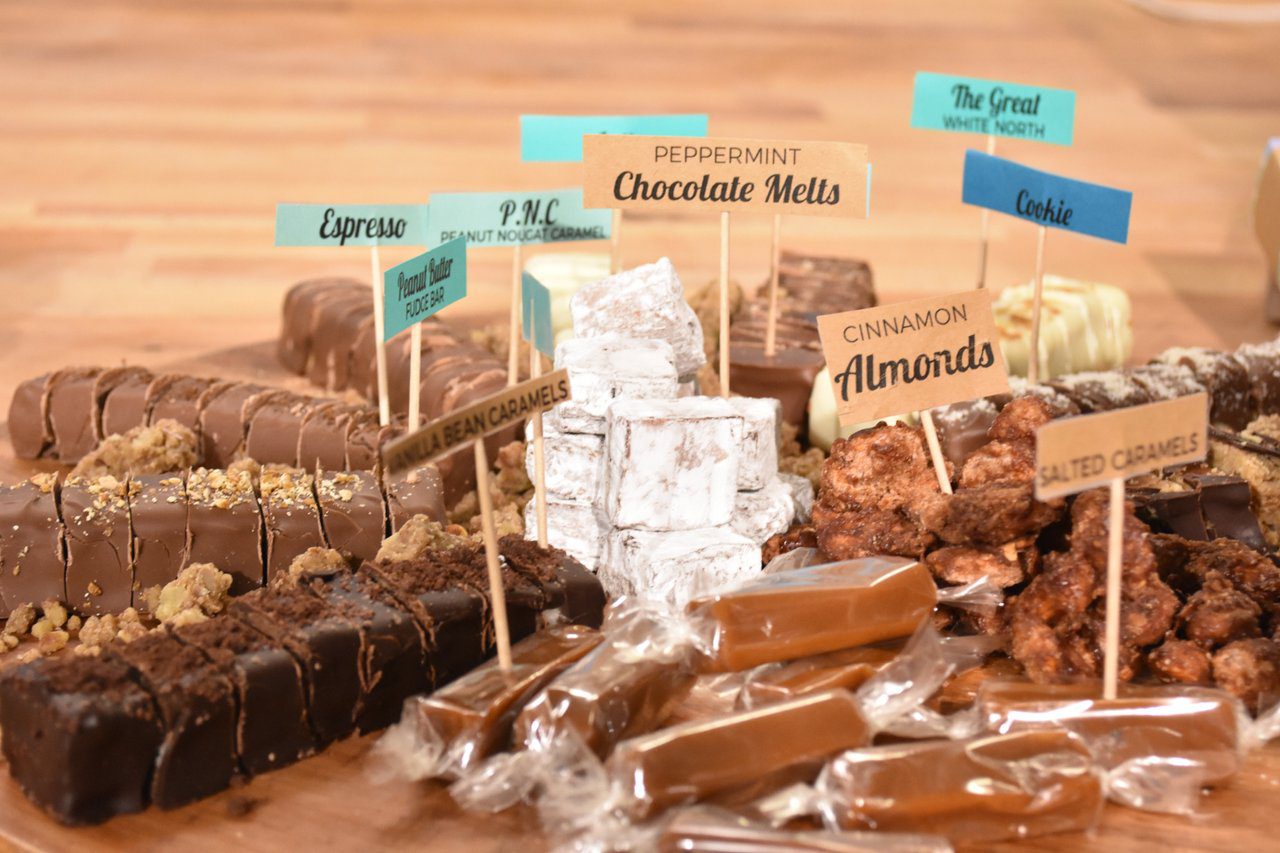 50 King St. W., Dundas
Small batch Artisan chocolates from this Dundas shop are fork-dipped in the finest Belgian chocolate. Besides more than 30 decadent flavours to mix and match, tempting confections include sea salted turtles, chocolate barks, chocolate popcorn, and even chocolate-dipped bacon.
1050 King St. W.
This Westdale shop is a go-to for chocoholics drawn to the smell of chocolate and freshly baked cookies. While their Mint Meltaway is one of this family run business' signature chocolates, you'll also find newer items like Chili Meltaways, specialty chocolate barks and plenty of chocolate novelties (like chocolate pizzas), perfect for gift giving.
International TREATS
Hui Lau Shan
35 King St. E.
Attention Mango lovers! Hamilton is now home to this popular handmade dessert chain that first opened in Hong Kong in the 1960s. Choose from a huge variety of mango desserts like mango pudding, mango frozen cakes, mango mochi, mango drinks and tons more mango goodness.
My Sweetooth
301 Main St. W

Learn More
The creators of the light and fluffy, from-scratch desserts at this Asian fusion bakery launched their business to help satisfy their own sweet tooth and homesick longing for desserts from back home. The menu is packed with unique goodies like birthday cake rolls and mochi buns (made from sweet rice paste).
Donuts We Love a Hole Lot
Donut Monster
246 Locke Street South
Not your average donut shop, Donut Monster takes seriously creative liberties with their flavours, which change seasonally. Think crumbled tahini and pistachio halva over a ginger cardamom glaze. They also supply their from-scratch donuts to local shops across the city and have plenty of vegan-friendly options to choose from.
Grandad's Donuts
574 James Street North
The team behind the family-run Grandad's Donuts have been making donuts for over 30 years, and they're still making' em the way grandad used to: the old fashioned way. For a sneak peak at this favourite north-end haunt, check out the video for People's Champ by Hamilton's The Arkells (but please refrain from dancing on the tables when you visit).
1375 King Street East, Hamilton
Infamous for the lineups to snag one of their sourdough donuts, we can confirm that these sweet treats are worth the wait. With creative flavours and changing menus, there is always something new to taste. You can visit them at their King Street bakery or head down to their counter at the Hamilton Farmers' Market where you can grab coffee, a donut, and some fresh bread to start your weekend off right.
Tim Hortons
65 Ottawa Street North (original location)
The OG of donuts, you can always count on Tim Hortons for reliable, familiar, and consistently delicious treats that hit the spot. Visit the chain's first location on Ottawa Street for an apple fritter (one of the original donuts offered since 1964) and to take a peek at the small museum on the second floor.
Treats That Make Us Melt
Hutch's
280 Van Wagners Beach Road, Hamilton & 325 Bay Street North
No summer bucket list is complete without a trip to Hutch's. At the iconic Van Wagners Beach, pair your cone with a beachside stroll or soak up the nostalgic diner-style ambiance inside (milkshakes and jukebox tunes, anyone?). The other location at downtown Hamilton's historic west harbour has prime picnic areas and family-friendly activities nearby.
Chocolat on James
123 James Street North, Hamilton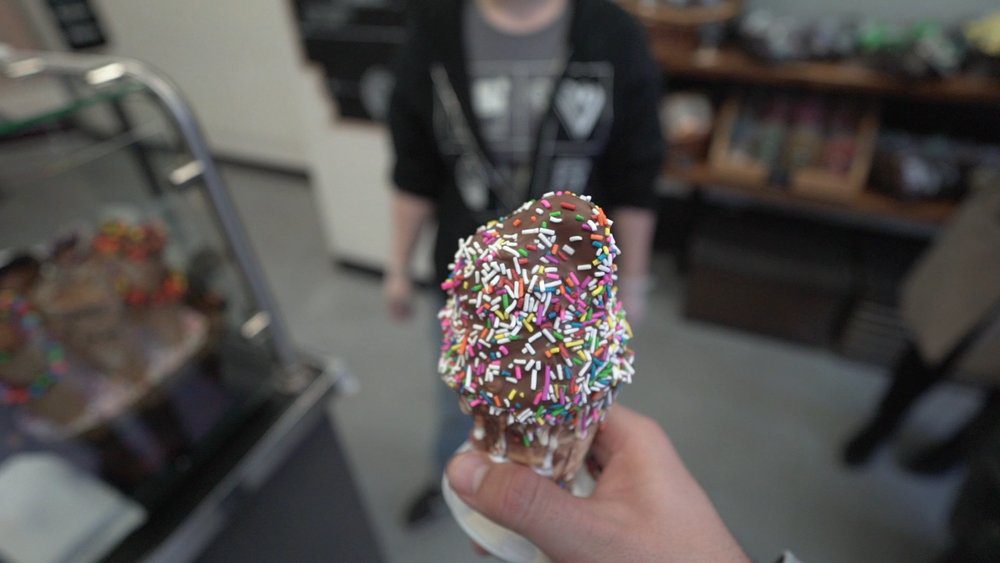 Chocolat on James boasts a mouth-watering selection of fine chocolates, barks, fudge and other confections – but it's their epic ice cream that really makes a statement. Cones and cups are dipped, drizzled, sprinkled, and loaded with all sorts of toppings. Swap your regular bowl for a cookie, brownie, or waffle bowl. Why not? You're on vacation.
Panini & Ice Cream
1505 Main Street East
You wouldn't know it from the outside, but this popular grab and go spot has earned a reputation for their monster ice cream creations. Order the "half and half" of your choice: half milkshake and half ice cream, garnished with extra sweets on top like cookie chunks or cotton candy.
Cookies and Cobblers and cakes, oh my!
The DSRT Company
1439 Main Street East, Hamilton
Beautiful on the outside and just as delicious on the inside, these handmade stuffed chocolate bars are almost too pretty to eat. With flavours like smores, caramel, and lava cake, there is something to satisfy every sweet tooth. While you're there, pick up a batch of their gummy mixes that are just as gorgeous as their chocolates.
Cake & Loaf
321 Dundurn Street South, Hamilton
For ethically sourced desserts locals love, look no further than this from-scratch bakery with two locations in Hamilton. The menu is stacked with everything from cookies and brownies to macarons and tarts. Pies and tall cakes are popular, but it's their holiday treats (Valentine's Day, Easter, Halloween, etc.) that you'll really want to taste (and photograph!). Their best-selling Cadbury Cream Egg brownies draw out of towners and have inspired headlines across the country.
Ola Bakery & Pastries
230 James Street North
Specializing in traditional Portuguese pastries, Ola is an authentic dessert option that's been around for decades on James Street North – a neighbourhood with a strong Portuguese heritage. Taste their famous and flaky pasteis de nata (custard tarts) or choose from other options like rice pudding, eclairs, and brownies.
Crumbled
339 Barton Street East, Hamilton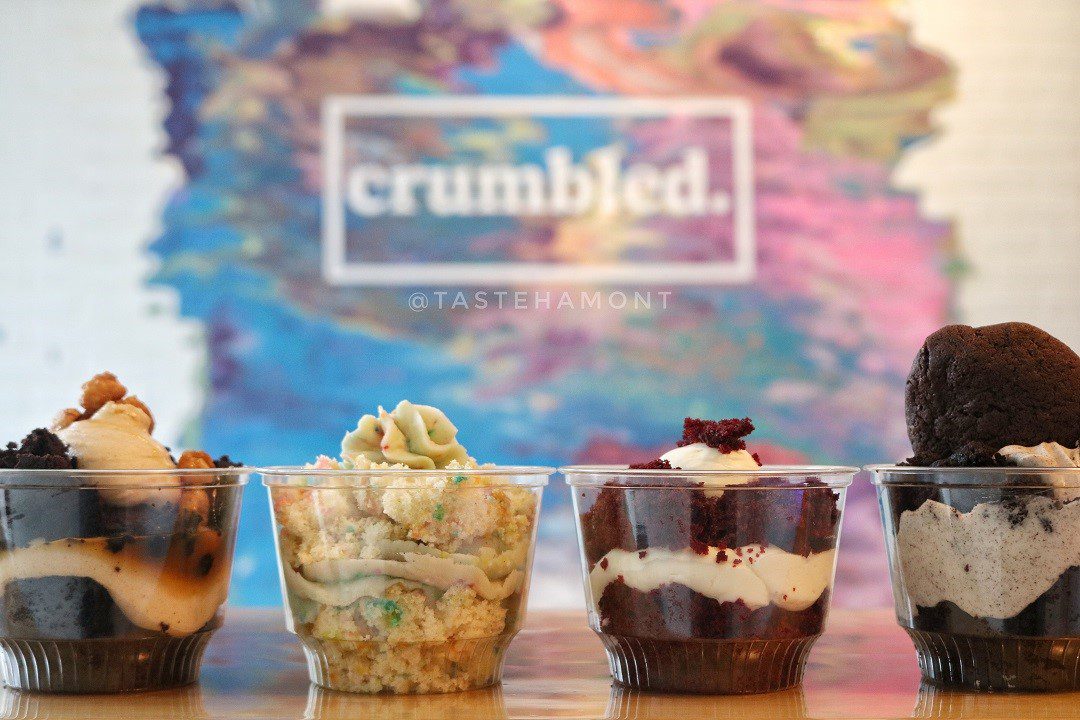 Ever had cake, crumbled? This Barton street shop has deconstructed a birthday staple and served it in a bowl. Think chunks of chocolate, vanilla, or red velvet cake mixed with buttercream frosting. They have seasonal flavours like apple cheesecake, snickers, and cookies and cream, plus Giant Loaded Twinkies (yes, you read that right). They also make stunning traditional cakes for special occasions.
Hotti Biscotti
Hamilton Farmers' Market – 35 York Boulevard

Life really is "biscotti-ful" thanks to the incredible biscotti creations at this long-time local dessert go-to (now at the Farmers' Market). In addition to seasonal biscotti flavours like key-lime in the summer and pumpkin spice in the fall, find special items like decadent hot chocolate bombs here too.

}