True North Family blogger Stephanie and her family of four visited Hamilton to experience the city's many family-friendly attractions. Follow along as they get up close to lions, planes, and the 'most delicious fries' and find out if their getaway was in fact kid-approved.
Our family spent three days in Hamilton, Ontario for a fun filled and made some incredible memories! "The City of Waterfalls" as some call it, is located less than an hour outside of Toronto, making it an easy day trip or weekend getaway! As one of the oldest cities in Canada, there is a lot of history to discover, and with that history comes some pretty unique gems. We're excited to share our experience with you, and we hope it inspires you to visit this beautiful city as well!
Disclosure: We were generously hosted by Tourism Hamilton so that we could share this wonderful experience with you! As always, our opinions are entirely our own and the experiences we participated in align with our family lifestyle.
Trip Highlights
Learning through play at the Hamilton Children's Museum
Making friends, enjoying delicious eats, and tasty drinks at Merit Brewery
Getting up close and personal with exotic animals at African Lion Safari
Touring the Canadian Warplane Museum and seeing an Arvo Lancaster take-off
Room service & pool time at the Sheraton Hotel
Where to Stay
The Sheraton Hamilton Hotel is centrally located in the heart of downtown and within walking distance to trendy James Street North. Attached to the hotel via the lobby is Jackson Square, an indoor mall making it convenient to pick up groceries or other supplies during your stay. We were welcomed by friendly faces, a lovely basket of goodies, and a beautiful view on the 15th floor. The beds were incredibly comfortable and the pool was certainly a highlight for our family!
Day 1
Arriving in Hamilton, Visiting the Children's Museum, and Merit Brewing
As we arrived, our first stop was at the Hamilton Children's Museum. Housed in an 1875 farmhouse surrounded by beautiful Gage Park, it was the perfect place to settle in and spend an afternoon. The exhibits encourage learning through playtime and feature a ship to sail, fishing dock, fort building, and an incredible little kitchen filled with vintage inspired dishes and play food. The museum also features a room for crafting, building, puzzles, events and a turtle aquarium (which was certainly a hit!)
Tip: Ideal for toddlers and pre-schoolers, allow yourself and your kids a couple hours to learn & play!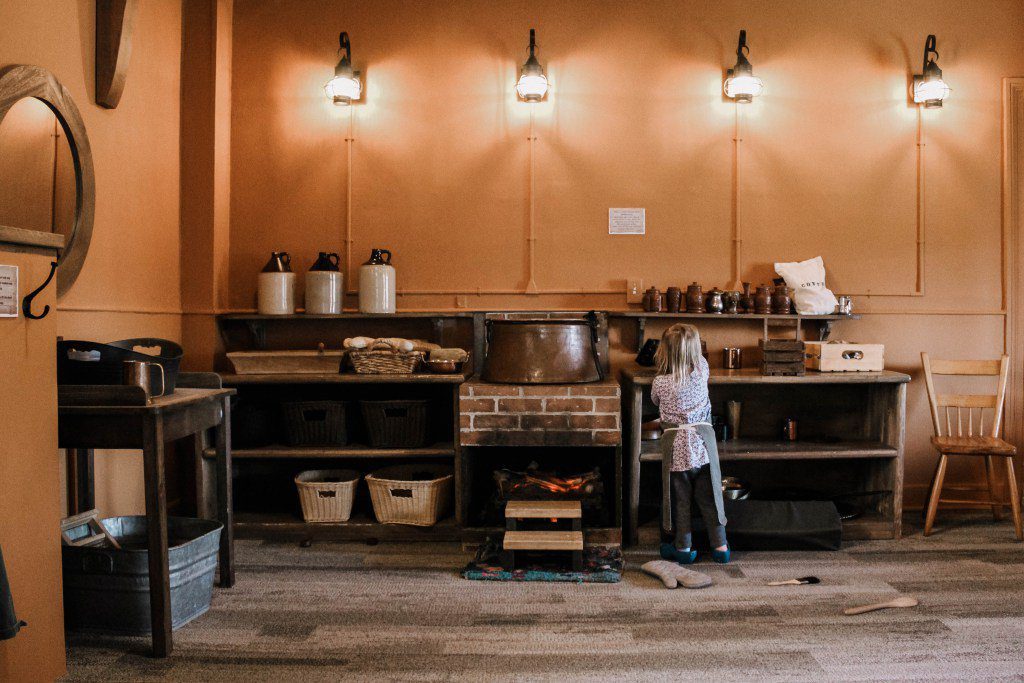 After some educational play time at the Children's Museum, we checked into our lovely room at the Sheraton Hamilton Hotel to make ourselves at home before heading out on the town for dinner and a couple brews! Hamilton's fast-growing craft brewery scene welcomed Merit Brewing last year, and just a short walking distance from the hotel, this this rustic / industrial space is certainly a must-visit gem! We loved that the staff was incredibly welcoming to families and kids of any age! Greysen and Emmersyn enjoyed making new friends and snacking on the most delicious fries, while Randy and I enjoyed a nice cold craft beer! Merit's space is incredible: a wide open floor plan, tall ceilings, a long rustic bar, large barn wood shareable tables, and a brewery enclosed by glass – it sets the stage for a unique dining experience! It was great to be able to taste different beers before deciding our favorites, I chose the "Chanan", a dry hopped saison with orange peel and Indian coriander, and Randy enjoyed the "Real Real," an American sour saison.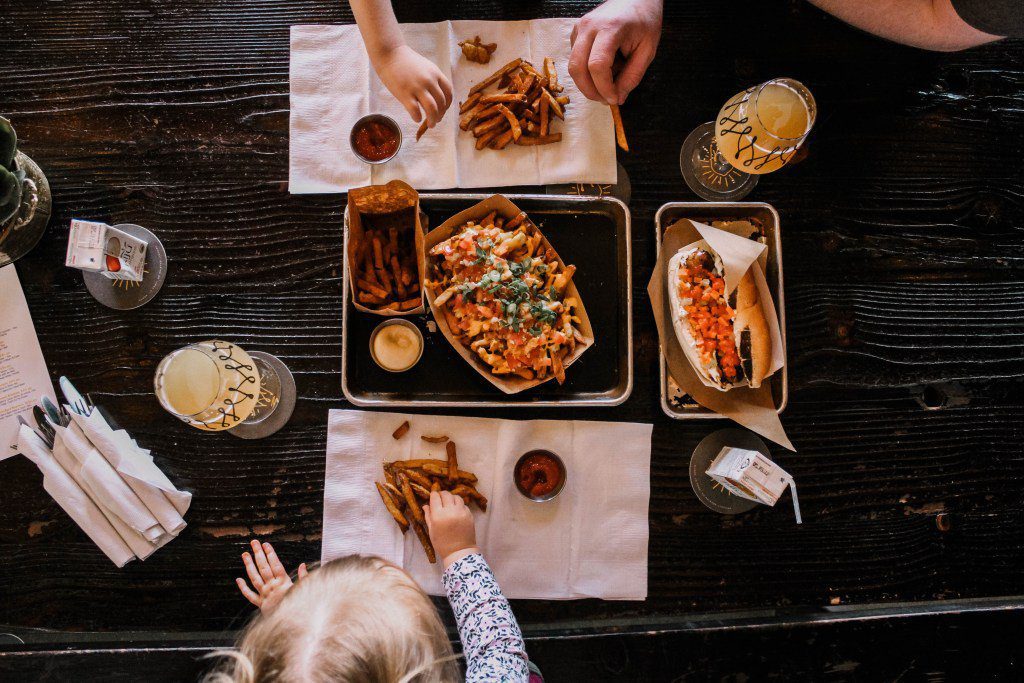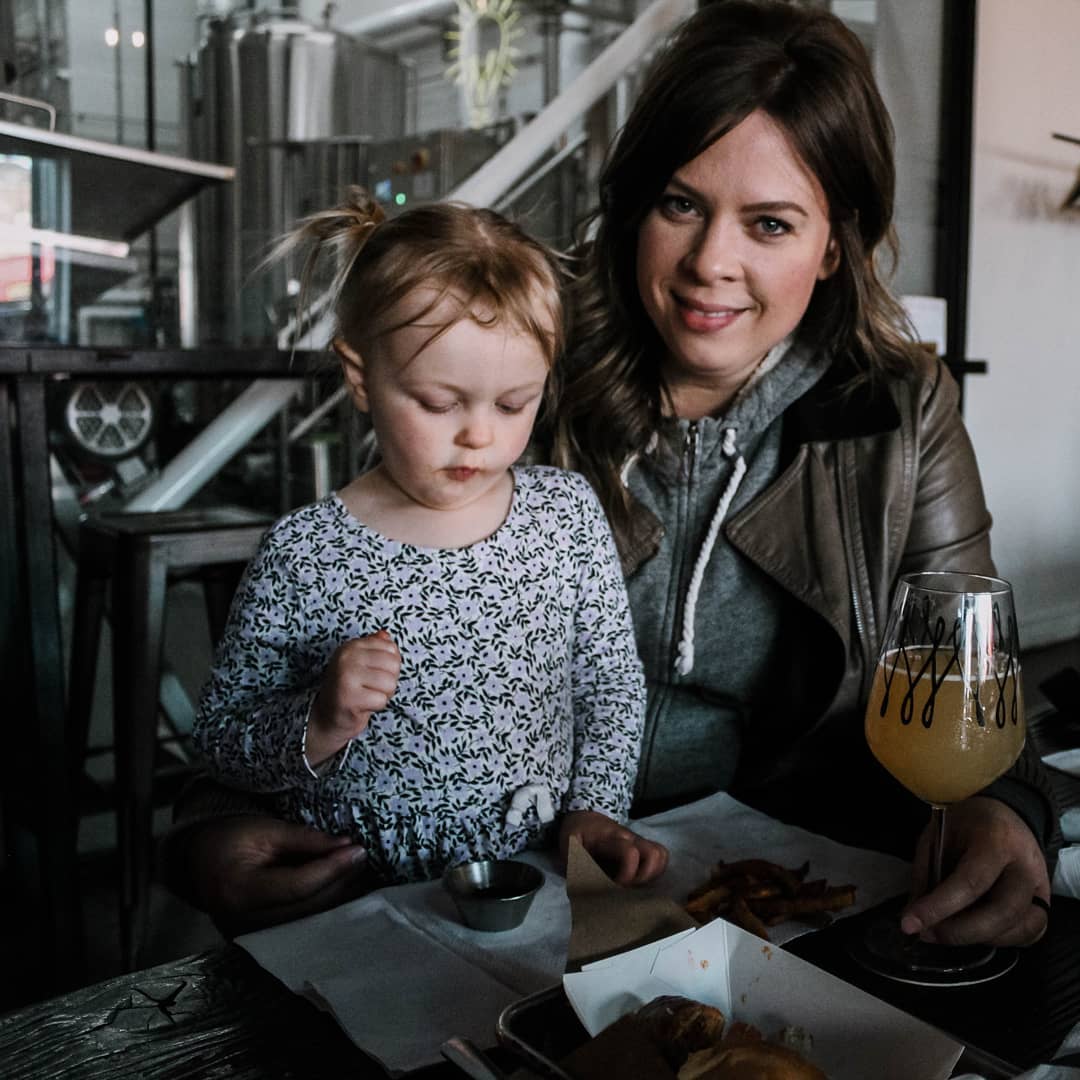 Day 2
Getting Wild at African Lion Safari
On our second day in Hamilton, we woke to a beautiful blue sky, sunshine, and an incredible view of downtown and Lake Ontario from our hotel window. Since our family traveled from British Columbia to Ontario this past winter, we've been looking forward to visiting the African Lion Safari ever since, so we didn't delay! We arrived as the gates opened on the first official day of the season! African Lion Safari is a drive-through wildlife park dedicated to the conservation of declining wildlife species. It is home to over 1,000 exotic birds and animals that roam freely throughout seven distinct game reserves. Because we didn't quite know what to expect or where to start, we decided to take the one-hour, guided Safari Bus Tour through the reserves.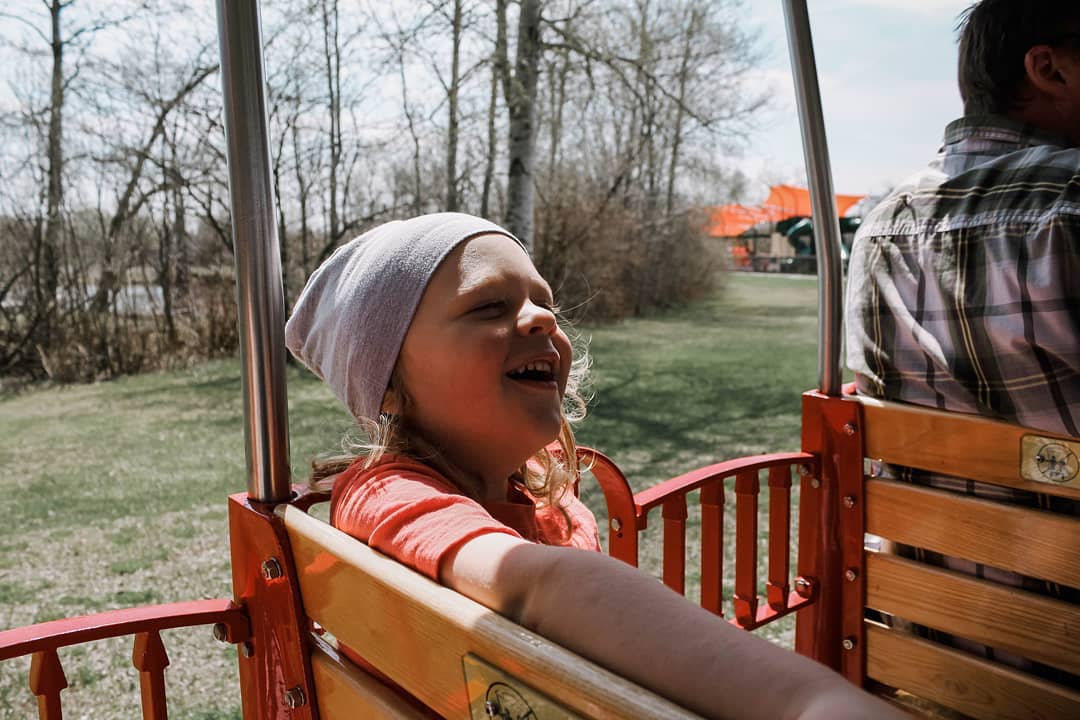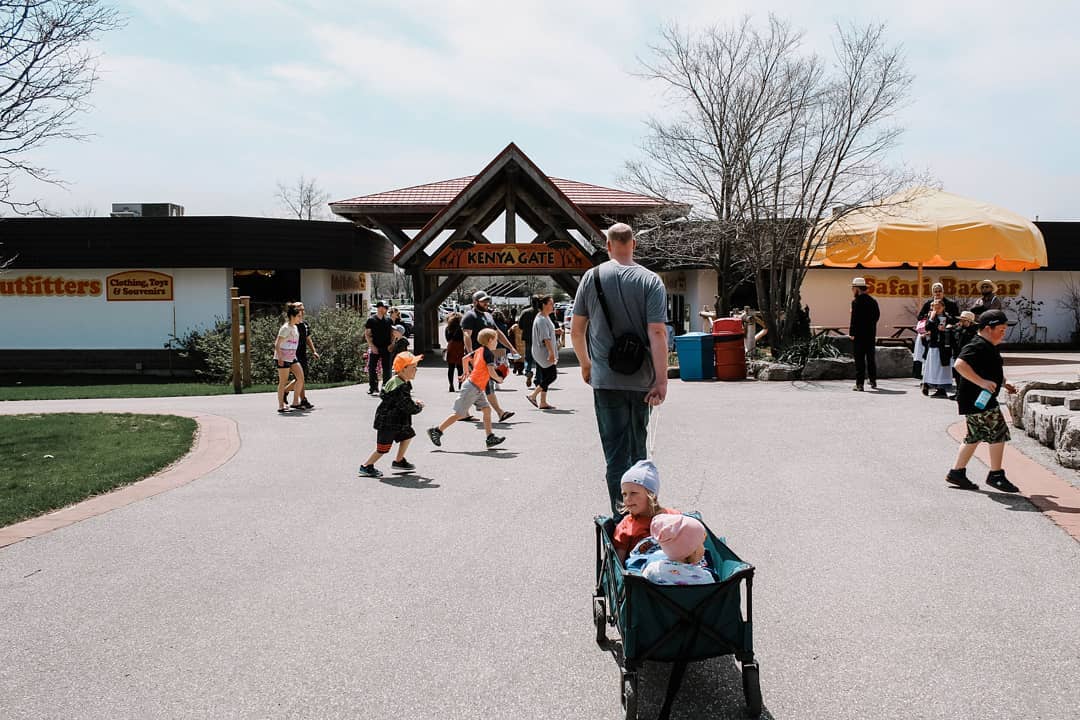 It was incredible to see these animals so closely, and the bus ride inspired us to take a second tour through the reserves in our car, before leaving. But before we get to that, African Lion Safari has so many other exciting things to offer! Next, we boarded the "Nature Boy" scenic railway and the "African Queen" boat cruise, both 15-minute long guided tours, through areas inhabited by exotic species from around the world and many wild animals and birds native to southern Ontario. We loved that we could experience the park by several different ways of transportation: bus, train, boat, or car. This gave us a chance to see so much more than we ever could by just exploring by foot.
Tip: Take the guided Safari Bus Tour first thing in the morning, then take a self-guided tour in your own vehicle before leaving.
After stopping for some play time at the toddlers safari playground and a delicious funnel cake (so, so delicious!), we hopped into our car and were more than ready to take a second tour through the wild game reserves. We were so glad that we took the guided bus tour first because we learned a lot about the animals and the habitats they thrived in. Although, we noticed that often times, cars were able to get a better view of the animals than the large bus we were on. This is why we decided to take the incredible opportunity to drive our own car through the game reserves.
While on our self-guided tour, we felt completely safe as the park staff are equipped with trucks stationed throughout the reserves. Certainly a highlight of our day at the African Lion Safari, was our close encounter with one of the beautiful female white lions in Timbavati Lion Country. As we approached the pride of sun bathing lions, she rose with a big stretch and made her way straight over to us. She walked in front of our car, rubbed her side on the front drivers side, and then continued on her way. It was absolutely amazing to be that close to a lion, to see fine details, and feel her gaze – It is a memory we will never forget!
Day 3
Touring the Canadian Warplane Museum
Our son, Greysen has been fascinated by airplanes since he was a year old, so visiting the Canadian Warplane Museum was a very special experience for him – and us! The museum is home to dozens of air crafts flown by Canadians and the Canadian military from the beginning of World War II to present. Many of these planes have been preserved and are currently in flying condition; like the Arvo Lancaster, a 4-engine bomber built in 1945, that we were lucky enough to witness fire up and take off! One of our favorite parts of visiting the museum, was seeing the kids sit inside the cockpits and tour the interiors of these amazing pieces of history!
We had the opportunity to step inside the fuselage of a United Nations Buffalo aircraft, used for paratroop training, supply dropping, and search & rescue. This particular plane has has been dedicated to Canadian military personnel who have served as UN Peace Keepers. It was a incredible experience to sit in the seats and imagine being in flight.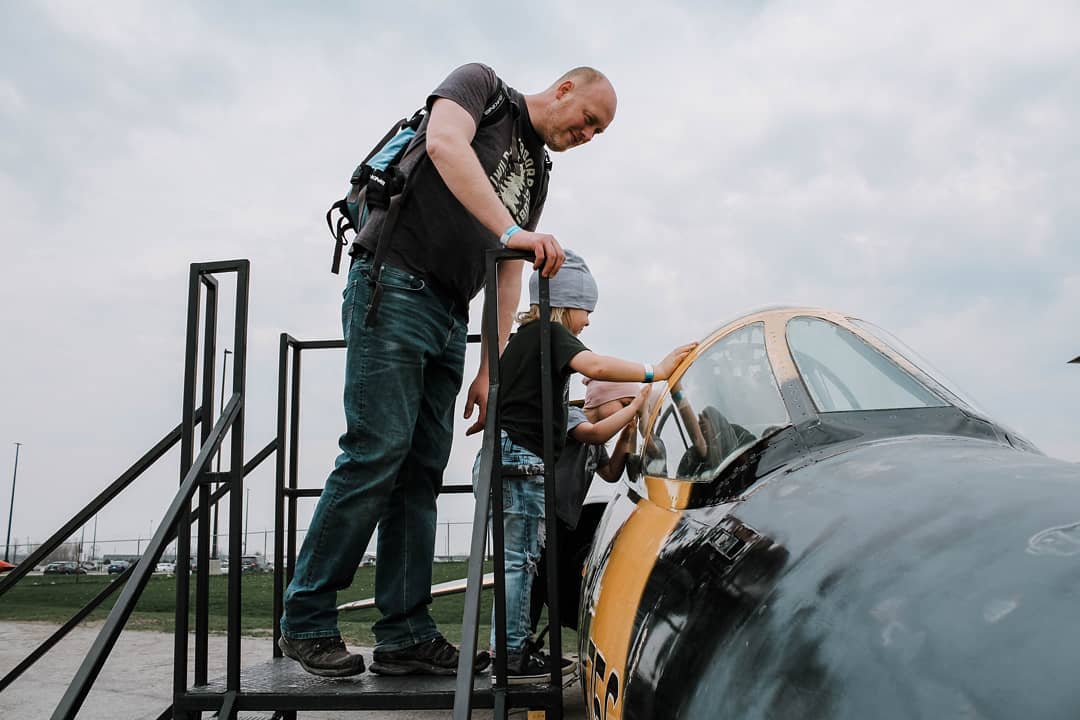 ---
We had an incredible weekend getaway in Hamilton, Ontario! A huge thank you goes out to Tourism Hamilton for making it a trip to remember, make sure to connect with them when planning your visit! For more family friendly things to do in Hamilton, check out their family fun listings
Sheraton Hotel Hamilton
Website – Facebook – Instagram
Hamilton Children's Museum
Merit Brewing
Website – Facebook – Instagram
African Lion Safari
Website – Facebook – Instagram
Canadian Warplane Museum
Website – Facebook – Instagram
---
Thanks for visiting Stephanie and family!

About True North Family: A family of four adventure seeking, nature inspired, tiny home living Canadians who traded in our 1,200 sq. ft. home for a 200 sq. ft. RV with the purpose of filling this one precious life together with memory making experiences! Our hope for this space is to inspire fellow families who desire to spend more time together, find adventure in their own backyard, consume & support Canadian brands, and perhaps live a little more sustainable!

Follow their adventures on Instagram.

}