1. Hiking Trails
Hamilton's outdoor playground is here to help you answer the call to get outside for fresh air and beautiful scenery. Scenic routes include waterfront paths, lush forest valleys and the Bruce Trail that winds along the edge of the Niagara Escarpment. Best of all, these stunning walks are easy to reach and close to great attractions and dining.
2. Royal Botanical Gardens
Bragging rights at Canada's largest botanical garden include: the world's largest lilac collection, 100,000 spring bulbs, 3000 rose bushes, endless trails and the recently restored Rock Garden, a stunning and tranquil National Historic Site. Year-round events alongside award-winning dining round out Hamilton's own paradise found.
3. African Lion Safari
One of Hamilton's most popular tourist attractions is home to lions, elephants and giraffes… oh my! Canada's original safari adventure includes a drive through reserve that lets you get up close to some of the world's most exotic animals. The kids will love cooling off at the waterpark, the hands-on animal shows and watching daily elephant swims.
4. Beachfront
In the summertime, the living is easy at Hamilton's Beachfront. This east-end waterfront is the perfect destination for the young and the young at heart. Slip and slide your way down epic waterslides at Wild Waterworks. Enjoy mini-golf, laser tag and batting cages Adventure Village and go-karting at nearby Lakeland Kartway. Waterfront trails, boardwalks, and beachside patios round out this perfect summer destination.
5. Treetop Trekking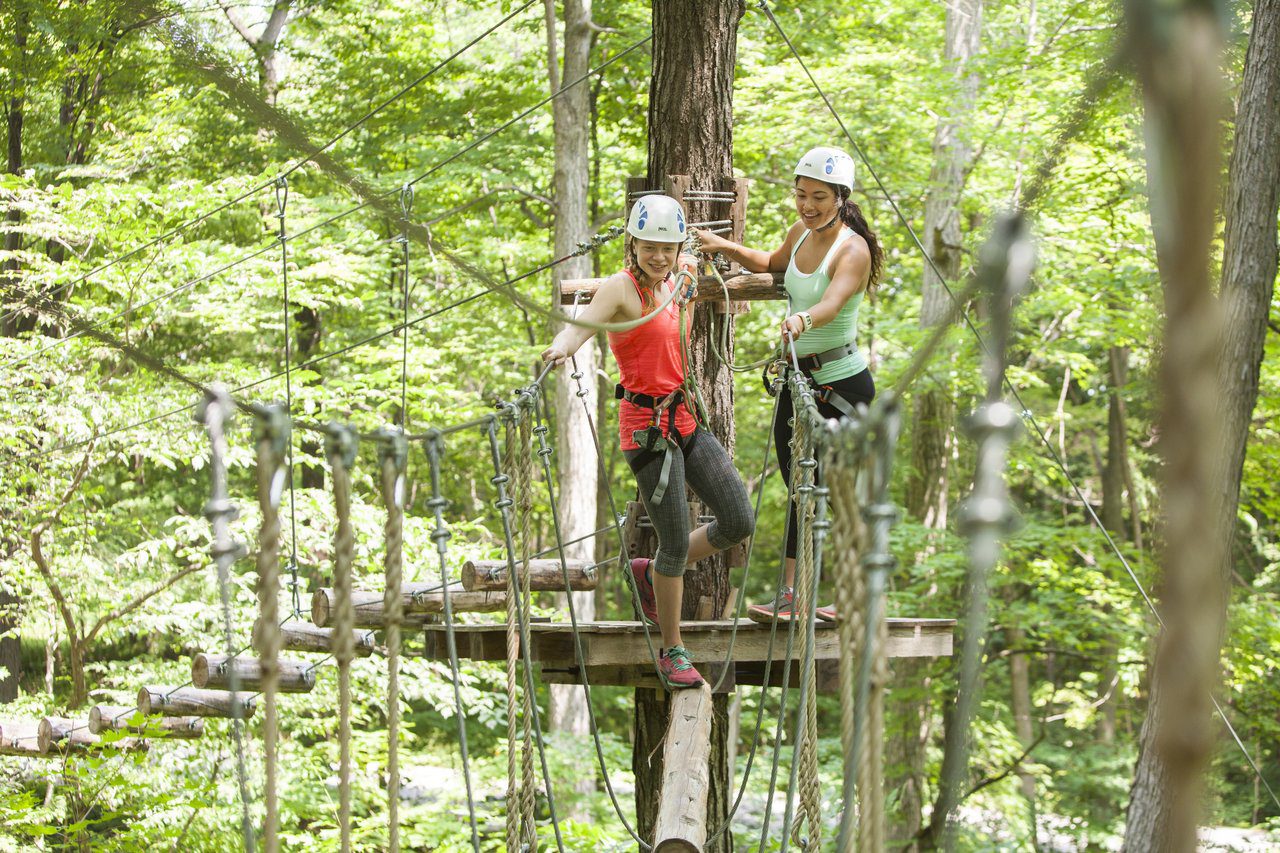 Learn More
Find out why this outdoor adventure park in Binbrook Conservation Area was named Ontario's attraction of the year. Soar, zip and trek through a forest canopy along suspended bridges and zip lines. Mini-adventurers can adventure closer to the ground on kid-friendly courses.
6. West Harbour
There are big things in store for Hamilton's urban waterfront, including new condos and retail and tons of cool public spaces. In the meantime, there's plenty here to enjoy like waterfront trails, restaurants, the newly arrived Theodore Tugboat, Parks Canada's docked HMCS Haida, and an outdoor roller-skating rink (that doubles as a skating rink in the winter). Steps away at Bayfront Park, you'll find rolling green spaces surrounded by peaceful trails, perfect for picnics, strolls and people watching.
7. Food & Drink
The culinary street cred in Hamilton is at an all-time high. Local eateries are attracting national attention for a whole bunch of delicious reasons. Even the New York Times has taken note. With so many talented chefs, brewers and baristas setting up shop in Hamilton, it's hard to decide what to order first.
8. Canadian Warplane Heritage Museum
With more than 40 planes from the past and present, the sky's the limit at Canada's largest flying museum. Take a personalized tour, try a thrilling flight simulator or buy your own flight on a vintage aircraft – including the legendary WWII bomber, the Avro Lancaster (the only place in the world you can still fly in one).
9. Dundurn Castle
Travel back in time as costumed interpreters take you through this sprawling, historic estate overlooking the bay. Tours reveal the secrets of its former inhabitants – the wealthy family members living upstairs and the hard-working servants that lived beneath the stairs. Outside, the two-acre kitchen garden grows historically accurate food used for the site's popular cooking workshops.
10. Fresh Produce, Farms and Markets
Fun Fact: Hamilton is mostly rural. Savour the sights and tastes of country living at one of the city's many farms during Hamilton Farmcrawl or grab your own fresh produce at various farms and markets. Downtown's Hamilton Farmers' Market (one of the oldest in Canada), is a must-visit for a colourful array of local produce stalls, cheese and meat counters and a variety of unique lunch counters.
11. Heritage Sites
Hamilton's historic roots run deep. Immerse yourself in a story that reveals how the city evolved into the vibrant destination it is today at our many fascinating museums including 15 National Historic Sites as well as renowned historic buildings that celebrate the city's architectural heritage.
12. Art Gallery of Hamilton
Slow down and be inspired at Hamilton's century-old gallery, the oldest and largest in Southern Ontario. The Art Gallery of Hamilton is home to more than 10,000 works including Canadian historical, contemporary and international art. In addition to world class exhibits, sought-after permanent pieces include Alex Colville's famous Horse and Train painting as well as the mind-blowing Bruegel-Bosch Bus by Kim Adams.
13. Hot Hoods
A great way to get to know a city by exploring its distinct neighbourhoods and Hamilton has some great ones. See the city's historic fabric district on Ottawa Street North, now also an interior design and foodie destination. James Street extends from the Niagara Escarpment to the West Harbour and has long been the heart of the city. Now known as a hub for culture, retail and food, the lively street still has small produce stores, flower shops and plenty of beautiful grit. Escape the bustle of the city in the quiet historic town of Dundas, full of independent shops and restaurants and minutes from waterfalls and the trails of Dundas Valley.
14. Music City
Hamilton is a music magnet for everything from international arena acts at downtown's FirstOntario Centre to more intimate performances at venues such as Casbah, Bridgeworks, Mills Hardware, and Corktown Pub to name just a few. Blockbuster music festivals like Supercrawl and sweeping classical performances by Hamilton Philharmonic Orchestra round out our city of music.
15. The Sporting Life
You'll find a serious passion for sports at Hamilton's fields, stadiums and indoor venues. Fan out like a local and cheer for a hometown team like our beloved Canadian Football League Tiger-Cats, reigning Canadian Premier League soccer champions Forge FC, and our newest Lacrosse team Toronto Rock. Or plan to snag a ticket to a championship game like the 110th Grey Cup in November 2023 or the RBC Canadian Open in June 2024.
16. Waterfalls
Among Hamilton's most beautiful – and to some surprising – natural attractions is a network of more than 120 waterfalls cascading across the city. Nearby Niagara Falls may get most of the attention, but Hamilton's waterfalls are a pure joy to explore.

}