Hamilton is blessed with some of the region's prettiest hikes thanks to the Niagara Escarpment that cuts through the city, giving us endless forested trails, hidden waterfalls and an impressive designation as a UNESCO World Biosphere Reserve.
And fall is arguably the best time to take it all in.
Plan your hike with our guide to first-rate fall routes (all paired with the perfect spot nearby to fuel up post-hike)
1. The Chedoke Radial Trail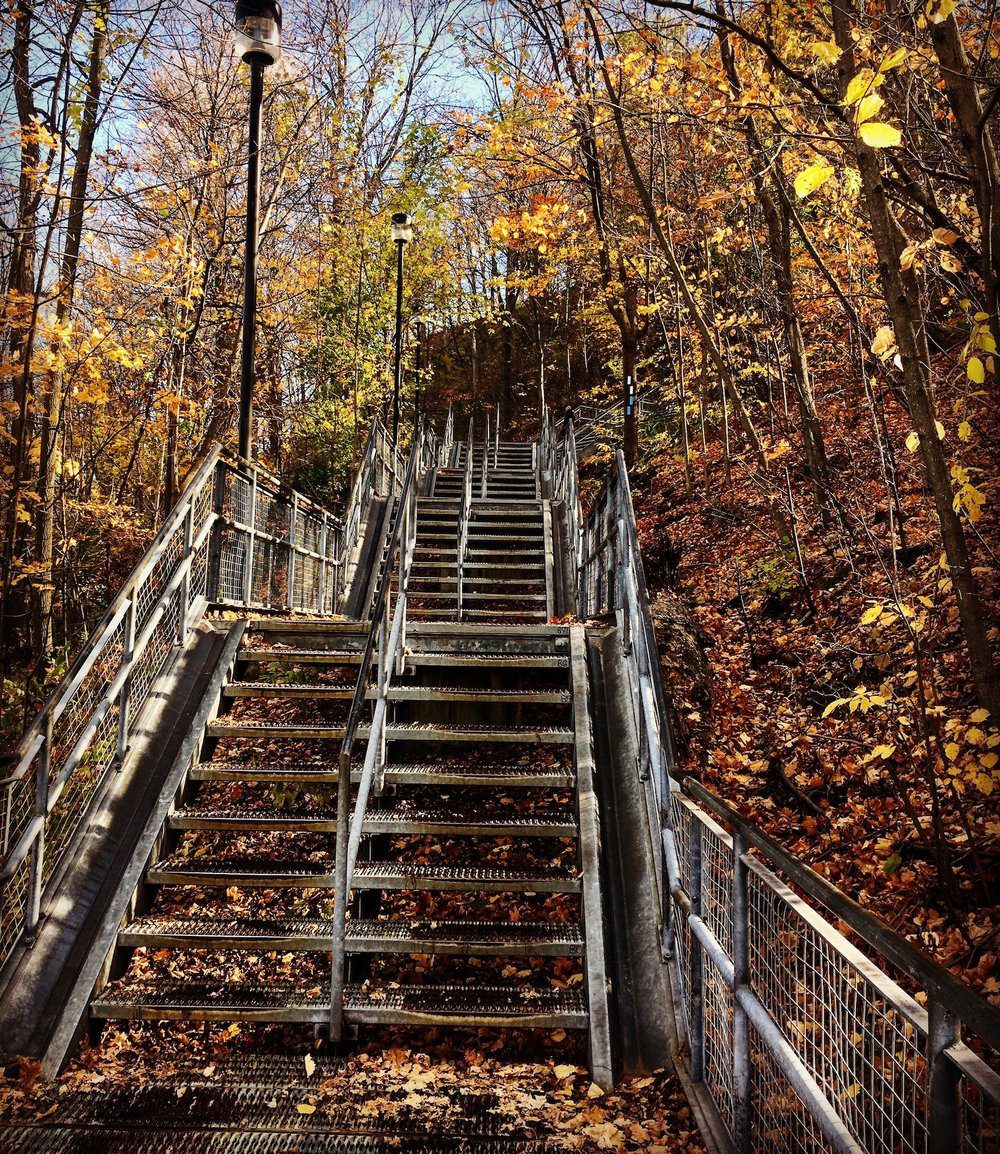 For a scenic, gradual ascent up the Niagara Escarpment, visit this 2.7 kilometre section of the Bruce Trail connecting lower west Hamilton to the top of the city's escarpment. Through the forest as you walk, you'll catch breathtaking views of the city.
The Chedoke Stairs, accessible from the golf course parking lot, provide a 289-step cardio challenge up to a viewing platform for prime leaf viewing. Join the many locals in the know for this fun workout with a breathtaking reward.
Fuel Up:
2. Eramosa Karst
Looking for a one-of-a-kind hiking experience? Eramosa Karst offers truly unique features like underground caves and streams, which are fascinating to explore as you follow the seven kilometres of trails surrounding this conservation area.
The East Mountain area is even designated as an Area of Natural and Scientific Interest in 2003 because of the number of karst features, like sinking systems, dry valleys and the tenth longest cave in Ontario.
Fuel Up:
3. The Dundas Valley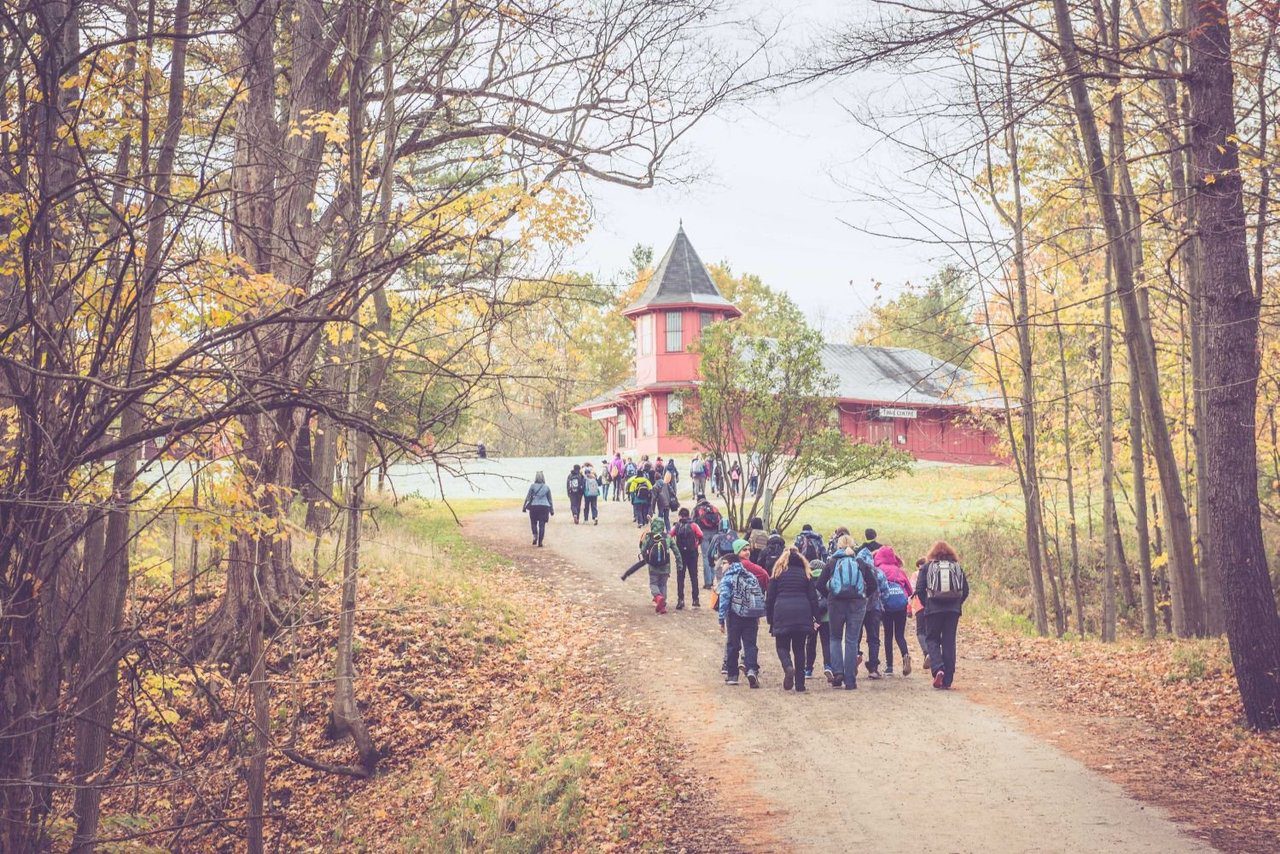 This sprawling conservation area in Dundas includes 40 kilometres of breathtaking trails and some of the best fall colour views in the region – well worth a day trip (or several).
There are several days worth of spectacular fall hiking through the area's three major trails: Main Loop, Bruce Trail and Brantford Rail Trail.
Highlights of this 1,200 hectare conservation area include a lush Carolinian forest, colourful meadows. cold water streams, and rare plants, birds and wildlife.
Must-visit stops include the replica Victorian train station and antique train car and The Hermitage, home to the stone ruins of a once lavish 19th century estate of wealthy Scottish immigrants.
Fuel Up:
4. Cootes Paradise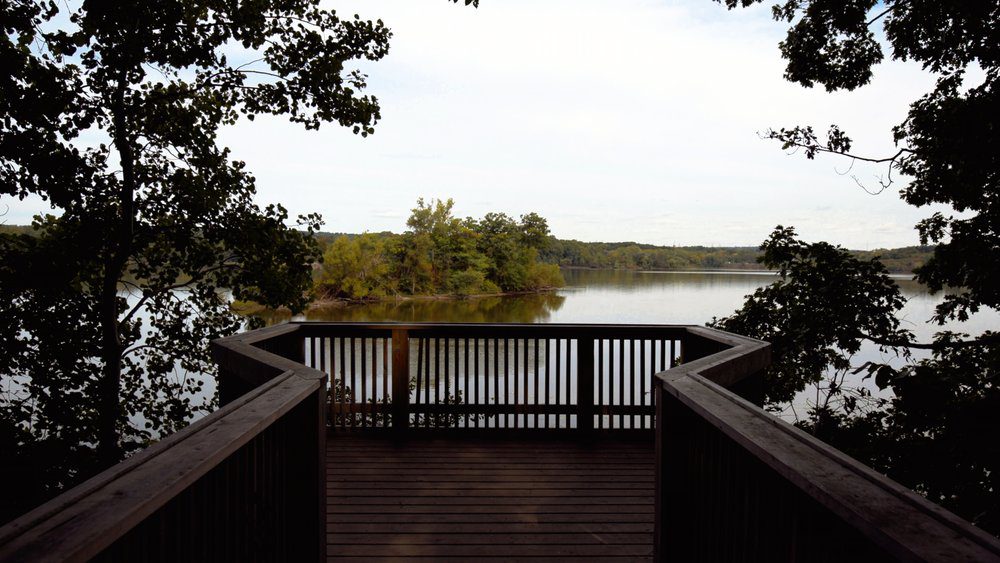 Canada's largest botanical garden Royal Botanical Gardens is home to much more than flower gardens.
It also boasts stunning trails including Cootes Paradise established for its significance as a migratory bird stopover. The diverse nature sanctuary features a huge river mouth marsh and 25 kilometres of shoreline.
Taking Bull's Point Trail to The March Walk will lead you down to Cootes Paradise Marsh, where bald eagles usually build their nests each year. From the viewing platform, you can see views of Sassafras and Princess Point (two other great hiking areas) on the other side.
Fuel Up:
5. Dundas Peak

The view overlooking Dundas Valley from Hamiltons famous Dundas Peak is stunning year-round, but during the fall it's truly breathtaking. The hike up to the famous lookout reveals endless, fire-like foliage in all its multi-coloured splendour.
And don't miss the colourful leaves that frame Tew Falls on your hike up to the peak. Photo ops are best from the two viewing platforms. Also nearby is Hamilton's iconic Webster Falls. You'll need a reservation during this popular time of year – book online early to avoid disappointment.
Fuel Up:
6. Smokey Hollow
You're rewarded for your hike here with the popular Smokey Hollow waterfall, set in a leafy forest setting that flows from Grindstone Creek in the historic village of Waterdown.

The rugged footpath tracing its way up and down the ravine formed by the Niagara escarpment is a popular but still peaceful hiking trail and especially beautiful in the fall.

Fuel Up:

}